Florida Democrat Flips Trump District Blue In Stunning Win
@FAWFULFAN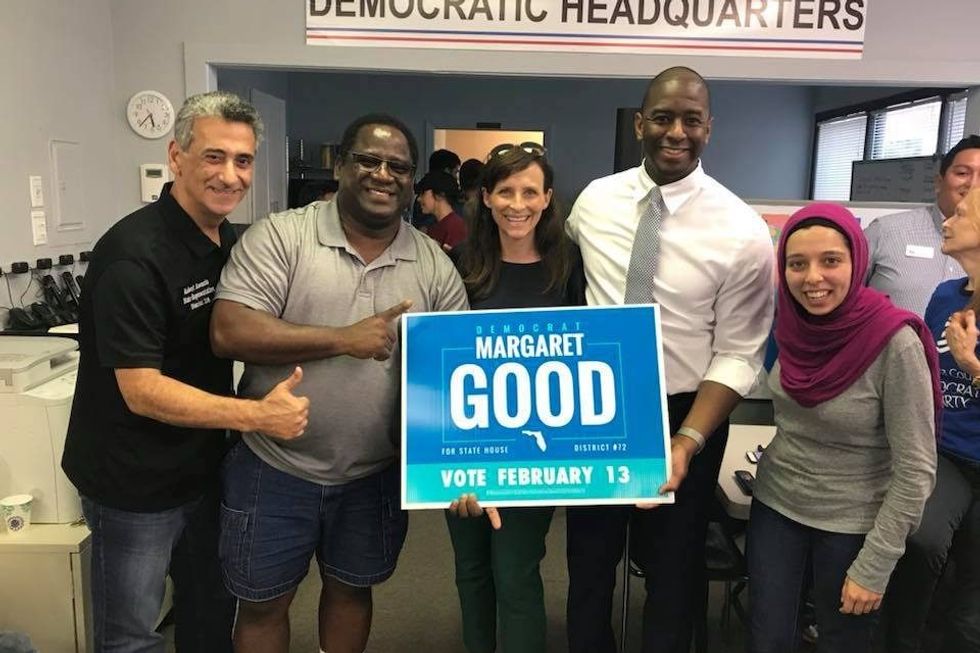 Reprinted with permission from Shareblue.com
In Minnesota on Monday night, voters handed Democrats an important win by retaining a key state senate district and throwing the GOP majority into jeopardy.
And on Tuesday night, voters kept the wins coming, this time in Florida where Democratic attorney Margaret Good bested GOP realtor James Buchanan to take Florida's 72nd State House District.
The district, which includes most of the city of Sarasota, backed Trump in 2016, but swung 6 points toward Democrats in the special election.
Despite the district leaning red, Good campaigned on a number of liberal causes, including environmental protection, preventing school privatization, and maintaining Obamacare protections. And the voters rewarded her for it.
Republicans had a lot riding on this seat, and it is a danger sign for the party's prospects in other races next fall, including holding onto the governorship and challenging Democratic Sen. Bill Nelson.
"This is going to set the tone for 2018 … You can't become complacent. It's important that we get a win here." Buchanan said at a rally on Sunday.
This is the second special election in Florida to flip a Republican seat for Democrats since Trump took office. In September 2017, progressive activist Annette Taddeo won the race for State Senate District 40, becoming the first ever Democratic Latina to be elected to the chamber.
And the Florida GOP's troubles may only be getting started.
In the wake of Hurricane Maria, over 130,000 Puerto Ricans have moved to the state, many of whom are furious at Trump for leaving their island to its fate. And a new ballot initiative this fall could amend Florida's constitution to repeal major voter disenfranchisement laws that the state's Republican governor has exploited for years.
The political stars are slowly realigning for the Sunshine State. Tuesday's win may only be a taste of what is to come.
Header image: Newly elected Florida Democratic State House Rep. Margaret Good (center)