Florida Lawmakers Face Horrified Backlash For Blocking Vote On Guns
@FAWFULFAN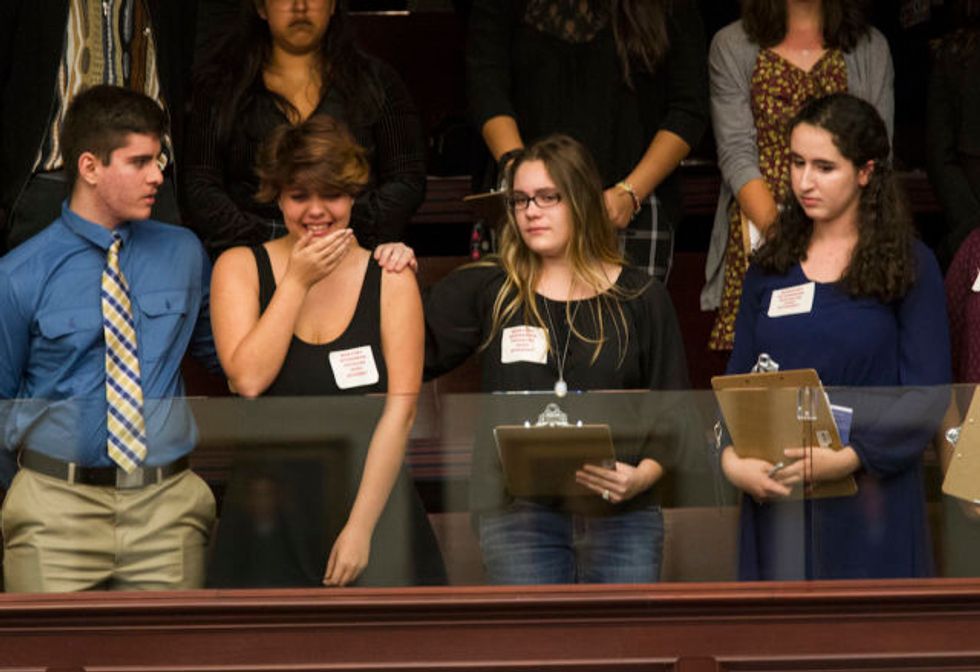 Reprinted with permission from Shareblue.com
As students all around Florida and throughout the country stand with the teenagers who survived the Parkland school shooting, the survivors themselves trekked hundreds of miles by bus to the state capitol in Tallahassee to lobby their legislators for change.
But no sooner had the students of Marjory Stoneman Douglas High arrived than the GOP-controlled Florida House of Representatives, by a vote of 71 to 36, blocked debate of a bill to prohibit assault weapons.
Photographs revealed several students looking on from the galleries in horror and disgust as their lawmakers failed them.
AP: Sheryl Acquarola, a 16 year-old junior from Marjory Stoneman Douglas High School, is overcome with emotion in the east gallery of the Florida House after the representatives voted not to hear the assault rifles ban bill. pic.twitter.com/qA28kFCEig

— Micah Grimes (@MicahGrimes) February 20, 2018

After the vote, some students took to social media to condemn their state officials for refusing to act.
"How could you do that to us ? Are you kidding me ??? #NeverAgain We are not forgetting this come Midterm Elections – the Anger that I feel right now is indescribable" tweeted Emma Gonzalez.
Another Stoneman Douglas High student had a blunter message:
to the 71 who voted against banning assault rifles, you're a piece of garbage. https://t.co/HTZ16HHpEL

— natasha #NeverAgain (@sighnatasha) February 20, 2018

Another student, speaking to reporters on the bus, said, "Honestly I'm upset, but it's just giving me even more drive to go up there and tell them how I feel, how outraged I am, how upset and heartbroken I feel."
"That's kind of like a big screw you," he added.
Florida state legislators have voted down a motion to hear a bill that would ban assault rifles. Students from MS. Douglas High react.

"It's just giving me even more drive to go up there and to tell them how I feel … that's kind of like a big screw you." pic.twitter.com/roKAcyU6bM

— MSNBC (@MSNBC) February 20, 2018
Florida's elected officials may have failed the Parkland survivors, but the public is not abandoning them.
A new Quinnipiac poll finds two-thirds of Americans believe it is too easy to obtain a gun, and even 97 percent of Republicans want to expand background checks.
Meanwhile, Trump himself seems to be feeling the heat after being scorched for his insensitivity to the students' plight, with a belated push for the Department of Justice to consider banning the "bump fire stock" attachment used in previous massacres like the Las Vegas shooting in October 2017.
Young people have historically played crucial roles in seemingly impossible social change in this country. The Parkland students are determined to be at the forefront of a movement, and they will not be ignored.
Header image: (AP Photo/Mark Wallheiser)