For A Moment, It Was Enough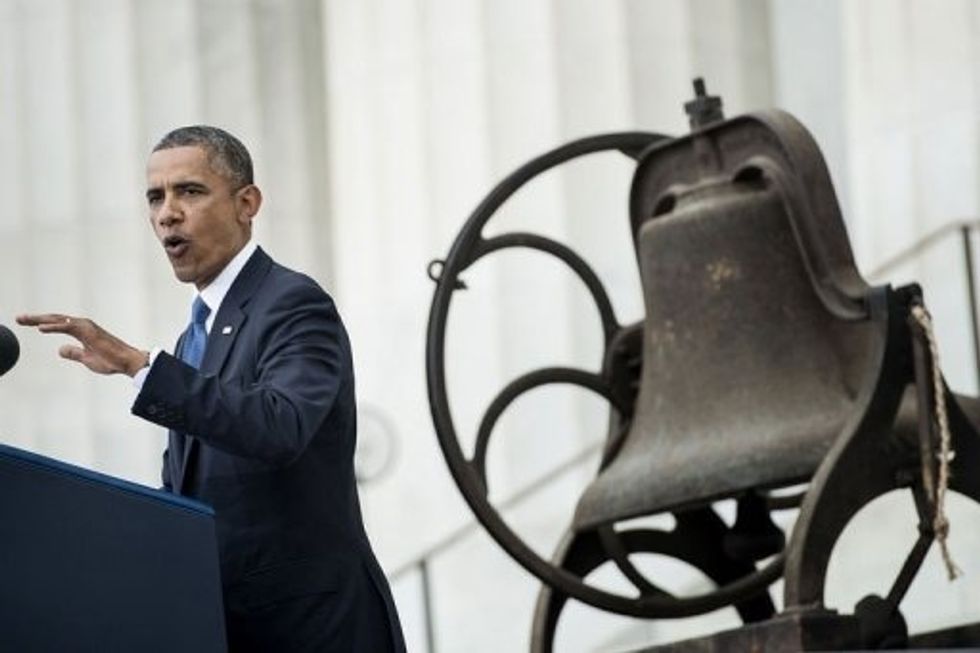 For a little while on Wednesday, it was enough.
It was enough to hear civil rights hero John Lewis insist that this America is better than the one where his blood spilled for justice.
"Sometimes I hear people saying nothing has changed," he said, "but for someone to grow up the way I grew up, in the cotton fields of Alabama, to now be serving in the United States Congress makes me want to tell them, 'Come and walk in my shoes.'"
It was enough to watch the family of Martin Luther King Jr. gather around the bell that once hung in the 16th Street Baptist Church in Birmingham, AL. Less than three weeks after King's "I Have a Dream" speech, three girls died in a bombing at that church.
"A Negro mother wept in the street Sunday morning in front of a Baptist Church in Birmingham," Atlanta Constitution editor Eugene Patterson wrote in a column the next day. "In her hand she held a shoe, one shoe, from the foot of her dead child. We hold that shoe with her. Every one of us in the white South holds that small shoe in his hand."
At 3 p.m., the King family rang that bell, and it was enough.
Then the first African-American president of the United States stood in the very spot where Martin Luther King Jr. delivered his "I Have a Dream" speech. For a few minutes, it was enough to see him standing there. To hear his gratitude for the sacrifices that bore the fruit of his victory. To listen to him as he listed the kinds of Americans who refuse to give up on their country, on their fellow citizens.
"That tireless teacher who gets to class early and stays late and dips into her own pocket to buy supplies because she believes that every child is her charge — she's marching," he said.
"That successful businessman who doesn't have to but pays his workers a fair wage and then offers a shot to a man, maybe an ex-con, who's down on his luck — he's marching.
"The mother who pours her love into her daughter so that she grows up with the confidence to walk through the same doors as anybody's son — she's marching.
"The father who realizes the most important job he'll ever have is raising his boy right, even if he didn't have a father, especially if he didn't have a father at home — he's marching.
"The battle-scarred veterans who devote themselves not only to helping their fellow warriors stand again and walk again and run again but to keep serving their country when they come home — they are marching.
"Everyone who realizes what those glorious patriots knew on that day, that change does not come from Washington but to Washington, that change has always been built on our willingness, we the people, to take on the mantle of citizenship — you are marching."
I am an impatient patriot, loving my country but always wanting more than the current state of affairs. Often, desperately, I draw comfort from the late Rev. William Sloane Coffin's words: "There are three kinds of patriots, two bad, one good. The bad ones are the uncritical lovers and the loveless critics. Good patriots carry on a lover's quarrel with their country, a reflection of God's lover's quarrel with all the world."
For hours before the president walked onto the steps of the Lincoln Memorial, one famous American after another walked to the microphone and, for the most part, gave a version of the same speech.
I watched the steady stream of speakers and thought about how easy it is to feel ordinary and ineffective these days in our culture of celebrity. If you weren't invited to be onstage, if you didn't have the schedule or the money to travel to Washington this week, was it harder to think you, too, can make a difference?
"Not everybody can be famous," Martin Luther King Jr. said, "but everybody can be great because greatness is determined by service." I've listened at least a hundred times to someone else deliver that quotation, and every time, I hear it a bit differently. What is service? What is the definition of greatness?
On Wednesday, millions of regular Americans paused to ask such questions, of their country and themselves.
For every person who felt the push to get back into the march, it was enough.
Connie Schultz is a Pulitzer Prize-winning columnist and an essayist for Parade magazine. She is the author of two books, including …and His Lovely Wife, which chronicled the successful race of her husband, Sherrod Brown, for the U.S. Senate. To find out more about Connie Schultz (con.schultz@yahoo.com) and read her past columns, please visit the Creators Syndicate Web page at www.creators.com.
AFP Photo/Brendan Smialowski