For Republicans, Governing Is Just Another Chance To Incite The Base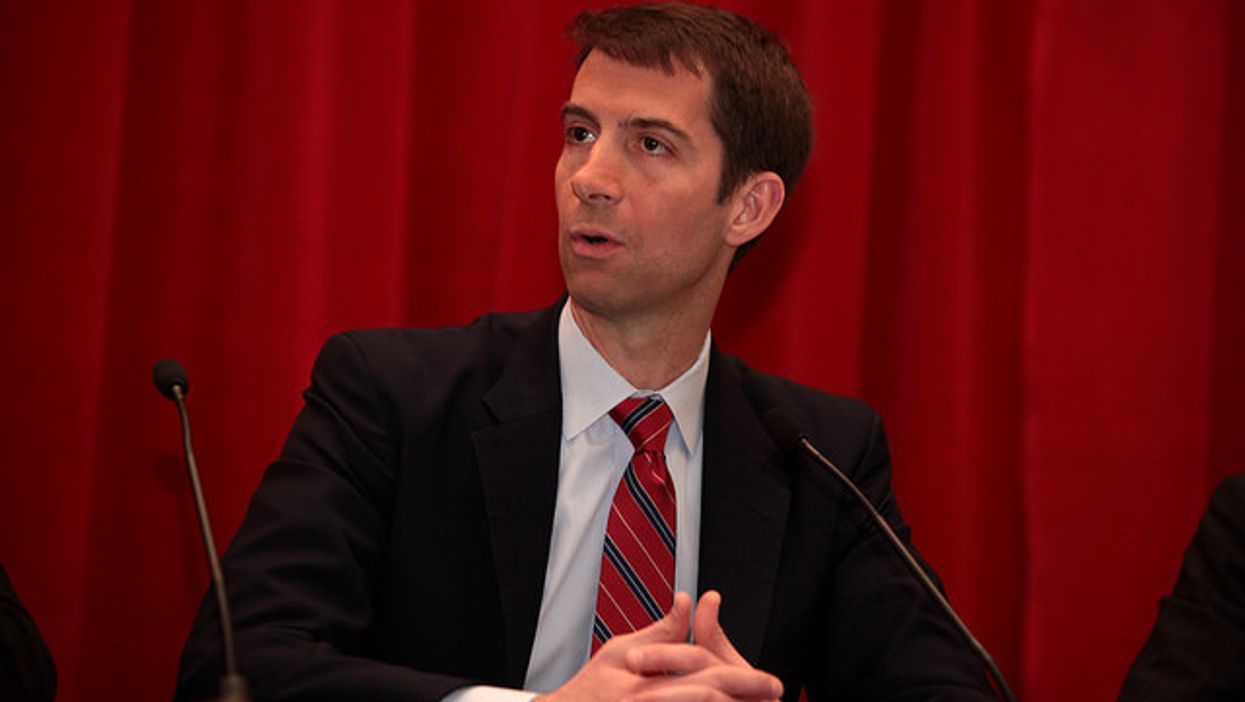 Photo by Gage Skidmore licensed under CC BY-SA 2.0
With the votes counted, Judge Ketanji Brown Jackson is set to become our next Supreme Court justice. But members of the Senate Judiciary Committee who wanted to use her confirmation hearings for everything but the thing they were designed for are also walking away satisfied.
Republican senators like Tom Cotton of Arkansas, Josh Hawley of Missouri, Marsha Blackburn of Tennessee, and Ted Cruz of Texas used their time to either talk down to Jackson or talk past her to make political points.
During the hearings, questions that criticized her sentencing philosophy as well as "empathy" were tailor-made for the African American Supreme Court candidate and a slew of negative ads to accuse her and every Democrat of being soft on crime in general and pornographers in particular.
In that, they were merely following the playbook that has become routine and is unfortunate for any American who wants to get anything done, especially, in this instance, for advocates of criminal justice reform. That Jackson had the support of major law enforcement groups and could boast of relatives with more time on the front lines of fighting crime than all those senators combined were facts to be ignored by those looking to set a narrative. That her sentencing record resembled that of Republican judges favored by the disagreeing and disagreeable senators were details to be brushed aside. Cotton, in fact, ramped up his attacks, saying, to the disgust of the Anti-Defamation League, that she would represent "Nazis."
After listening to and watching the show along with the rest of us, three Republican senators explained their reasoning for backing the eminently qualified jurist while decrying the partisan grandstanding that has accompanied modern Supreme Court justice hearings. Lisa Murkowski of Alaska, Susan Collins of Maine and Mitt Romney of Utah, who actually voted against her last time around, had met with Jackson. They apparently saw her as she truly is, not the ridiculous caricature constructed by her interrogators.
What did that get the three? The label of "pro-pedophile" from Rep. Marjorie Taylor Greene (R-GA). Along with that slander, she also tweeted, the proof was, "They just voted for #KBJ," when the vote had not yet happened. But when has being wrong on fact or intention ever stopped the Georgia Republican?
It all fits in with the spectacle of Republican members of the Senate Judiciary Committee continuing their snarling and baseless accusations against Jackson this past Monday — the April 4 anniversary of the assassination of Dr. Martin Luther King Jr.
The symbolism speaks for itself and points to a larger problem.
Florida's Republican Gov. Ron DeSantis has added another word to be weaponized, "groomer," to stick to anyone who dares oppose the state's vague and restrictive legislation limiting classroom instruction on sexual orientation or gender identity, something I'm pretty sure was not rampant in Florida schools — less likely to happen, I believe, than the bullying of gay kids.
But in Florida, no person — or corporation, in the case of Disney — is safe from hyperbolic attack.
Compromise is out of the question, even though important issues face the American people. The goal is conflict rather than conflict resolution, with everything cast in black and white rather than shades of gray.
In the meantime, expect little progress on everything from criminal justice reform and immigration to the economy and education.
The "soft on crime" label, the red meat some senators questioning Jackson devoured, has everyone scrambling. No one on a ballot wants to be accused of being on the side of criminals, even as our justice system rests on the concept of innocent until proven guilty.
Say goodbye to reality-based reasoned discussion, with give-and-take from every side, and hello to filtering every issue through fear, feelings and optics.
Get used to terms such as "woke," "socialism," "critical race theory" and now "pedophile" in outraged statements and already surfacing alarmist election ads.
With violent crime rates rising — though data points to a complex set of causes, including a pandemic — and elections approaching, policymakers are pulling back on advocacy of criminal justice reform. To be sure, it shouldn't be a crime to examine policies initiated in thoughtfulness and compassion, to make sure a balance is reached that combats crime in ways both effective and fair.
But political expediency, protecting the right flank, can play an oversize role when retreating from needed reform.
In President Joe Biden's proposed budget, a wish list of political priorities, more funds for law enforcement are prominently placed. It would give police departments the resources they say they need and could also serve to neutralize "defund the police," a slogan and belief few Democrats embraced but all were tagged with.
The money for local and state police would go to training and different approaches to public safety, and not just more police on street corners, the administration insists. But groups that oppose violence by police as well as toward them have reasons to be skeptical about the details, at least while the problems that reforms were created to erase have not disappeared. Just this week, for example, we learned the Minneapolis police officer who shot and killed Amir Locke during a pre-dawn, no-knock raid will face no charges, though Locke was not the subject of the warrant. Wasn't the shooting of Breonna Taylor in Kentucky supposed to be a wake-up call for these kinds of searches?
The federal bill backed by police groups and developed by a bipartisan group of lawmakers once looked promising, until one of them, Sen. Tim Scott (R-SC), turned against it. Now, it doesn't have a chance.
Is tangled immigration policy the fault of lawmakers of every party? Of course. But nothing will be done as long as the issue can be demagogued, with candidates such as North Carolina Rep. Ted Budd — running with Donald Trump's blessing in the GOP primary for a U.S. Senate seat from that state — broadcasting a scary ad with migrants breaching a border barrier. It doesn't matter that the video in the Biden-bashing ad is from Trump's presidency.
As midterm elections grow closer, expect more posturing for the camera, more setting up that killer sound bite.
As long as name-calling can raise blood pressure and drive voters to the polls, solving complicated problems Americans face will have to wait.
Mary C. Curtis has worked at The New York Times, The Baltimore Sun, The Charlotte Observer, as national correspondent for Politics Daily, and is a senior facilitator with The OpEd Project. Follow her on Twitter @mcurtisnc3.