Forget Swing States: The Presidential Election Will Be Determined By 20 Swing Counties In Linchpin States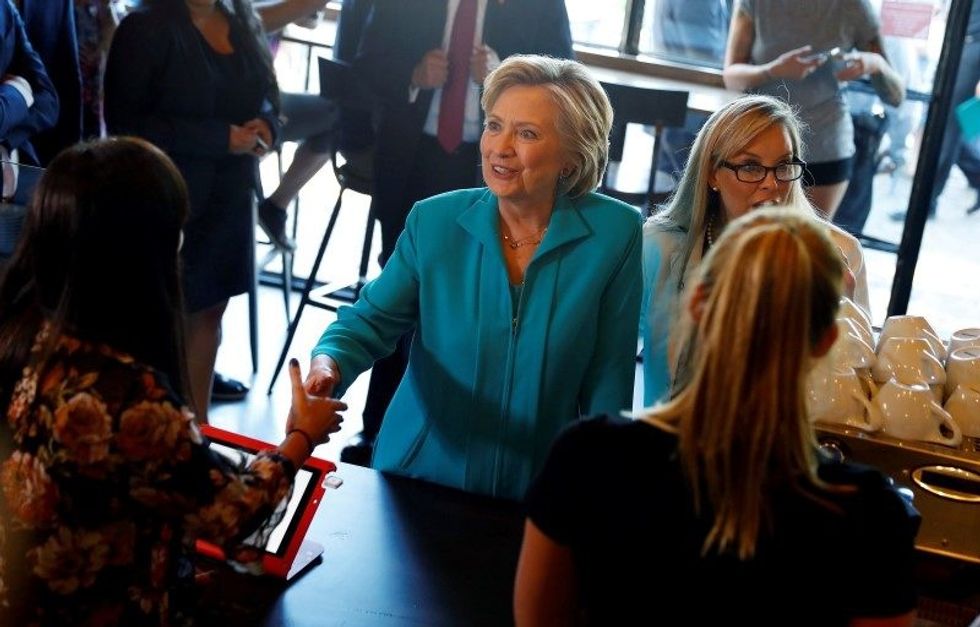 Published with permission from AlterNet.
Americans have heard that the election of the next president will be determined by a few battleground states, with Ohio, Florida and Pennsylvania as 2016's leading examples. But what if it's not simply a handful of swing states but swing counties, with less than 500,000 swing voters, that truly matters?
That's the provocative assessment from David Schultz, a professor of political science at Hamline University in Minnesota and editor of the Journal of Public Affairs Education. Schultz co-edited a book on swing states and now predicts fewer than 20 counties will tip the balance to pick the next president.
That's the provocative assessment from David Schultz, a professor of political science at Hamline University in Minnesota and editor of the Journal of Public Affairs Education. Schultz co-edited a book on swing states and now predicts fewer than 20 counties will tip the balance to pick the next president.
Where are 2016's deciders? In Ohio, it's Hamilton County, home to Cincinnati. In Pennsylvania, it's Bucks and Chester Counties, to the north and south of Philadelphia. It's also Lackawanna and Luzerne Counties, straddling Scranton and Wilkes Barre in its western interior. In Florida, it's Hillsborough and Pinellas Counties, surrounding Tampa and St. Petersburg. In Wisconsin, it's Brown County, where Green Bay is; nearby Winnebago County, further inland; and Racine County to the south near Chicago suburbs. In Iowa, it's rural tiny Bremer County, and in New Hampshire, it's Hillsborough township, inland on the Massachusetts border.
There are a few more: population epicenters such as Nevada's Clark County, home of Las Vegas; Virginia's Prince William County, outside Washington D.C., North Carolina's Wake County, with Raleigh and Durham; New Mexico's Bernalillo County, containing Albuquerque; and surprisingly, Dona Ana County near Las Cruces, which has a big state university.
"These seem to be the counties within the swing states where the candidates go," said Schultz. "They view them as battlegrounds. They seem to be pretty good bellwethers, in the sense of predictors of how that state is going to vote… Even if they appear blue or red, there's a question of how great the turnout will be."
These counties, which cast 2,485,793 votes for Barack Obama in 2012, compared to 2,106,985 votes for Mitt Romney, seem to be their state's 2016 tipping points or bellwethers for a variety of reasons. They sit in between red and blue belts. They're often suburban, experiencing major demographic shifts, including young and better-educated people moving in, and some are more racially diverse.
"What we are seeing in these counties, at least right now, is relatively balanced, in terms of Republicans and Democrats," Schultz said. "We have a small portion of the population of these counties that are going to be the swing voter. When I say swing voter, I don't necessarily mean swinging from Democrat to Republican. They might be swinging in to vote, or swinging out from voting."
Swing States, Swing Counties
In a nation where 130 million people are expected to vote for president this fall, it's disconcerting to think 96 percent of those ballots won't count as much as those from swing states and a few key counties. But that's a result of the Electoral College's hard math, which since 1988 has seen Republicans likely to win 23 states with 191 electoral votes, and Democrats likely to win 18 states and the District of Columbia, with 232 electoral votes. The remaining 10 states have been considered the swing states—Colorado, Florida, Iowa, Nevada, New Hampshire, New Mexico, North Carolina, Ohio, Virginia and Wisconsin—with a total of 115 electoral votes.
As political scientists drill down into election results, they find swing states are generally won by the next president—but by 5 percent or less of the vote. They see states that have flipped between Democrat and Republican, and where candidates have visited and spent big sums on advertising and get-out-the-vote efforts. Needless to say, some swings states are more critical than others—such as Florida and Ohio.
Schultz said the next stage in this analysis, identifying the tipping point counties, is a bit of a frontier for academics. There isn't good current polling available. But that's not to say there aren't reams of other data. Take the two swing counties surrounding Denver, Arapahoe and Jefferson. The U.S. Census reports they mirror national demographics, with slightly more than three-quarters white and about 20 percent Latino. Forty percent of residents have college degrees, which is higher than the national average. The average home value, $235,600, is higher than the national average of $175,700, and the median income of $62,213 is higher than the national median of $53,482.
One would think these statistics would show the Denver suburbs as being the increasingly blue core of that state's purple political identity. But Schultz says not so fast, because even though Colorado has growing numbers of well-educated young people, as reflected in those figures, it remains to be seen what their voter turnout will be this fall. "Sometimes it is deciding to vote or deciding not to vote," Schultz explains. That's part of what's critical here… How well they're mobilized, how well they are motivated to vote."
Take another set of swing counties, Pinellas and Hillsborough, in Florida, which is where Tampa and St. Petersburg are on the state's central west coast. The Census reports that its residents are not as well off financially as in Denver, with median household incomes just under the national average, and home values also below the national average. They are slightly less white than the national average, and have a larger black population, about 18 percent, compared to the national average of 13 percent.
Schultz explained why these counties are the fulcrum for the Florida presidential vote. "Florida is interesting because you have southeastern Florida, which is a liberal Democratic haven, and you have the panhandle, which is solidly Republican," he said. "One thing we found in all the swing states, by the way, was that they had multiple regions—strong bastions for Republicans, strong bastions for Democrats—and then you had these fuzzy areas, where you don't seem to have clear domination by one or two parties, and it gets very competitive at the sub-state and congressional level."
"Republicans have mobilized; they have gotten all the votes they can get out of the panhandle," he continued. "Democrats have gotten everything out of Miami-Dade they can. It's relatively evenly balanced at this point. The fight is now to get those marginal additional votes… Let's say we'll have roughly 10 percent of the vote where they're not sure what will happen; that's all about mobilization and that's what's going on there."
Schultz said some of the swing counties he identified—such as small rural ones in Iowa and New Hampshire—were sites of candidate visits and seemed to be bellwether predictors, which is not as pivotal as the role likely played by Pinellas and Hillsborough counties in Florida this fall. But other unlikely picks, such as Dona Ana County in New Mexico, where Las Cruces is located, is home to a big university and a potentially large but mercurial student voting block. Many of those students are non-white, and that too becomes a significant factor, he said.
The four Pennsylvania counties he cited are split between the Philadelphia suburbs and the northeast region where the cities of Scranton and Wilkes Barre are located. Speaking of Luzerne and Lackawanna counties, Schultz said, "these are old-line New Deal Democrats, from the FDR era, but potentially though, they are very flippable. And it's very Catholic there." He said that he included them in his list of swing counties because Donald Trump predicted winning Scranton, and Hillary Clinton has also repeatedly visited the area.
What's revealing about Schultz's list of swing counties is that it pinpoints the fulcrums or likely tipping points in states that drive presidential candidates to Electoral College victories. That is not the same as the national popular vote, needless to say. Indeed, when Schultz identified these swing counties, he looked at their 2012 votes, and realized that had Mitt Romney been a little more successful in various combinations of these locales, he would have been elected.
"People don't realize that the Romney-Obama race was actually far closer than most people think," Schultz said. "There was an Electoral College blow-out, but if you had a shift of just a few hundred thousand votes across a few states, Romney would be running for re-election this year. We're really looking at no more than a half-million votes shifting, depending on how you actually define it, and that's a very small number of votes."
Of course, everyone still needs to vote in the November election. But after tens of millions of ballots are tallied nationwide, the behavior of thousands of swing voters in the swing counties Schultz identified may make the difference between a President Trump or President Clinton.
Steven Rosenfeld covers national political issues for AlterNet, including America's retirement crisis, democracy and voting rights, and campaigns and elections. He is the author of "Count My Vote: A Citizen's Guide to Voting" (AlterNet Books, 2008).
Photo: Democratic presidential nominee Hillary Clinton greets supporters at Hub Coffee Roasters in Reno, Nevada, August 25, 2016. REUTERS/Aaron P. Bernstein