Former NSC Aide Implicates Mulvaney In Ukraine Scheme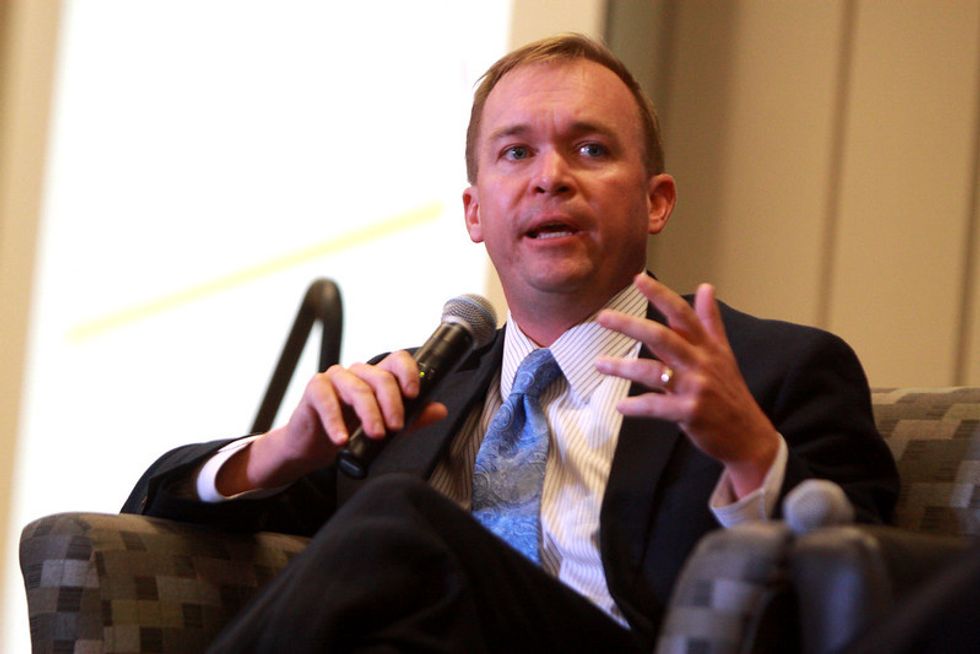 The efforts to pressure Ukraine to investigate former Vice President Joe Biden go deeper than originally thought.
Acting White House chief of staff Mick Mulvaney was reportedly part of the campaign to allegedly try to force Ukraine to open an inquiry into Biden, according to Monday testimony from former National Security Council staff member Fiona Hill.
Hill testified that Mulvaney had an agreement that Donald Trump would meet with the new president of Ukraine if Ukraine opened the Biden investigation that Trump and his personal lawyer, Rudy Giuliani, wanted, according to a report from the New York Times.
Mulvaney's roll in the scandal is notable, given that he has reportedly taken a more hands-off approach to managing Trump than previous chiefs of staff, who have joined the long list of Trump aides to be fired or leave the administration.
According to a New York Times report from January, Mulvaney doesn't attend every Trump meeting or even demand that he get the final sign off on things that happen in the administration, which is typical of a chief of staff. But he did get involved in the Ukrainian scandal — which alarmed Hill and her boss, now-former national security adviser John Bolton, so much that she relayed the efforts to the chief legal adviser for the NSC.
In fact, Bolton described the effort to pressure Ukraine to investigate Biden as a "drug deal" according to multiple media reports.
Hill's testimony is part of a string of former Trump administration officials who are defying White House demands that no one cooperate with the House impeachment probe and instead speaking to a group of House committees weighing whether to file articles of impeachment.
Former U.S. Ambassador to Ukraine Marie Yovanovitch testified on Friday that Trump personally pressured the State Department to remove her from her role based on false conspiracy theories.
And George Kent, deputy assistant secretary of state for European and Eurasian affairs, is testifying to Congress Tuesday, despite the State Department's attempt to block him from doing so. Kent tried to prevent Yovanovitch from being removed from her role.
The parade of former officials testifying is bad news for Trump, who has tried to prevent information about his shady deeds from leaking out.
And instead of denying the facts the former aides are dishing, Trump is instead decrying the process the House is undertaking to weigh articles of impeachment.
"Democrats are allowing no transparency at the Witch Hunt hearings," Trump tweeted Tuesday morning. "If Republicans ever did this they would be excoriated by the Fake News. Let the facts come out from the charade of people, most of whom I do not know, they are interviewing for 9 hours each, not selective leaks."
Published with permission of The American Independent.