Fort Hood Shooting 'Happened Right In Front Of Me,' Soldier Texts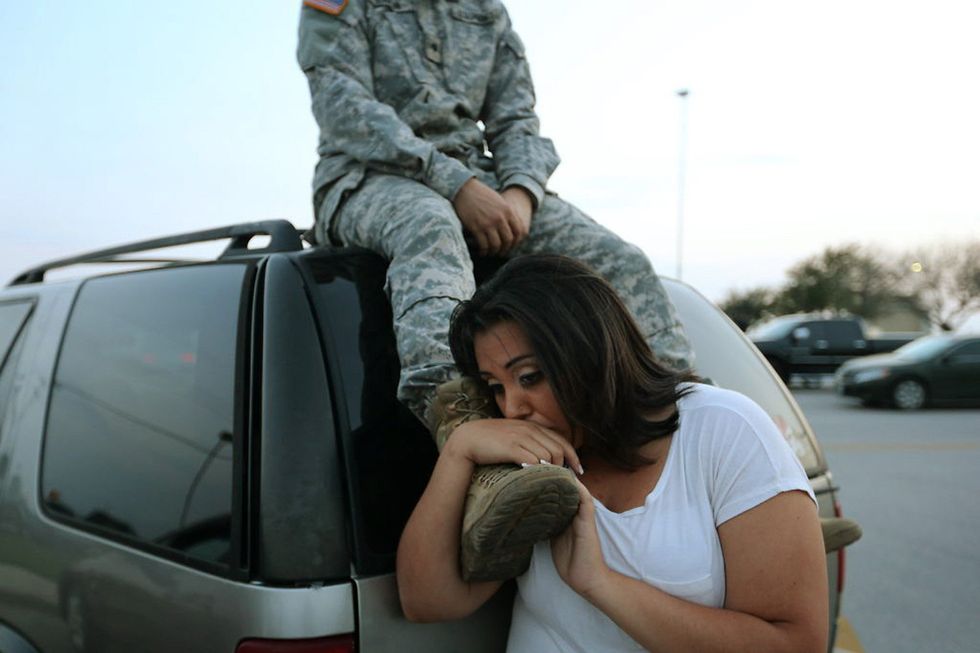 By Molly Hennessy-Fiske, Los Angeles Times
FORT HOOD, Texas — Moments after news broke of the Fort Hood shooting about 4 p.m. CDT last Wednesday, Suzy Sanders began frantically texting her 21-year-old stepson, a soldier stationed at the Army post since fall.
His first chilling reply landed at 5:22 p.m.
"It happened right in front of me Suz," Pvt. Jacob "Jake" Sanders texted. "I watched my sergeant die. I tried to revive him. I'm fine. I love you."
Sanders, a former varsity basketball player from Indiana with a brown crew cut, square jaw and wide smile, is among four survivors expected to be honored by President Barack Obama at a Wednesday memorial here. Others include a chaplain who helped save fellow soldiers and a female military police officer who confronted the shooter.
While the military is not allowing Sanders or other witnesses to speak publicly, the soldier recounted his experience to his father, Greg Sanders, 41, of Madison, Ind., a small town along the Ohio River, who shared it with the Los Angeles Times on Monday.
For Jake Sanders, the ordeal began when the shooter entered the transport building where he worked, his .45-caliber Smith & Wesson drawn.
Sanders knew the shooter, Spc. Ivan Lopez, 34, who had recently joined his transport unit in the post's 13th Sustainment Command. He was a quiet soldier who mostly kept to himself.
A few other soldiers were in the room. But Sanders was the closest, about 5 feet away, as Lopez approached his boss, Sgt. Timothy Owens.
Owens, 37, was a gruff leader from a small town in southern Illinois who was known as "Sgt. O" to his troops. Sanders admired and trusted Owens, who reminded him of his high school basketball coach back home in Indiana.
That day, Owens exchanged words with Lopez. Sanders has yet to tell his family what was said.
"Sgt. Owens tried to verbally talk him down, and that's when the shot was fired," Greg Sanders said. Jake Sanders wasn't sure whether it was just one shot, but at least one bullet wounded Owens. He tumbled to the floor.
"It happened so fast, before he knew it, Sgt. 'O' was on the ground," Greg Sanders said.
No one else was injured.
Lopez fled to a nearby parking lot where he would confront the female military police officer before shooting himself in the head.
Jake Sanders rushed to his sergeant. He had trained as a medic before switching to the transport unit. Drawing on his medical training, he began administering CPR and was soon covered in blood.
He wasn't sure how long it took paramedics to arrive. His sergeant was still alive when they left, but died at the hospital.
Sanders was so stunned that when military police arrived, he could barely speak.
"The emotion took over," his father said.
Officials took Sanders and other witnesses for questioning by the military's Criminal Investigation Division staff. He kept texting his family overnight. They updated him on the carnage Lopez had left in his wake as he fired in another building and from his car outside. Two other soldiers had been killed, 16 wounded.
Sanders later learned that Lopez may have been upset because superiors denied his leave request after his mother died in November.
Sanders had also lost a grandparent during his time in the military. His grandfather died during his basic training at Fort Jackson, in Columbia, S.C. His father recalled that the family told Sanders about the death at his graduation. He did not take leave to attend the funeral.
His son's decision to join the military had surprised Sanders, a sales manager at a Chevrolet dealership who did not serve.
In recent days, Jake Sanders has been thinking back to the shooting, considering his military training and whether he could have saved Owens.
"He felt a lot of guilt because he couldn't do more," his father said. "That's been tough on him."
On Saturday, Sanders met Owen's wife for dinner and visited some of the shooting victims he knows who are still hospitalized. That helped him feel a bit better, his father said. Sanders has also been distracting himself by watching NCAA basketball, a staple of his childhood.
He owes the Army at least three more years and plans to keep pursuing a military career.
After the shooting, Sanders' fatigues and boots were so covered in blood, he had to throw them away. He bought replacements with his own money.
His father said his son's decision to keep serving shows the strength of his character and commitment.
Greg Sanders does not plan to attend the memorial on Wednesday — he has to work and care for his two younger children. But he is scheduled to visit his son here next weekend.
"I just want to hug him," he said, "He's my hero. I'm proud he used his training to try to save Sgt. Owens."
Sanders texted his parents about the memorial, telling them he is to receive an award from Obama at a "pinning" ceremony. He was still more preoccupied with the loss of his sergeant than the prospect of meeting the president, his father said.
"It's not about us," Sanders wrote. "It's about the ones who died and were injured. And we hope it stays that way."
Photo via Deborah Cannon/Austin American-Statesman/MCT