Fort Hood Victims Confront Shooter In Court
@AFP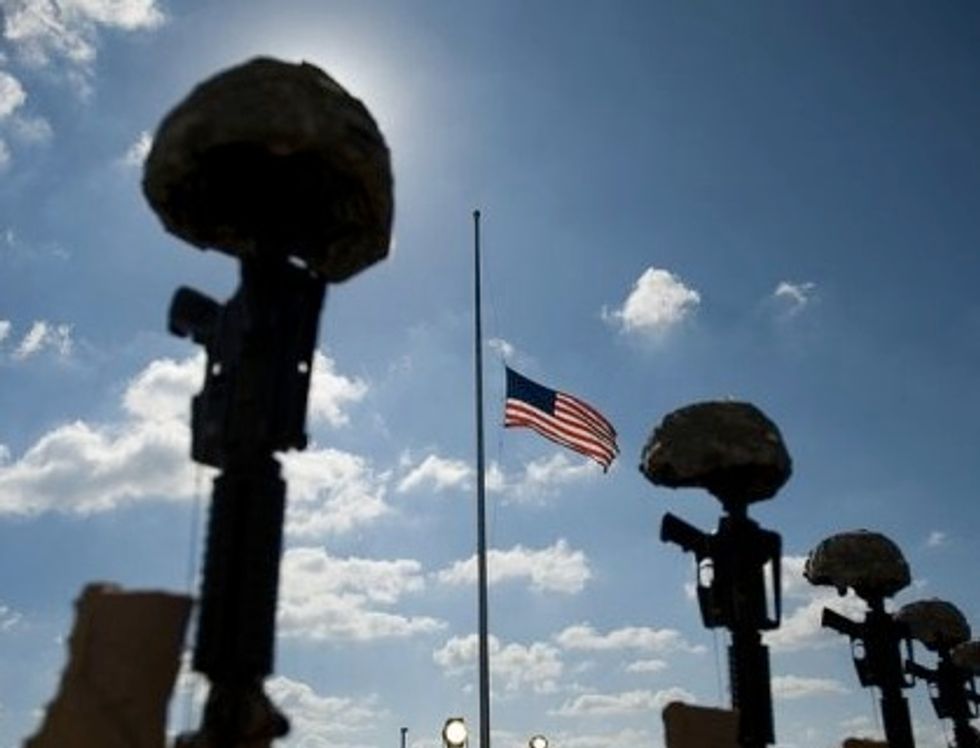 FORT HOOD, United States / Texas (AFP) – With the one eye he has left, Staff Sergeant Alonzo Lunsford stared down the U.S. army psychiatrist standing trial for the Fort Hood massacre, and recounted how he was repeatedly shot.
Lunsford was the first victim to testify Tuesday at the trial of Major Nidal Hasan, who could face the death penalty if he is convicted of killing 13 people and wounding dozens more at the Texas army base in 2009.
Hasan, who has fired his lawyers and is representing himself, earlier gave an opening statement in which he admitted his guilt over the mass shooting.
Lunsford, now retired, who was shot in the head and the body, detailed how the carnage unfolded, pointing to the seven places where Hasan's bullets left their mark on his large frame.
He recalled how people initially froze in shock after Hasan started to open fire on troops in a pre-Afghanistan deployment center, before realizing that the shooting was premeditated.
Lunsford rushed for an exit but as he gazed back he saw a laser sight from Hasan's weapon focused on him. He blinked, and was then felled by a bullet smashing into the right side of his head. After trying to crawl away he was shot in the back, after which he decided to "play dead."
Hasan, who did not ask Lunsford any questions, had spoken only for a few minutes earlier Tuesday, telling the jury of 13 Army officers that the people he killed were casualties of war after he "switched sides."
"The evidence will clearly show I am the shooter," Hasan declared.
Paralyzed from the waist down after being shot by police trying to stop the bloodbath, Hasan was calm and collected as he monitored the proceedings from his wheelchair in a green camouflage uniform.
He was sporting a thick beard responsible for delaying the trial by months as he fought to win the right to violate the military's grooming rules.
Now aged 42, Hasan was due to deploy to Afghanistan weeks after the attack. He has said he shot the soldiers to protect his fellow Muslims from an "illegal" war.
His opening statement reiterated his radical views.
"We, the mujahedeen, are imperfect Muslims trying to establish a perfect religion in the land of the supreme God," Hasan said. "I apologize for any mistakes that I made in this endeavor."
Military law prohibits Hasan from pleading guilty to a capital offense and so he has been given the opportunity to try to convince the jury that he does not deserve death for his actions.
Michelle Harper, a civilian who worked in the pre-deployment processing center where Hasan opened fire, described how the initial gunshots sounded like firecrackers going off, before chaos and bloodshed followed.
Huddled beneath a desk in a far corner of the building, she called 911. In a recording played for the court, gunshots could be heard as she whimpered "please hurry."
"Oh my god, everybody is shot," she told the operator.
One of the soldiers who died, Private First Class Michael Pearson, could be heard groaning in pain on the recording.
Military judge Colonel Tara Osborn has insisted that Hasan cannot use the high-profile trial as a platform to espouse extreme views and that he treat witnesses with respect.
Osborn has also barred prosecutors from mentioning terrorism as a motive and prohibited Hasan from using a "defense of others" strategy to justify his actions.
The Pentagon has classified the incident as "workplace violence," but a number of victims have filed suit hoping it will be reclassified as an act of terror so they can receive more financial compensation.
Three weeks before the shooting, according to prosecutors, Hasan told a doctor: "They have another thing coming if they think they are going to deploy me."
He studied jihadist writings by Taliban leaders and wrapped ammunition magazines in paper towels so people wouldn't hear them clinking in his pockets, prosecutors said.
Born in the eastern U.S. state of Virginia to Palestinian parents, Hasan joined the Army in 1995.
It was during a residency at Walter Reed Army Medical Center from 2003 to 2006 that he first exhibited signs of radical Islamic views, according to an FBI report entitled "A Ticking Time Bomb."
Hasan attended a mosque where radical U.S.-born cleric Anwar al-Awlaki — a key figure in Al-Qaeda in the Arabian Peninsula until his death in a 2011 drone strike in Yemen — worked in 2001.
He exchanged emails with Awlaki in the months leading up to the shooting, in which he questioned the morality of killing soldiers if they intended to attack Muslims. Awlaki later called Hasan a hero.
Photo Credit: AFP/Jim Watson