Fort Hood Witnesses Stare Down Shooter In Court
@AFP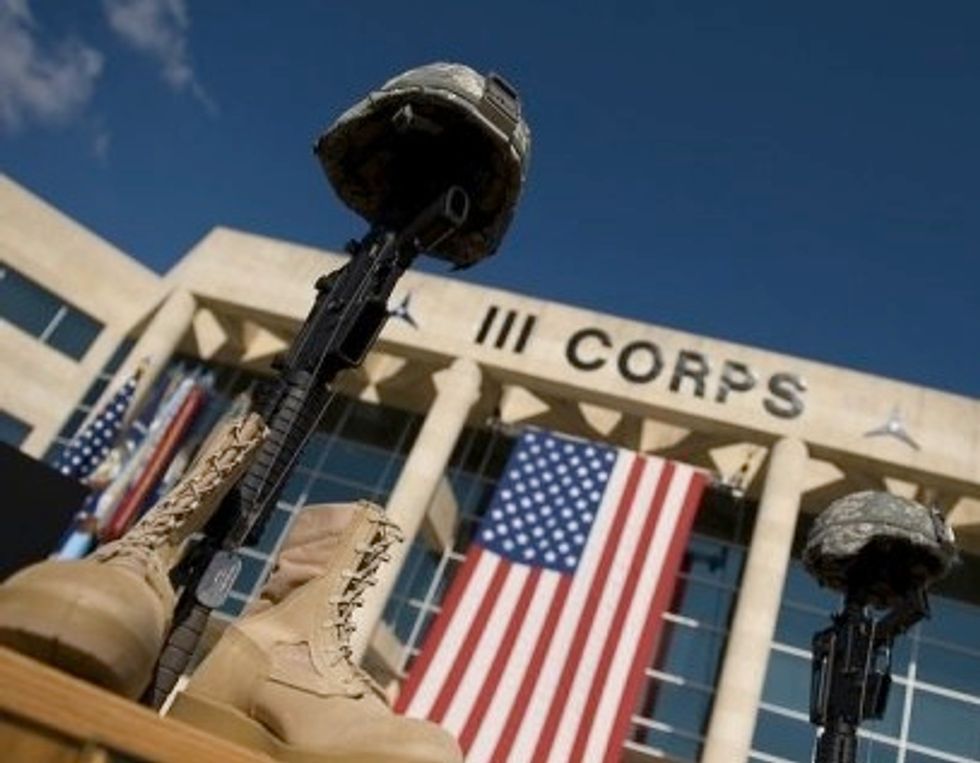 FORT HOOD, Texas (AFP) – A steely-eyed sergeant stared down the U.S. Army psychiatrist she saw slaughtering their fellow soldiers on a Texas military base as she delivered graphic testimony in court Thursday.
Major Nidal Hasan, who admitted to being the shooter in his opening statements, could face the death penalty if convicted of killing 13 people and wounding dozens more in the 2009 Fort Hood massacre.
At least three people were shot as they charged at Hasan in order to end the carnage. Hasan was eventually stopped by a police officer who was also injured in a gunfight which left Hasan paralyzed from the waist down.
Sergeant Maria Guerra pointed directly at Hasan — who is representing himself at trial — and identified him as the man she saw deftly reloading his weapon in a room filled with gunsmoke.
"I see bodies," Guerra said as she described the aftermath on the second full day of the high-profile trial. "I see bodies everywhere. I see blood. No one is moving."
One of the images burned into her mind was of Private Aaron Nemelka, who was killed before he could even jump up from his chair.
"He was white. That's what sticks out with me. He was white as a ghost," Guerra told the court.
The Fort Hood killings prompted calls for stronger safeguards against internal security threats and "homegrown" terror attacks.
Now aged 42, Hasan was due to deploy to Afghanistan weeks after the attack. He has said he shot the soldiers — and several civilians working in the center — to protect his fellow Muslims from an "illegal" war.
Specialist Meagan Martinez, told the court that when she first heard the shots she thought it was just a drill.
Then the screams started and she hit the floor, laying perfectly still as she watched Hasan chose his targets with a "cold, calculated stare."
"He was shooting everything that moved in calculated motion," she told the court.
"I am just watching him slowly walk, walk back and forth and just shooting us for what felt like an eternity and then he stopped."
Hasan has repeatedly attempted to plead guilty, but military law prohibits him from doing so to a capital offense.
His court-appointed standby counsel on Wednesday urged the judge to either relieve them of their duties or prevent Hasan from continuing to represent himself at trial.
They argued he was deliberately seeking the death penalty.
Military judge Colonel Tara Osborn denied the request on Thursday, telling the attorneys that her order "relieves you of any ethical liability."
Born in the eastern US state of Virginia to Palestinian parents, Hasan joined the Army in 1995.
It was during a residency at Walter Reed Army Medical Center from 2003 to 2006 that he first exhibited signs of radical Islamic views, according to an FBI report entitled "A Ticking Time Bomb."
Hasan attended a mosque where radical US-born cleric Anwar al-Awlaki — a key figure in Al-Qaeda in the Arabian Peninsula until his death in a 2011 drone strike in Yemen — worked in 2001.
He exchanged emails with Awlaki in the months leading up to the shooting, in which he questioned the morality of killing soldiers if they intended to attack Muslims. Awlaki later called Hasan a hero.
Photo Credit: AFP/Jim Watson