Four Frenchmen Home After Three-Year Qaeda Kidnap Ordeal
@AFP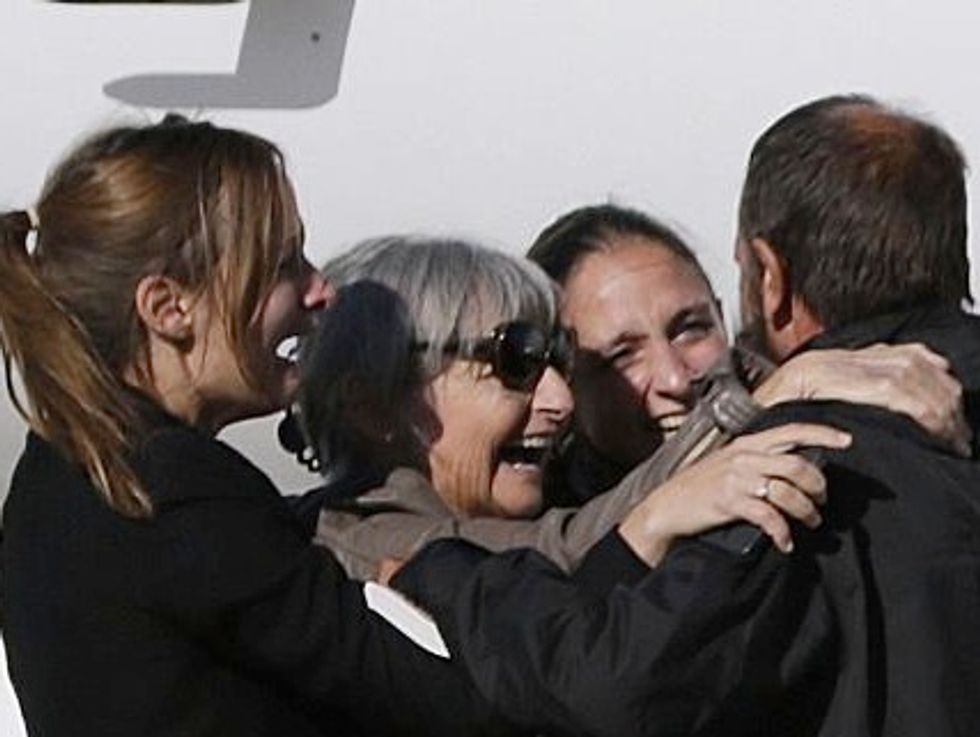 Paris (AFP) – Four Frenchmen held captive for three years by an Al-Qaeda offshoot in North Africa flew home to their families on Wednesday, as sources said at least 20 million euros had been paid in ransom.
The four men, who were kidnapped by Al-Qaeda in the Islamic Maghreb (AQIM) in northern Niger in 2010, flew into the Villacoublay military airport near Paris, where they were met by their families and President Francois Hollande.
A source close to the Nigerien negotiating team that secured the hostages' release told AFP Wednesday that, despite French assurances to the contrary, a ransom had been paid.
"Between 20 and 25 million euros was paid to obtain the release of the French hostages," the source said, adding that the money included payments to the hostage-takers and intermediaries.
Newspaper Le Monde also quoted a French source close to the negotiations as saying more than 20 million euros ($28 million) had been paid for their release.
The French government has denied paying any ransom, with Defence Minister Jean-Yves Le Drian insisting on Wednesday: "France has had the same policy for three years. We do not pay."
The four ex-hostages had left Niger on a government plane earlier Wednesday.
They appeared relaxed and had shaved or trimmed the thick beards they were wearing when they were released.
The four men appeared thin but otherwise in good health, an AFP reporter at the scene said.
Hollande had announced their release on Tuesday, after what he called "three years of suffering for the families who lived through a nightmare".
Hollande thanked Niger's President Mahamadou Issoufou for helping to secure the release of the four men.
Foreign Minister Laurent Fabius, who flew back with the hostages, told AFP before takeoff that the men had been freed in neighbouring Mali, and were in "very good shape".
"They have been hostages for three years and the nightmare is finally over," he said.
In a brief remark to AFP at the airport in Niger, one of the hostages, Thierry Dol, 32, said: "It was very difficult but it was the test of a lifetime."
Francoise Larribe, who was kidnapped along with her husband Daniel before she was freed in February 2011, said on learning of her husband's release: "It's an emotional wave, a tsunami."
"I have never lost hope, even though there were moments of dejection, fear and anguish," she said.
Dol, Larribe, Pierre Legrand and Marc Feret were kidnapped on September 16, 2010, from a uranium mining compound in Arlit, north-central Niger. They worked for French nuclear giant Areva and construction group Vinci.
Legrand's mother Pascale Robert told BFMTV: "Now we're waiting for them to physically return, to see them, to touch them."
The news of their release came days after regional security sources in the town of Gao in Mali reported the presence of envoys in the Sahel "to speed up negotiations towards freeing the French hostages".
France had officially denied sending envoys.
According to a high-ranking Nigerien source, the four were taken to Niamey by a helicopter from Anefis in northeastern Mali near the Algerian border.
That was the site of final negotiations which included Mohamed Akotey, a former Tuareg rebel who is a senior executive with an Areva subsidiary in Niger.
The hostages were apparently held in different locations to prevent them being freed in any French assault, and were brought together just days before the release.
A Malian security source also said that "the final negotiations took place in the Malian desert", adding that "eminent Malians in the north provided timely assistance".
Three other people who were kidnapped at the time — Francoise Larribe, a Togolese and a Madagascan — were freed in February 2011.
At least seven French hostages remain in captivity around the world, including two snatched in Mali, one in Nigeria and four in Syria.
Le Drian said the government would continue to do all it can to secure the release of hostages.
"I will not rest until all of them are free," Le Drian told RTL radio. "It's very complicated, each case is unique, it's never the same networks… It takes a lot of discretion."
AQIM had demanded at least 90 million euros ($124 million) for the release of the four hostages.
The group grew out of a movement launched in the late 1990s by radical Algerian Islamists who sought the overthrow of the Algiers government. It allied with Al-Qaeda in 2006 and operates across the Sahel region south of the Sahara.
AFP Photo/Kenzo Tribouillard