Fox News Didn't Show Democratic Convention Speeches That Cut Against Its Right-Wing Narrative
@AlKapDC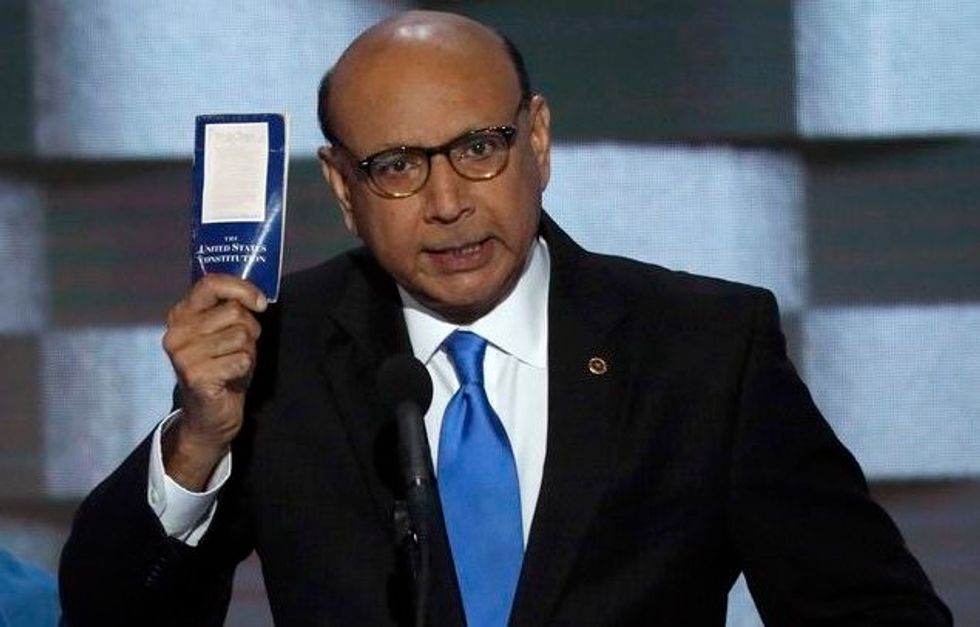 Published with permission from Media Matters for America.
Fox News did not air several Democratic National Convention speeches from figures promoting issues that run counter to the narrative the network has pushed for years—including racial justice, reproductive rights, gun safety reform, LGBT equality, and respect for Muslim-Americans.
During the second day of the convention on July 26, members of the "Mothers of the Movement," a group of women whose African-American children were killed due to gun violence or in officer-involved shootings, shared their experiences and their children's memories. The women also urged people to support Democratic presidential nominee Hillary Clinton, who they said "isn't afraid to say that black lives matter," and pushed for criminal justice reform and gun safety reform. Fox News not only neglected to air the speeches, but the Mothers of the Movement appearance went completely unmentioned at the time. Fox News and right-wing media have repeatedlydemonized the Black Lives Matter movement, likening it to "a hate group" and a "murder movement." They have also dismissed calls for criminal justice reform, pushing the "black-on-black crime" canard as an excuse and calling concerns about systemic racism in American society "dumb."
The convention also featured speakers who advocated for protecting abortion rights, including Planned Parenthood Action Fund president Cecile Richards, who spoke on July 26, and NARAL Pro-Choice America president Ilyse Hogue, who spoke on July 27. Both speeches were ignored by Fox. Protecting abortion rights runs counter to the stigma Fox casts on the medical procedure, with their hosts falsely framing abortion law restrictions as patient safety measures and calling a common abortion procedure "dismemberment abortion." Conservative media have joined Fox figures to demonize Planned Parenthood, repeatedly pushingdebunked myths that the organization profited off the selling of fetal tissue. This smear effort has been led by Fox News, which has hosted overwhelmingly anti-choice guests — often extremists — to push misinformation about abortion and about Planned Parenthood.
The convention included remarks from relatives of victims of the Orlando and Sandy Hook massacres, both speaking on July 27 on behalf of gun safety reform. Fox covered neitherspeaker. Fox has consistently misinformed on the issue of gun safety, pushing the National Rifle Association-driven lie that gun safety measures would "take" guns away from lawful gun owners,and calling gun safety reforms "flat-out dangerous." Right-wing media have also falsely claimed that shootings tend to occur in so-called "gun-free zones," and have even asserted that restricting assault weapons such as those used in the Orlando and Sandy Hookmass shootings constitutes a "war on women."
On the final day of the convention, Sarah McBride delivered remarks as the first openly transgender person to ever speak at a party convention. McBride urged the passing of legislation to "combat violence against transgender women of color, and to end the HIV and AIDS epidemic once and for all." Again, Fox was the only cable network to not carry the speech. Fox has long waged a war on LGBT rights, arguing marriage equality would be a slippery slope to marrying animals and portraying those opposed to the policy as victims. More recently, Fox has worked to demonize transgender Americans, calling equal access to bathrooms for transgender people a "violation … of everybody's rights" and pushing the dangerous and long-debunked myth that safe, accessible bathrooms for all would result in grown men targeting girls in restrooms. Fox personalities have also called transgender Americans "confused" and "troubled" and "a very big threat to our culture."
Muslim-American Khizr Khan, whose son was a U.S. Army captain killed in Iraq, also addressed the convention on July 28. Khan spoke about the honor he and his wife felt to attend the convention "as patriotic American Muslims with undivided loyalty to our country." Khan condemned Republican presidential nominee Donald Trump's rhetoric against Muslims, challenging Trump to read the Constitution and concluding, "You have sacrificed nothing. And no one." Fox only aired two minutes of the 7-minute-long speech without audio as commercials — including a Benghazi attack ad — played over it. Fox figures have repeatedly questioned the patriotism and beliefs of Muslim-Americans, saying it is "ridiculous" to claim they "are assimilating", claiming that Islam "was born of violence," and repeatedly ignoring Muslim-American voices to falsely assertthat the community doesn't speak out after terrorist attacks. Fox and right-wing media also gave cover to Trump's Muslim ban proposal, calling it "rather prudent" and framing it as "the Constitution versus the Quran on every level."
Photo: Khizr Khan, whose son, Humayun S. M. Khan was one of 14 American Muslims who died serving in the U.S. Army  in the 10 years after the 9/11 attacks, offers to loan his copy of the Constitution to Republican U.S. presidential nominee Donald Trump, as he speaks during the last night of the Democratic National Convention in Philadelphia, Pennsylvania, U.S. July 28, 2016. REUTERS/Mike Segar