Fox's Brazen Star: Karl Rove Rebukes Obama On Executive Privilege Claim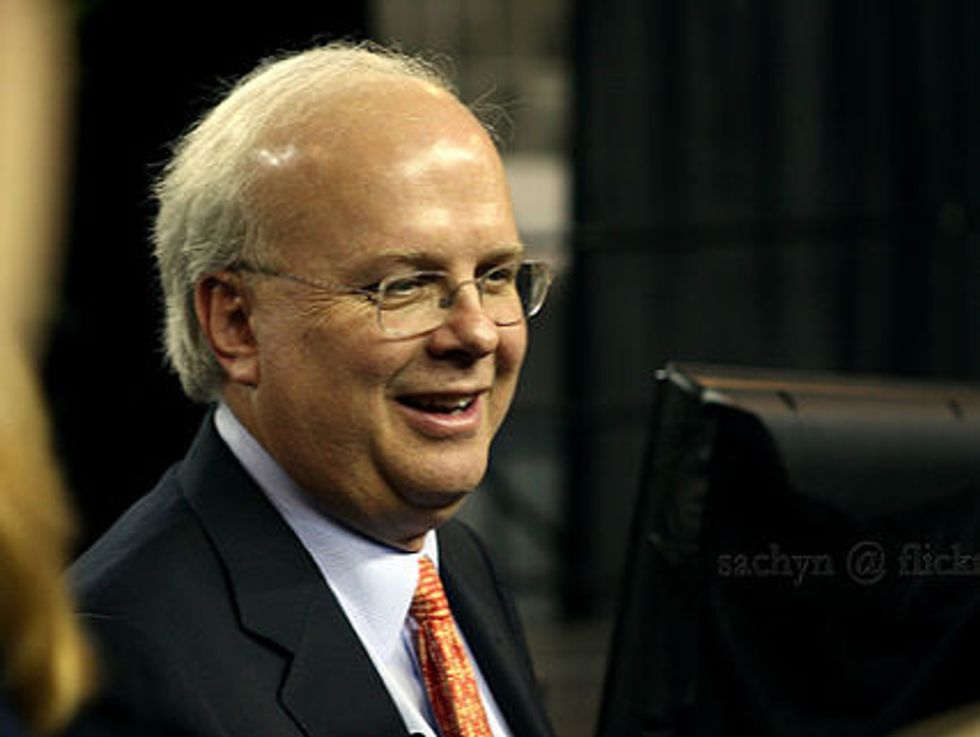 Forever incapable of embarrassment, let alone sober reflection, Karl Rove is very well suited to his current roles as Fox News commentator and Crossroads Super PAC smear sponsor.  But he achieved a moment of near-perfection last Thursday when, appearing on a Fox morning news broadcast, he spoke up about President Obama's invocation of executive privilege against a House committee subpoena of Justice Department documents.
"It's one thing to exert executive privilege over the actions of the President, and his aides, and the White House," he said. "It's another thing to exercise executive privilege with regard to a Cabinet official, seemingly in a matter that — according to the President up until now — had no connections with, no contact with, no communications with the White House…."
Rove went on to complain that the president's privilege claim over the "Operation Fast and Furious" documents demanded by Rep. Darrell Issa's oversight committee "is a very long reach. I mean basically, if the President is allowed to take the privilege that goes to the Executive Office of the President and extend it to a Cabinet department, then he can extend it to any branch of the government for any matter, even if there was no presidential or White House involvement. And I'm not certain that that's what the Founders thought about when they talked about executive privilege."
For someone whose qualifications as a constitutional authority are nil,  Rove's comments displayed an impressive degree of contempt for his listeners that is not seen every day, not even on Fox. Whatever he may know about executive privilege, he could only have learned when George W. Bush used it to protect him from various investigations, notably concerning his role as White House political boss in the partisan and lawless dismissal of seven United States Attorneys for partisan revenge.
Rove must have been reminded of that experience last week, when former Speaker Nancy Pelosi remarked: "I could have arrested Karl Rove on any given day. I'm not kidding." She was commenting on the Issa committee's resolution holding Attorney General Eric Holder in contempt for his refusal to turn over certain "Fast and Furious" material on internal Justice Department deliberations – if only to note her own forebearance for letting Rove escape confinement in a Capitol Hill jail cell.
Rove's complaint was especially audacious because he knows that Bush made privilege claims over thousands of documents not directly connected with the president and his deliberations – including those concerning the manipulation of the Justice Department and U.S. Attorneys by Rove and his subordinates, which became one of the most blatant cases of partisan abuse in the department's history.
Indeed, Bush asserted precisely the same level of privilege as Obama when he told Republican House members in 2001 that they could not obtain Justice Department internal documents concerning President Clinton's fundraising activities. That claim extended the cloak of privilege to officers of a Cabinet department under a previous president. Bush likewise claimed privilege to frustrate investigations of the military coverup of the death of Pat Tillman in Afghanistan and the FBI's coddling of Boston mobster, informant, and killer Whitey Bulger.
But Rove can ignore such details on Fox News, where he need never fear anyone will notice that he is brazenly pulling his facts and theories from his butt.