France Backs Action On Syria As U.S. Seeks Coalition
@AFP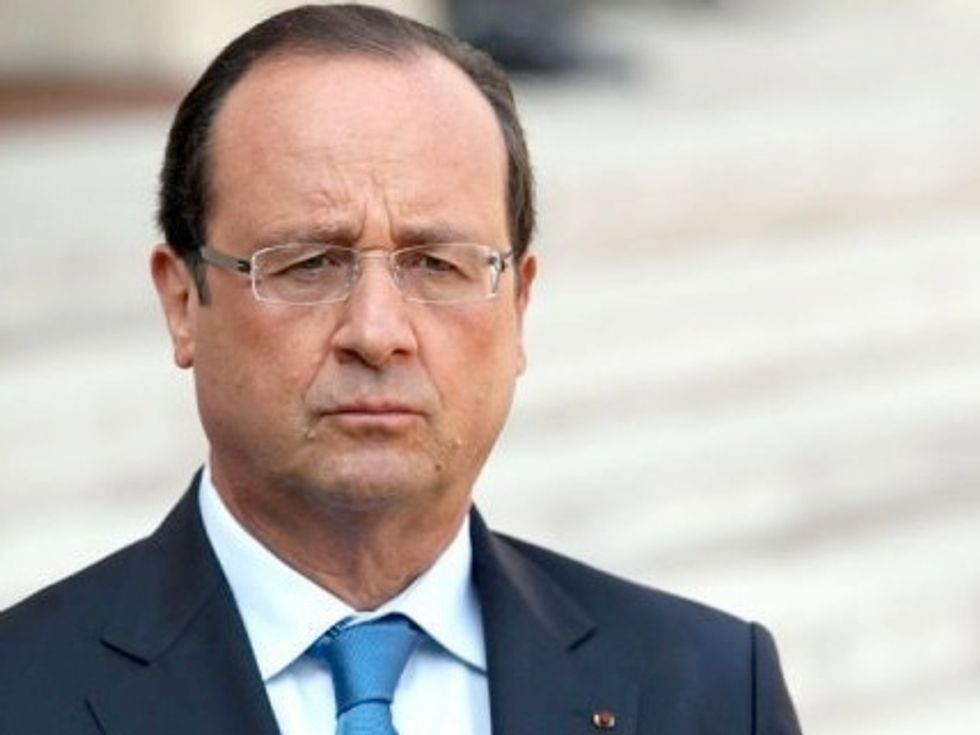 DAMASCUS (AFP) – French President Francois Hollande gave a boost Friday to U.S. plans to forge an international coalition for possible strikes against Syria after British lawmakers rejected any involvement in military action.
The White House had signalled Thursday that President Barack Obama, guided by the "best interests" of the United States, was ready to go it alone on Syria after deadly chemical weapons attacks last week.
But Russia, the Syrian regime's most powerful ally, questioned U.S. intelligence on the gas attacks and warned any military strikes without U.N. backing would deal a serious blow to "world order".
In Damascus, U.N. experts began a final day of investigations into the attacks, visiting an army hospital where victims were reportedly being treated.
The team is due to leave the war-battered country Saturday and report back immediately to U.N. chief Ban Ki-moon, who has appealed to the West to allow time for their findings to be assessed.
Faced with an impasse at the U.N. Security Council and the British parliament's shock rejection of any punitive action against Damascus, the United States has been forced to look elsewhere for international partners.
While Germany and Canada ruled out joining any military strikes, Hollande — whose country was a strident opponent of the U.S.-led war on Iraq — said the British vote would not affect his government's stance.
"France wants firm and proportionate action against the Damascus regime," Hollande said in an interview with Le Monde newspaper.
U.S. Defence Secretary Chuck Hagel said despite the British vote, the White House was still seeking an "international coalition that will act together" against President Bashar al-Assad's regime.
"We are continuing to consult with the British as with all of our allies. That consultation includes ways forward together on a response to this chemical weapons attack in Syria," he said in the Philippines.
The British government's defeat in parliament — by just 13 votes — came after the failure of an 11th-hour effort by British diplomats to win U.N. backing for action at a meeting of the permanent members of the Security Council.
"It is clear to me that the British parliament, reflecting the views of the British people, does not want to see British military action. I get that and the government will act accordingly," Prime Minister David Cameron said.
Gruesome pictures of some of the several hundred reported victims of the August 21 attacks, including children, shocked the world and piled on the pressure for a response that could draw a reluctant West into the Syrian civil war.
But Russia and fellow Syria ally Iran have warned against any intervention, saying it risked sparking a wider conflict in the already volatile Middle East.
The divisions over Syria have further chilled the frosty relations between Washington and Moscow ahead of the G20 summit next week in Saint Petersburg, where pointedly there will be no face-to-face talks between Obama and Russian President Vladimir Putin.
U.S. National Security Council spokeswoman Caitlin Hayden said Obama's decision-making "will be guided by what is in the best interests of the United States".
"He believes that there are core interests at stake for the United States and that countries who violate international norms regarding chemical weapons need to be held accountable."
Earlier in the week, reports had suggested a Western strike was imminent, but questions have been raised about the quality of the intelligence linking Assad to the gas attack.
But the military buildup was continuing in the region, with U.S. warships armed with scores of cruise missiles converging on the eastern Mediterranean.

In Damascus the mood was heavy with fear and security forces were making preparations for possible air bombardments, pulling soldiers back from potential targets.
More than 100,000 people have already died in Syria's vicious 29-month war and about three million more have been force to flee their homes, according to U.N. figures.
Some commentators have questioned the wisdom of Obama dragging the United States into another conflict after the wars in Iraq and Afghanistan — particularly as Al-Qaeda militants are among the rebels fighting the Assad regime.
Some members of the U.S. Congress voiced support for limited surgical strikes, while urging transparency from the administration.
"It is clear that the American people are weary of war. However, Assad gassing his own people is an issue of our national security, regional stability and global security. We must be clear that the United States rejects the use of chemical weapons by Assad or any other regime," said Nancy Pelosi, the minority leader in the House.
Assad's main arms supplier Russia has blocked all attempts to toughen sanctions against Damascus or authorise outside force to punish or unseat the regime.
Putin's chief foreign policy aide Uri Ushakov complained Friday that the U.S. was not sharing its intelligence about the gas attacks and so "we do not believe it".
And he said any military action that bypasses the Security Council "will deal a serious blow to the entire system of world order".
Assad, whose regime strongly denies using chemical weapons and instead blames "terrorist" rebels, remains defiant.
"Syria will defend itself in the face of any aggression," he said Thursday, vowing "victory" for his people.
Syria's jittery neighbours have also taken steps to boost security.
Israel deployed its Iron Dome missile defence system in Tel Aviv, reports said, amid fears Assad or his allies from the Hezbollah Shiite militia in Lebanon will retaliate against the Jewish state.
And at least one airline has changed its times for flights into Beirut, with Lebanon always vulnerable to spillovers of the conflict in its larger neighbor.
Photo Credit: AFP/Kenzo Tribouillard