French Leader Begins U.S. Trip With Monticello Tour
@AFP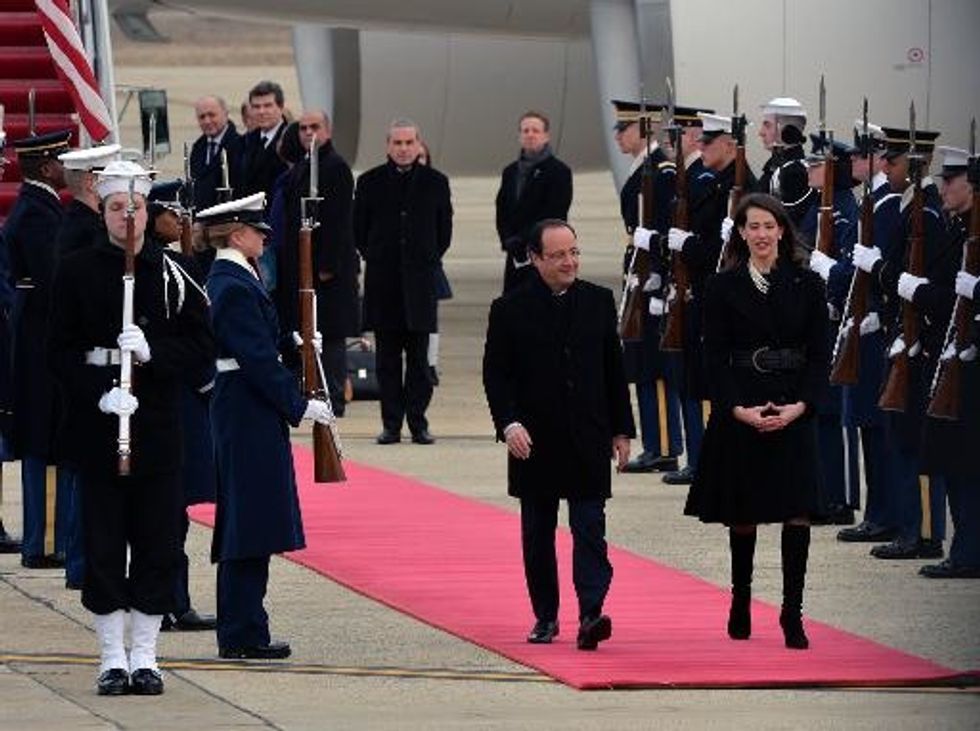 Washington (AFP) – President Francois Hollande arrived in Washington on Monday for a state visit and talks with his U.S. counterpart Barack Obama at a time of intense collaboration between the long-standing allies.
The build-up to the trip was marked by speculation over Hollande's private life, as his relationship with his former first lady collapsed, but the weightier topics will be on the agenda when the pair meet.
After a joint trip to Thomas Jefferson's Monticello estate, Obama and Hollande will move on to discuss the war in Syria, Iran's nuclear program, Ukraine's political crisis and security concerns in Africa.
Washington and Paris share a tough stance against Tehran and Damascus, and U.S. forces provide intelligence and logistics support to the French operations in Mali and Central African Republic.
Hollande hopes to leave his split from long-time girlfriend Valerie Trierweiler behind, trading it in for military honors, a flight with Obama on Air Force One, and the pomp of a state dinner.
His trip is the first full state visit by a French leader since 1996 and is expected to highlight the "excellent working relationship" between the United States and France, according to sources at the Elysee.
But the pair will also discuss issues that have bedeviled relations, including concerns over mass U.S. spying in France, and economic ties will also be on the agenda.
The leaders will hold a joint press conference at the White House after their discussions on Tuesday.
But the visit began with oodles of symbolism and goodwill.
Shortly after arriving at Andrews Air Force Base outside Washington, Hollande was to head with Obama to Monticello in Charlottesville, Virginia.
The third U.S. president, Jefferson served from 1801 to 1809 and was both one of the founding fathers of the United States and one of the country's first diplomats in Paris.
The tour of Monticello, about 120 miles (200 kilometers) southwest of the U.S. capital, will allow the two leaders to talk in an informal setting about U.S.-French relations before their formal talks.
On Tuesday night, the Obamas will host a state dinner for Hollande — an event that created a bit of protocol confusion, as the French leader had initially been invited to attend with Trierweiler.
Hollande announced his separation after his affair with Julie Gayet, an actress nearly 20 years his junior, was revealed.
Ahead of their meetings, the two leaders issued a joint call for other nations to join them in seeking an "ambitious" agreement to curb climate change.
In a column published in the Washington Post and Le Monde, the presidents said their nations had overcome disagreements of the past, including over France's refusal to support the 2003 U.S.-led invasion of Iraq under then-president George W. Bush.
"A decade ago, few would have imagined our countries working so closely together in so many ways. But in recent years our alliance has transformed," the presidents wrote.
"Alongside a revitalized alliance on the world stage, we're also working to deepen our bilateral economic relationship," they said.
Hollande, whose approval rating is the lowest of any modern French leader, is under intense pressure to give a boost to his country's ailing economy and find ways to create jobs.
To that end, he will head from Washington to California to meet with tech leaders in Silicon Valley.
The visit is Hollande's second to the United States since taking office, after a meeting in the Oval Office with Obama during a G8 and NATO summit in April 2012, shortly after his election.
AFP Photo/Nicholas Kamm