From Potentially Toxic Plants To Ladder Safety, Here Are Some Ways To Help You Make It Through The Holidays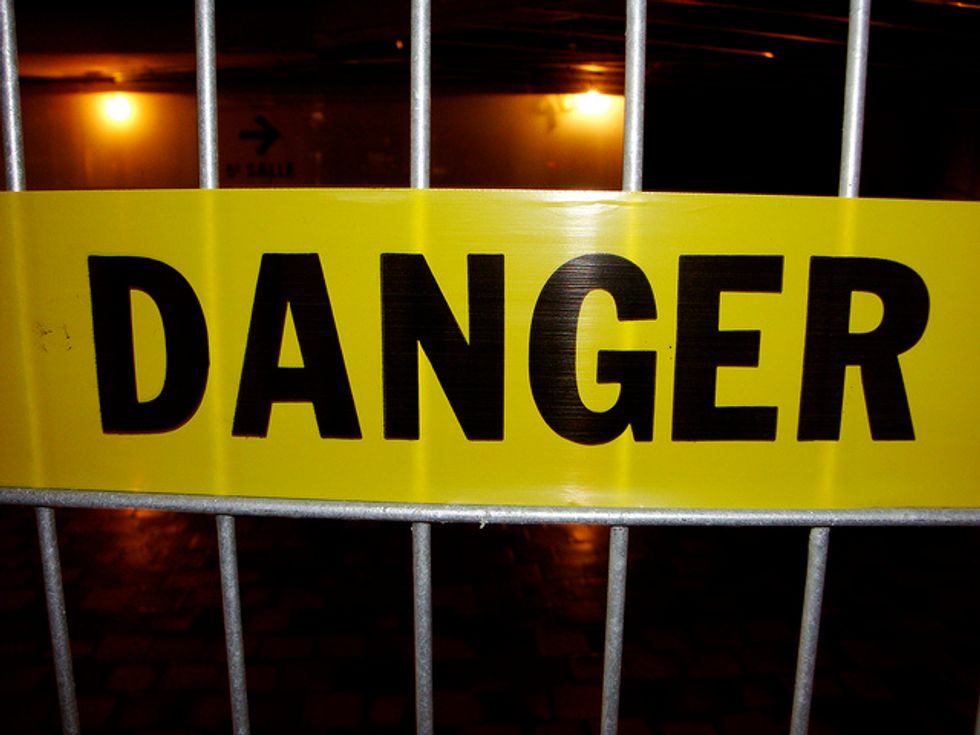 By Jenna Chandler, The Orange County Register (TNS)
Visiting relatives and overindulging can make for stressful holidays. You made it through Thanksgiving; now here are seven tips to get you through the rest of the season safely and comfortably and with the same pants size.
POTENTIALLY TOXIC TRIMMINGS
Most decorative holiday plants are safe in the home. Mistletoe and poinsettia can be toxic if ingested — but only in large amounts. One to two mistletoe berries or leaves won't cause serious harm, but if a curious puppy or child ingests too much, it could lead to vomiting, diarrhea and stomach pain, according to California Poison Control.
The only two reported deaths in the U.S. from ingesting mistletoe in the past 25 years were people who drank brewed teas, according to research published in the Western Journal of Emergency Medicine.
Poinsettia can also upset stomachs, and its sap may cause a skin rash. It's related to plants that produce natural rubber latex and, according to the research, about 40 percent of people with latex allergies are also sensitive to poinsettias.
THERE ARE CALORIES IN THOSE DRINKS
Don't be fooled by the color of wine and beer — you won't save calories by picking a pilsner over a porter, or chardonnay over cabernet. In wine, the tint comes from the grape variety, and in beer, the dark color stems from the grain being toasted.
A 5-ounce glass of wine has about 100 calories; a 12-ounce pour of standard beer has about 150 calories. But not every beer is equal. Alcohol has about 7 calories per gram, and some hefty stouts and IPAs have alcohol content as high as 11 percent. A rule of thumb is the higher the alcohol content, the more calories.
If you want to imbibe without packing on extra pounds, drink in moderation and monitor your snack and appetizer intake, said Gail Frank, a dietitian and professor of nutrition at Cal State Long Beach.
EXERCISE ON THE GO
Travel provides an easy excuse to skip a workout during the holidays. But elevating your heart rate is as important as watching what you eat if you're trying to avoid weight gain, said Frank, who recommends packing a jump rope or running in place for 10-minute spurts.
ACCIDENTS HAPPEN
Mishaps don't just happen in Chevy Chase movies. Decorating for the holidays sent about 15,000 people to emergency rooms in 2012, according to the National Safety Council. To deck the halls safely while using a ladder, don't stand higher than the third rung from the top and always keep three points of contact with the ladder.
TALKING TO SOMEONE WITH A LIFE-THREATENING ILLNESS
Don't avoid the topic at gatherings, don't make it about you and don't be overly positive, said David Pincus, an associate professor of psychology at Chapman University. Do, however, make sure the conversation ends with the person feeling supported. "Put on your big listening ears. You're going for empathy," he said.
The conversation could start like this: "Hey, if it's OK with you, if this is the right time, how's the cancer treatment going?" If the person doesn't want to talk about it, let it go and move on to another topic. If he or she wants to talk about it, ask follow-up questions.
ONETOOMANY
If a family member or friend imbibes too much, to the point that it makes get-togethers uncomfortable, use the intervention cliche, Pincus said. Tell the person what his or her behavior is and its effect on you, and say it early, right after you've said your hellos. For example: "Hey, I don't want to ruin your day, but I want to tell you, if you're planning on drinking, keep it cool because my kids are here and I don't want them to see that."
Keep the person from getting behind the wheel by being clear and assertive, Pincus advised. Say something like, "I know you feel fine, but I'm going to feel very uncomfortable if you drive home. … I'm almost begging that you take an Uber or you let us drive." Another option is to plan ahead. If you're taking a cab or a ride-sharing service, arrange to pick up other friends or family members who also drink.
AGING LOVED ONES
Kim Butrum, a gerontological nurse practitioner and vice president of health services for Irvine-based Silverado Senior Living, said if a loved one has memory loss, make him or her feel valuable. If he loves to cook, invite him into the kitchen. If she makes up a memory or confuses facts, don't correct her. Redirect the conversation. Don't insist a person with memory loss recall everyone's name and don't correct the person if an error is made.
For presents, consider giving old family photos and music for reminiscing.
©2015 The Orange County Register (Santa Ana, Calif.). Distributed by Tribune Content Agency, LLC.
Photo: Shawn Carpenter via Flickr