Santos Saga Grows Darker As GOP District Attorney Opens Probe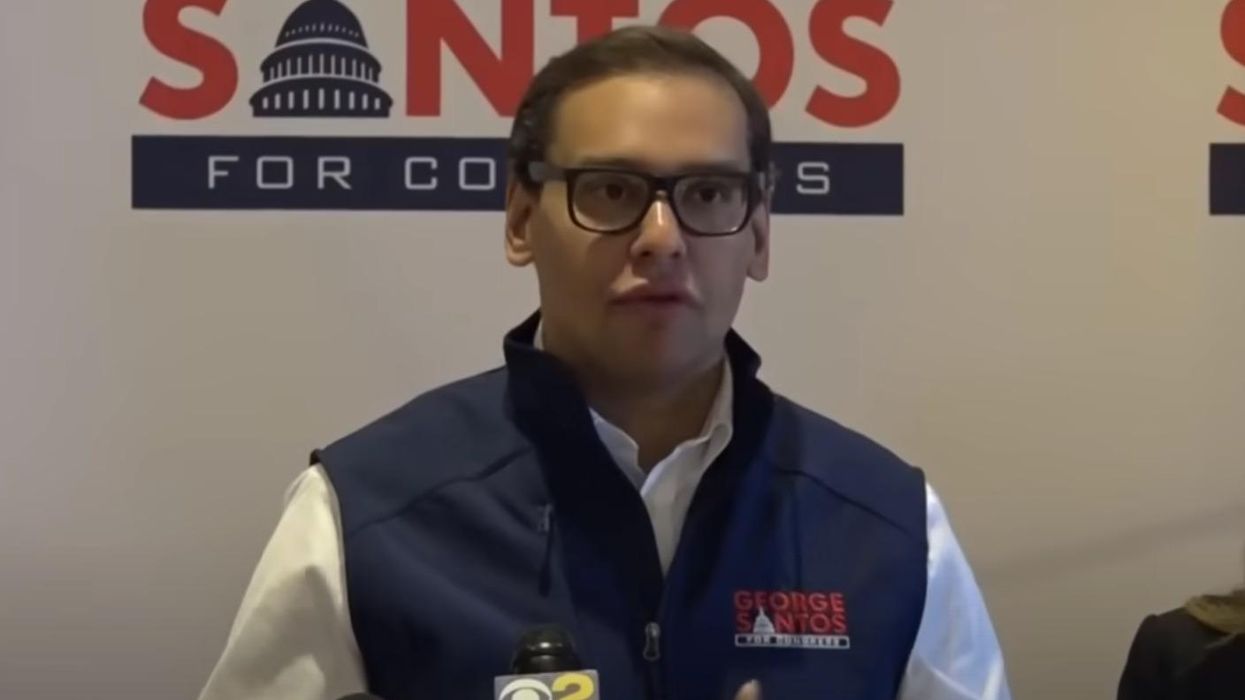 Youtube Screenshot
At this point in the saga of Rep.-elect George Santos, it might be easier to list the things he's claimed about his life story that are true than the lies. It's getting more bizarre by the day. The list of lies and inconsistencies includes his name, his sexual identity, his race, his ethnicity, his education, his professional life, his charitable work, the cause of his mother's death and how many times she died, his proximity to some of the nation's deepest traumas, and—mostly importantly—how come he had so much money to give to his own campaign.
Actually, that last one isn't a so much a lie as a big omission. He's not telling anyone where the hundreds of thousands came from. That's also the one that could get him into legal trouble.
New York's Nassau County District Attorney Anne T. Donnelly is opening an investigation to determine just how much of a fraud this guy is. "The numerous fabrications and inconsistencies associated" from Santos "are nothing short of stunning," Donnelly said in a statement. Santos's would-be constituents "must have an honest and accountable representative in Congress," she added, and "if a crime was committed in this county, we will prosecute it." Donnelly's spokesman, Brendan Brosh, confirmed in a statement, "We are looking into the matter."
Maybe they'll look into how he allegedly defrauded Saint Rita's Catholic Church, in Long Island City, Queens, after his mother's second death. Yes, second death. In one timeline he tweeted , "9/11 claimed my mothers life." Another time he said that she died a few years after 9/11. Her documented death, though, was in 2016. At least that's when Saint Rita's picked up the tab for the funeral after Santos told the pastor the family couldn't afford it. Father Jose Carlos da Silva told CBS that the church held a collection during the memorial mass and that "he didn't count the money collected, but recalled that the amount raised was significant, and that he handed the collection directly to Santos."
That's the most special of them all, scamming his family's congregation after his mother's real death. But wait, there's more. On Wednesday, more of Santos's bizarre claims came to light.
\u201c@TylerDinucci @gina_goldberg 3 years ago, he claimed he had a brain tumour and received chemo\u2026\u201d

— Tyler Dinucci!! (@Tyler Dinucci!!) 1672281914
So he's claimed to be a descendent of Holocaust survivors, a 9/11 victim, a cancer survivor, and close to people who were killed in the Pulse nightclub massacre. And also, he's not just questionably gay (having been married to a woman while supposedly living "openly" as gay) he's biracial.
\u201cTwo years ago George Santos claimed to be half Black (h/t @C00KE_)\u201d

— Roger Sollenberger (@Roger Sollenberger) 1672281781
And his family is either fabulously wealthy and successful, or destitute. One of his sob stories that came to light Wednesday is his claim that his parents "sent me to a good prep school—which was Horace Mann School in the Bronx. And in my senior year of prep school, unfortunately, my parents fell on hard times." Santos said his family couldn't "afford a $2,500 tuition" and "I left school [with] four months till graduation."
\u201cIn 2020, George Santos claimed he attended Horace Mann prep school, but Wayback Machine shows he scrubbed the claim from his bio.\n\nSantos also said he \u201cleft 4 months till graduation,\u201d implying Horace Mann didn\u2019t help because \u201ca couple hundred kids going through the same thing.\u201d\u201d

— PatriotTakes \ud83c\uddfa\ud83c\uddf8 (@PatriotTakes \ud83c\uddfa\ud83c\uddf8) 1672248204
Yeah, that didn't happen. Officials at Horace Mann have no record at all of him. "George Santos or any of the aliases you [cite] never attended HM," the school told the Washington Post .
That's all bizarre and certainly pathological—his pattern of claiming to have proximity to global and personal tragedies is the stuff of textbook case studies—but there are definitely parts of it that are likely to be illegal . That's the part that remains murkiest; the money.
Reprinted with permission from Daily Kos .
From Your Site Articles
Related Articles Around the Web