Georgia GOP Candidate Urged To Resign In Voter Suppression Scandal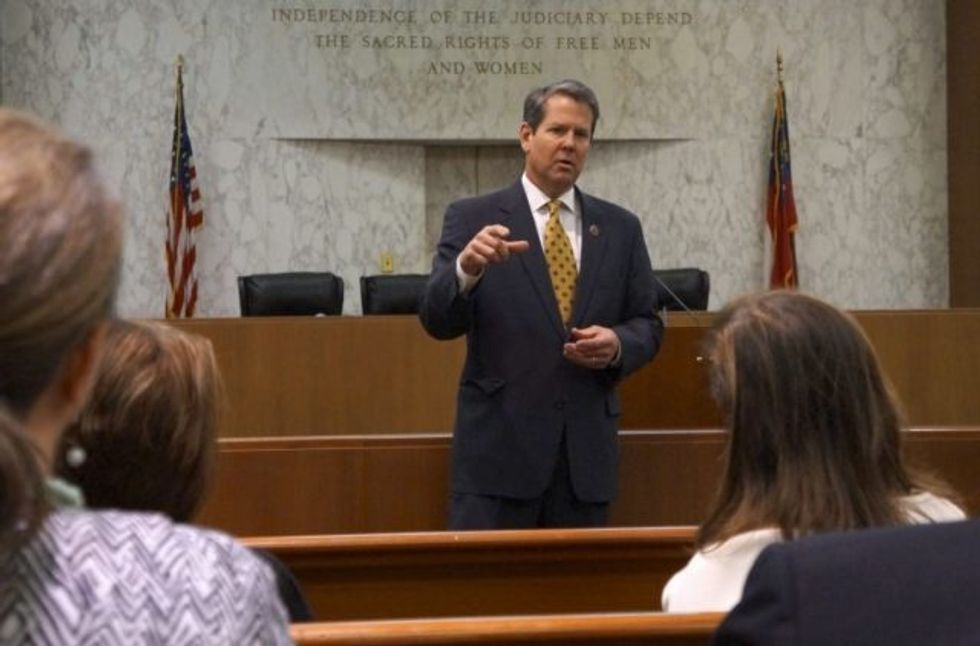 Reprinted with permission from Shareblue.
Republican Brian Kemp is the secretary of state in Georgia, but he's also running for governor — which means that Kemp is the chief official overseeing his own election.
And now Kemp is facing calls to resign from that position following a report by the Associated Press that Kemp's office is holding up the registrations of over 53,000 voters, most of whom are black.
The report reveals that while Georgia's population is 32 percent black, 70 percent of the registrations currently on hold by Kemp's office are for black voters.
Kemp's opponent, Democrat Stacey Abrams, would become the first black woman governor in the United States if she won.
On Thursday, Abrams called for Kemp to resign as secretary of state, "so that Georgia voters can have confidence that their Secretary of State competently and impartially oversees this election," Abrams spokeswoman Abigail Collazo said in a statement.
"As he has done for years, Brian Kemp is maliciously wielding the power of his office to suppress the vote for political gain and silence the voices of thousands of eligible voters — the majority of them people of color," Collazo said.
This isn't Kemp's first effort at voter suppression. Kemp's office has repeatedly purged voter rolls in Georgia, cancelling 1.4 million registrations since 2012. In 2017, Kemp cancelled almost 670,000 registrations.
Abrams has described Kemp as a "remarkable architect of voter suppression."
Max Cleland, former Georgia secretary of state and a former U.S. senator, also called on Kemp to resign. Cleland noted that he himself had stepped down as secretary of state when he ran for another position, "because I recognized that it would not be fair to Georgia voters if I oversaw an election in which I was a candidate for higher office."
The registrations of 53,000 voters are being held up by Kemp's office because of an "exact match" verification process, which disproportionately impacts minority voters.
This process holds up voter registrations for people who have minor discrepancies between their voting records and the Social Security database — even things like a missing hyphen in a last name.
Kemp is coming under fire for this obviously discriminatory result. But instead of acknowledging the problems with the system or mistakes his office might have made, Kemp is shifting the blame to the New Georgia Project, a nonprofit Abrams founded in 2013 to register minority voters.
In a tweet attacking Abrams, Kemp referred to the New Georgia Project as a "dark money voter registration group" and claimed that it had "submitted sloppy forms."
Kemp's office claimed that the group used "sloppy" methods to register black voters in particular — and that this, not any racial disparity in the policies Kemp pursued, was supposedly to blame for the black voter purge.
After concerns were raised, Georgia's ACLU chapter released a statement criticizing the "exact match" statue but importantly noting, "The Secretary of State's Office has confirmed that if your voter registration application is deemed 'pending' because of the exact match law, you can still cast a regular ballot IF you provide photo identification at the polls which substantially reflects the name you used on your voter registration form."
Otherwise, they would have to actively request a provisional ballot, which would only be counted after other votes are tabulated — and many voters wouldn't know to ask for a provisional ballot in the first place unless it was offered to them.
Georgia voters with concerns about their registration status are being encouraged to call the voter protection hotline at 888-730-5816.
Recent polling has shown the race between Kemp and Abrams within the margin of error. Every vote will count.
Republicans have repeatedly been caught erecting obstacles to vote, particularly in minority communities that tend to back Democratic candidates and issues.
Kemp's decision to enforce these questionable standards, just weeks before an election where he is on the ballot, is disturbing.
And his choice to blame his actions on a campaign to register minority voters is insulting.
Updated with statement from the ACLU.
Published with permission of The American Independent.