Germany Summons U.S. Envoy Amid Rage Over Merkel Spy Claims
@AFP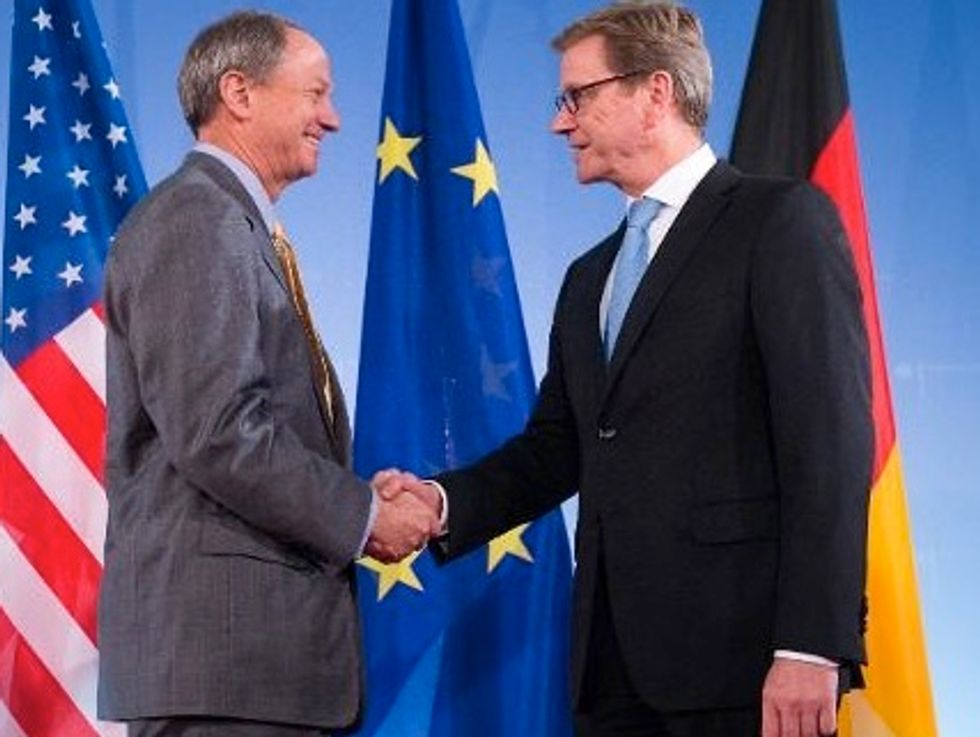 Berlin (AFP) – Germany summoned the U.S. ambassador Thursday amid outrage over suspicions that Washington tapped Chancellor Angela Merkel's mobile phone, as she faced allegations she had naively played down the NSA spying scandal.
Foreign Minister Guido Westerwelle will meet U.S. envoy John B. Emerson later Thursday, a foreign ministry spokeswoman told AFP, adding: "The position of the German government will be presented clearly."
The ministry could not confirm that the step was unprecedented in U.S.-German post-war relations but it was seen as a highly unusual move between the close allies.
Merkel was to discuss strategies for confronting covert U.S. surveillance in Europe with French President Francois Hollande on Thursday on the margins of an EU summit, a French diplomatic source said.
The German leader called U.S. President Barack Obama Wednesday demanding answers after learning the National Security Agency may have monitored her phone, warning this would be "breach of trust" between international partners.
A White House spokesman said it is not now listening in on Merkel, but did not deny the possibility her communications may have been intercepted in the past.
The allegations sparked anger in Germany and Merkel's spokesman Steffen Seibert said in a statement that she had "made clear that she unequivocally disapproves of such practices, should they be confirmed, and regards them as completely unacceptable".
Berlin daily Der Tagesspiegel, citing government sources, reported that the alleged tapping targeted not Merkel's official mobile phone but a separate device she uses for conducting business for her Christian Democratic Union party.
German and U.S. intelligence agencies cooperate closely on counter-terrorism efforts and other matters related to espionage.
But the latest revelations threaten the personal trust and close cooperation between Obama and Merkel, which saw the U.S. leader pay a long-awaited visit to Berlin earlier this year.
As the NSA scandal raged in Germany during the campaign for the September election, Obama indicated in July that his personal ties with Merkel meant he had no need to spy on her.
"If I want to know what Chancellor Merkel is thinking, I will call Chancellor Merkel," he said then.
Merkel grew up in communist East Germany, where state spying on citizens was rampant. Germans also carry the trauma of mass abuses by the security services under the Nazi regime.

'Diplomatic bomb'
News of the eavesdropping suspicion and the German protest came first from Spiegel Online, whose parent magazine reported many of the U.S. surveillance claims made by fugitive intelligence contractor Edward Snowden.
The conservative daily Die Welt called the alleged snooping a "diplomatic bomb" and "a punch in the face of German security agencies", while a Sueddeutsche Zeitung headline labelled it "the worst imaginable insult".
"If it is true what we are hearing then it would be very bad indeed," Defence Minister Thomas de Maiziere told ARD public television.
"The Americans are and remain our best friends but that is not on," he said. "I have assumed for years that my mobile phone is being tapped but I didn't suspect the Americans."
However the opposition Greens party attacked Merkel's government itself for having declared the NSA spying scandal — centred on charges of surveillance of millions of citizens' phone calls, emails, chats and other communications — effectively over several months ago.
"It's scandalous that the government appeased and obscured throughout the entire NSA affair, but that now, when it comes to confidentiality of communications of the chancellor, Merkel voices personal indignation in a phone call to the American president," Greens lawmaker Konstantin von Notz told the Handelsblatt daily's website.
"It apparently had to come to this, the chancellor's mobile phone becoming a target," Die Welt said. "Now we're seeing the protest that was missing when the population was being spied on."
Merkel had offered assurances during her campaign for a third term — which she handily won last month — that she had taken up the most serious allegations of mass NSA spying with Washington and was confident she would receive a thorough answer.
The Social Democrats, her chief rivals, were unable to harness public anger over the snooping reports in the election and are now in negotiations to become Merkel's junior partner in her next administration.
AFP Photo/Maurizio Gambarini