Giuliani Ends His Bid To Serve In The Trump Administration
@reuters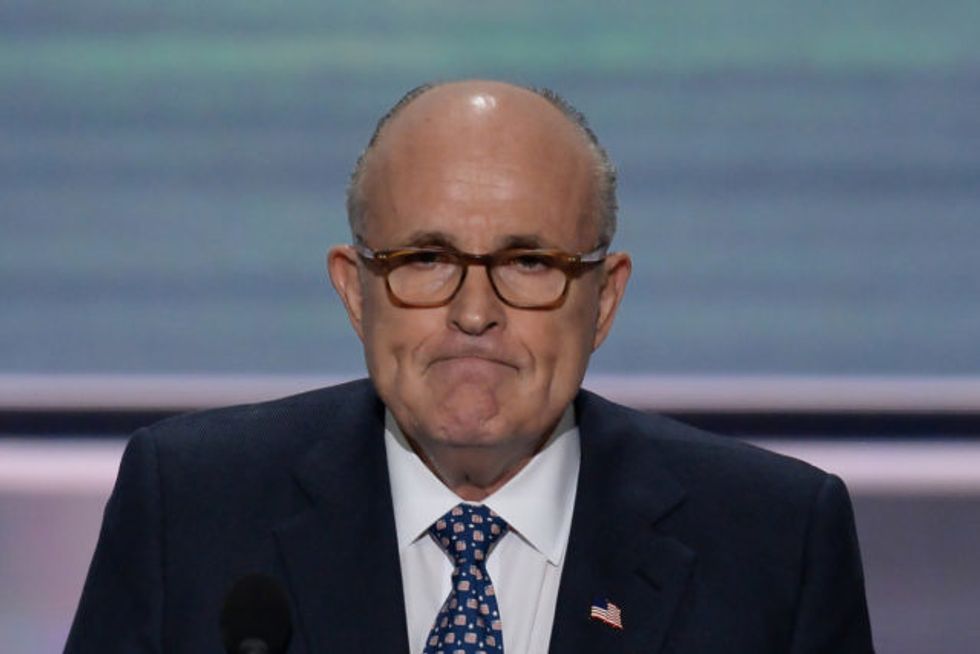 WASHINGTON (Reuters) – Former New York Mayor Rudy Giuliani said on Friday he had removed his name from consideration for a position in Donald Trump's new administration as the president-elect narrows the field of people he is considering for secretary of state.
Giuliani's withdrawal from consideration came after Trump made clear that he was broadening his search for a secretary of state beyond the four finalists transition aides had identified: Giuliani, former Massachusetts Governor Mitt Romney, former CIA head David Petraeus and Senator Bob Corker of Tennessee.
In recent days, Trump has expanded his search for a secretary of state to include additional lawmakers and corporate executives, such as Rex Tillerson of Exxon Mobil Corp and Alan Mulally, a former executive at Ford Motor Co and Boeing Co .
The Wall Street Journal, citing two transition team officials, said Tillerson had emerged on Friday as the leading candidate for the State Department job. It said some Trump advisers saw Tillerson as a mold-breaking pick who would bring an executive's experience to the post of top U.S. diplomat.
Giuliani, speaking to Fox News, said he had actually sent a letter withdrawing himself from consideration back on Nov. 29 but that the transition team had rejected it, saying they wanted to continue to keep him in the running for the State Department.
"I decided … that the whole thing was becoming … very difficult for the president-elect, and my desire to be in the Cabinet was great, but it wasn't that great and he had a lot of terrific candidates," Giuliani said in a phone call with Fox.
He said he had met Trump on Friday and they agreed it was worth going ahead and releasing the letter as the president-elect narrows his choice for secretary of state. Trump indicated to supporters in Louisiana on Friday that he would have another Cabinet announcement next week "you're really going to like."
"They're down to the last two, three, four (candidates), so it made sense to … get out of the way," Giuliani said in the Fox interview. He said he had been considered for other positions in the Cabinet but was not keen on a role other than State Department.
"That was the only one I had any real interest in. But it wasn't so overwhelming that I'm terribly disappointed," Giuliani added, noting that he would continue to act as a friend and informal adviser to Trump.
Asked his view on Romney as a possible secretary of state, Giuliani said he agreed with other "very loyal supporters of President-elect Trump" that "Mitt went over the line" in his criticism of the candidate during the campaign.
"You can make friends and make up, but I wouldn't see him as a candidate for the Cabinet," Giuliani said, though he added he would accept whatever decision Trump ultimately made.
Giuliani's withdrawal was likely to disappoint some of Trump's most loyal aides, who appreciated how he had supported the president-elect all along and had been resistant to Romney.
Earlier on Friday, CNN, citing an unnamed source, reported that Giuliani was told he was no longer in contention for secretary of state. Trump, who takes office on Jan. 20, praised the former New York mayor in a statement.
"Rudy Giuliani is an extraordinarily talented and patriotic American," the New York businessman said. "He is and continues to be a close personal friend, and as appropriate, I will call upon him for advice and can see an important place for him in the administration at a later date."
Reince Priebus, Trump's incoming White House chief of staff, said in the statement that Giuliani "was vetted by our team for any possible conflicts and passed with flying colors." Giuliani also told Fox the vetting process had turned up no conflicts.
(Reporting by Steve Holland, Tim Ahmann and David Alexander; writing by Susan Heavey, Eric Walsh and David Alexander; editing by Jonathan Oatis)