Giuliani Fears Mueller's 'Horrific' Report Is Imminent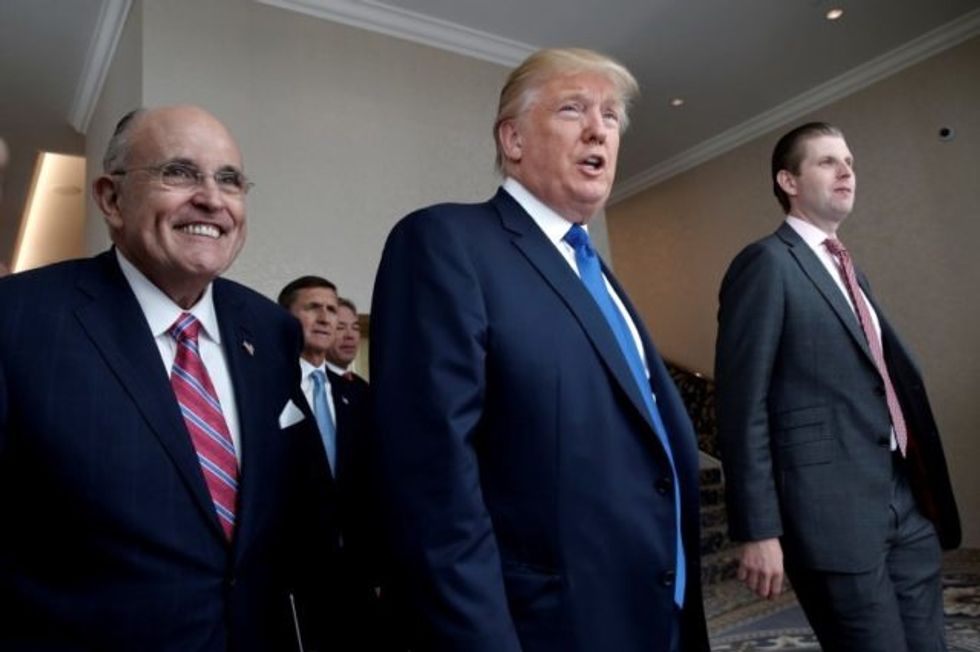 Reprinted with permission from AlterNet.
Rudy Giuliani has been President Donald Trump's stalwart and cartoonish defender since April 2018, often making contradictory and preposterous defenses of the president's actions with the enthusiasm of a man making far more convincing arguments. But the former New York mayor turned television sideshow has become frustrated in his role defending the president, according to a new report from Vanity Fair, particularly as Trump's legal and political standing worsens and Special Counsel Robert Mueller closes in.
Reporter Gabriel Sherman says sources close to Giuliani believe he fears a preliminary report from Mueller may drop "within the month."
Sherman explained:
Giuliani, of course, has been wrong before about Mueller's timing. In May, Giuliani claimed that the special counsel could be wrapped up by September 1. (Giuliani's prior claim was seen as a strategy to pressure Mueller into completing his report before the 2018 midterms.) This time, however, Giuliani's forecast about Mueller's next move seems to be driven by his fears that the report will be "horrific" for Trump. According to a source, Giuliani recently told a close associate that he's "very worried about the report." The mounting pressure has also strained Giuliani's relationship with Trump. "Rudy hates the job," a Republican briefed on Giuliani's thinking told me. "Trump is very hard to deal with." (Giuliani didn't return a call seeking comment.)
Indeed, Giuliani's predictions have repeatedly proved laughably wrong. When he was first hired in April, Giuliani said he was optimistic he could bring an end to the investigation in a "week or two."
He also said: "I've had a long relationship with Bob Mueller. I have great respect for him. He's done a good job." Now, he spends most of his days baselessly attacking Mueller.
Other reporting, most notably from NBC News' Ken Dilianian, has suggested that Mueller may indeed be wrapping up his investigation soon — a finding that surprised many observers, including Dilanian himself.
But Sherman's report actually provides a possible resolution to the apparent contradiction between Dilanian's report and other pieces of evidence, such as Mueller'sdelay in sentencing former Trump campaign staffer and cooperator Rick Gates on Tuesday, which suggest the probe may continue. Sherman says that Mueller may be getting ready to reveal a report on obstruction of justice — presumably by Trump himself, though others may be involved — but that leaves open the possibility that other major facets of the investigation could continue.