Giuliani Slams Counter-Terror 'Political Correctness'
@AFP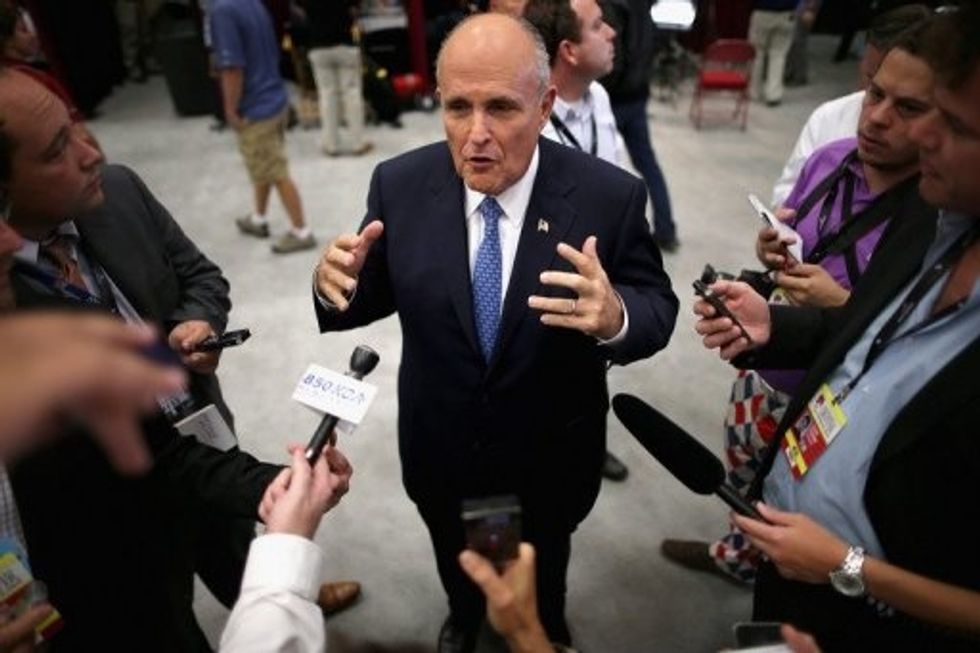 WASHINGTON (AFP) – Rudy Giuliani, New York's mayor during the 2011 terror attacks, said U.S. "political correctness" may have contributed to failures in stopping Islamist extremists like the accused Boston bombers.
Speaking hours before suspect Dzhokhar Tsarnaev appears in court to face charges connected to the deadly Boston Marathon bombings, Giuliani said failure to recognize the persistent Islamist threat leaves the United States in a "very, very dangerous state of denial."
"You can't fight an enemy you don't acknowledge," Giuliani told a House panel, warning that the United States is failing to directly address the nature of the threat.
"In order to confront this threat effectively, we have to purge ourselves of the practice of political correctness when it goes so far that it interferes with our rational and intellectually honest analysis of the identifying characteristics that help us to discover these killers in advance."
Some Republican lawmakers say President Barack Obama has sought to avoid blaming extremist threats to America on religious zealotry.
They believe the administration has wrongfully toned down the nature of the threat, including from homegrown extremism fueled by jihadist rhetoric, and warn that attacks such as the 2009 Fort Hood massacre in which a U.S. Army psychiatrist shot dead 13 people should be identified as an Islamist-driven terrorist attack.
Giuliani, a Republican who briefly ran for president in 2008 on the strength of his handling of 9/11, pointed to U.S. failures to connect the dots about the Tsarnaevs, two ethnic Chechen Muslim brothers living in the US northeast.
"There would have been a much greater chance of preventing Fort Hood and possibly… the Boston bombings if the relevant bureaucracies had been less reluctant to identify the eventual killers as potential Islamic extremist terrorists."
He said "the fear of incorrectly identifying (Tamerlan) Tsarnaev as a suspected Muslim extremist might have played a role in not taking all the steps that seemed prudent given his suspicious behavior," including monitoring him more closely when he returned from Boston to Russia, where authorities believe he may have met with underground extremist groups.
The ex-mayor's testimony comes as 19-year-old Dzhokhar Tsarnaev appears in court for the first time since his arrest for the April bombings that killed three people.
As Giuliani sounded the political correctness alarm, a former director of the National Counterterrorism Center, Michael Leiter, stressed that U.S. counter-terrorism efforts have worked.
"Our record is far from perfect, but it's pretty good," he said, arguing that the 18 deaths from terror attacks on U.S. soil since 9/11 are far fewer than what many Americans would have predicted years ago.
Leiter pointed to vastly improved intelligence gathering, expanded checks at ports and border points, and broader community engagement, especially in the Muslim American community.
But Republican Michael McCaul, chairman of the House Homeland Security Committee where Giuliani testified, said U.S. security forces dropped the ball on the Tsarnaevs.
"We did not see it coming," he said of the Boston attack, adding that poor information sharing was partly to blame. The FBI in particular investigated Tamerlan Tsarnaev but did not reopen his case after he returned from abroad.
McCaul also warned that the Obama administration was seeking to return to a pre-9/11 approach to combatting terrorism — a policy McCaul said is perpetuated by its misguided "narrative that the conflict with radical Islamists is ending."
Photo Credit: AFP/Chip Somodevilla