Giuliani Unsure When Trump Learned Of Don Jr. Meeting With Russians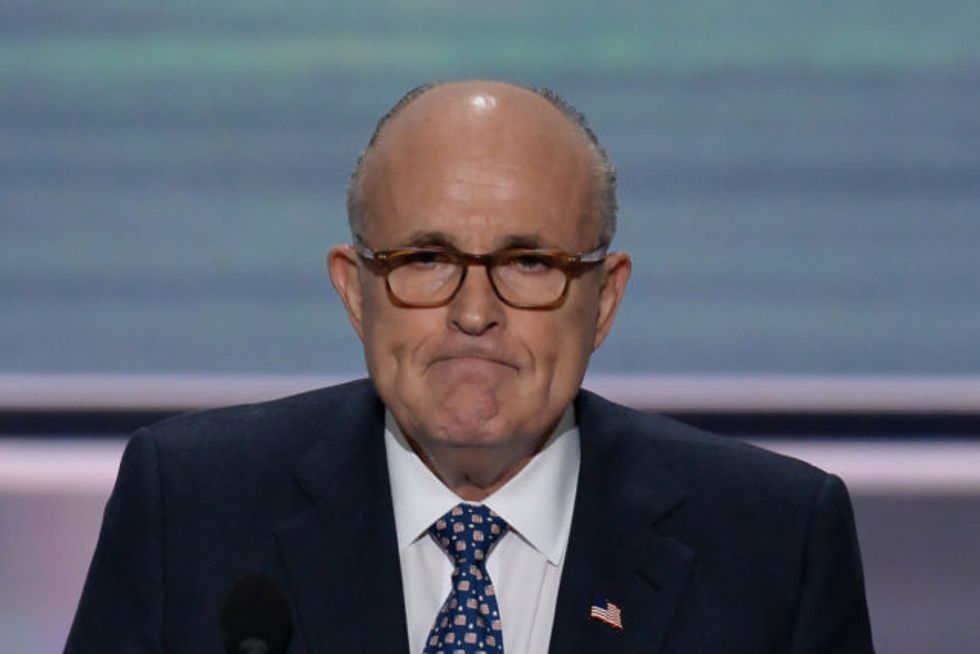 Reprinted with permission from Shareblue.
Trump has already very publicly been proven a liar about Donald Trump, Jr.'s now-infamous meeting with the Russians at Trump Tower to obtain dirt on Hillary Clinton. As Trump's own legal team admitted to special counsel Robert Mueller, Trump did, in fact, dictate a false cover story for the Trump Tower meeting, despite his claims that he hadn't.
Now Rudy Giuliani, Trump's lawyer and longtime ally, is admitting the lies may go much deeper than that.
Trump and his team have long insisted that Trump never knew about the meeting with Russians in advance — but Giuliani now says it's possible that both he and Trump were told about the meeting before it happened.
On Sunday morning's edition of "This Week," host George Stephanopoulos asked Giuliani several questions relating to a bombshell interview that former Trump attorney Michael Cohen gave this week.
"When I asked Michael Cohen, did the president know about that meeting ahead of time, again he refused to answer on advice of counsel," Stephanopoulos said. Then he asked Giuliani: "What is the answer to that question?"
Giuliani replied that he doesn't believe Trump knew about it, either before or afterwards. But then he added something very strange, and potentially damning.
"I think that you could have very, very differing recollections on that because it was right in the heat of the campaign," Giuliani said. "I was probably there that day. I don't remember it. Did somebody say something to me? I don't know.
"You know what a campaign is like, it's complete helter skelter," he added.
Giuliani was trying to argue that campaigns are so chaotic, anyone could have overlooked a minor detail like a meeting with foreign agents taking place in the same building as the campaign headquarters.
But in the process of making this absurd claim, Giuliani also admitted that it's possible Trump really did know about the meeting in advance. Giuliani even admitted that it's possible he himself knew about the meeting in advance.
Giuliani tried to argue that even if he or Trump had been told, "it doesn't mean anything because it [the meeting] resulted in nothing."
Stephanopoulos pointed out that it would indeed mean something — that Trump and his team lied when they said Trump didn't know about the meeting in advance.
"Well I think — I think — I think you end up there with, at most, [a] differing recollection," Giuliani said.
It's possible that Giuliani is laying the groundwork to explain away any evidence that Trump knew about the meeting at the time it took place — evidence which may already exist and be in the hands of investigators.
Last July, Trump told reporters that he may have been told about the meeting, but maintained he wasn't aware of the subject matter, according to New York Times reporter Julie Davis. That exchange was scrubbed from a White House transcript of the conversation, and Trump has never been asked publicly to reconcile that revelation.
If there's audio of that conversation with reporters, which the existence of a transcript suggests there is, then Giuliani is going to need a much better explanation than "heat of the campaign" when Robert Mueller asks about it.
Published with permission of The American Independent.