GM Excoriated For 'Negligence' At Latest Senate Hearing
@AFP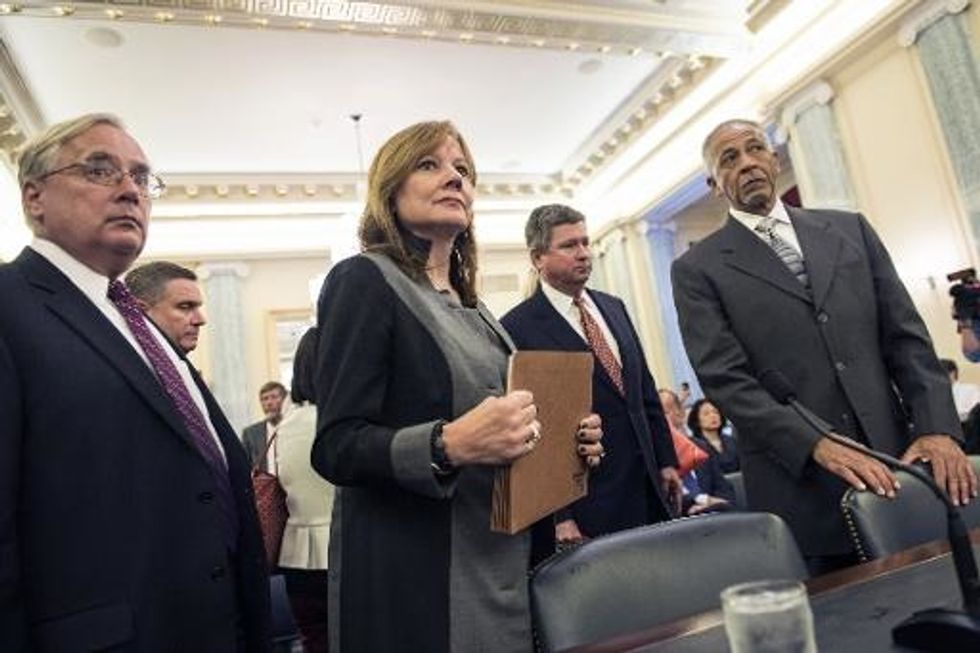 Washington (AFP) — GM officials came under attack at a Senate hearing Thursday from lawmakers who accused them of "gross negligence" that contributed to at least 13 deaths linked to defective General Motors cars.
While Mary Barra, the embattled chief executive of America's largest automaker, returned for another congressional grilling, the man GM hired to determine the compensation for crash victims made his first appearance on Capitol Hill.
Compensation expert Ken Feinberg, who has said GM would offer at least $1 million for each death linked to faulty ignition switches in GM cars, assured lawmakers that the compensation fund had no limits.
"We are authorized to pay as much money as is required," Feinberg told a Senate panel.
As lawmakers praised Feinberg's independent work, they blasted Barra and GM chief counsel Michael Millikin for the company's "culture of diffused responsibility" that prevented or shielded key executives from knowing about the years-long problem.
Lawmakers are investigating the company's recall of 2.6 million cars that began only last February, 11 years after the company discovered ignition switch problems related to dozens of accidents and at least 13 deaths.
GM, which also is under federal investigation for the delayed recall, has been slapped with a $35 million fine and is facing potentially billions of dollars in compensation costs.
Senator Claire McCaskill, chair of the Commerce, Science, and Transportation Subcommittee, pointed to a series of "tragic management failures at General Motors," as well as years of legal obfuscation that showed "indifference, incompetence and deceit" in one of the most serious safety crises in the company's history.
"It is very clear that the culture of lawyering up and Whac-A-Mole (at the Detroit manufacturer) killed innocent customers of General Motors," McCaskill said.
She expressed incredulity that despite at least four separate internal warnings beginning in 2010 that GM could face punitive damages over its ignition switches, Millikin knew nothing about the issue until the recalls were announced this year.
No pre-2014 filing was made to the Securities and Exchange Commission, nor was GM's board of directors informed of the issue until this year, Millikin said.
"This is either gross negligence or gross incompetence," McCaskill boomed.
– 'People died' –
An exhaustive and damning internal GM report found major shortcomings in the legal department, which has been accused of fighting lawsuits by accident victims in connection with the defective cars.
Fifteen employees were dismissed, but not Millikin.
"How in the world in the aftermath of this report did Michael Millikin keep his job?" McCaskill asked.
GM chief Barra reiterated that her company "accepted responsibility for what went wrong" and "we will do all we can to make certain that this does not happen again."
The automaker, she added, would pay the compensation determined by Fineberg as soon as possible. Feinberg has until the end of this year to gather claims in the case.
But when Barra sought to lay out the steps taken to assure that the information problems not happen again, Senator Barbara Boxer cut her off.
"You just can't say 'now, now,' and forget the past. People died," Boxer said.
"We have to find out what happened."
AFP Photo / Brendan Smialowski
Interested in national news? Sign up for our daily email newsletter!