GOP Attack On Health Care Could Worsen Suicide Trend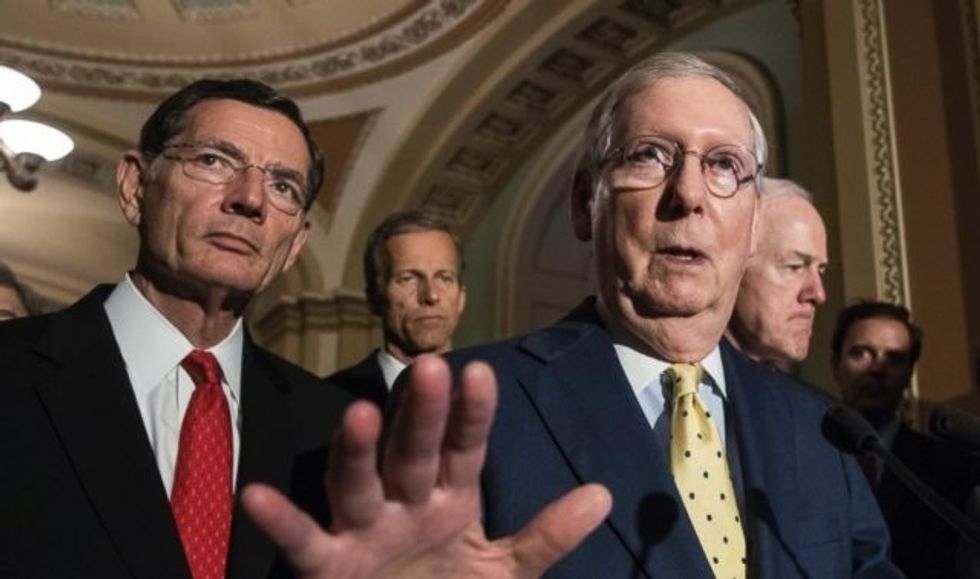 Reprinted with permission from Shareblue.com
The Trump administration's move to roll back protections for Americans with pre-existing conditions could make people less likely to seek help for mental illness and suicidal thoughts, potentially exacerbating a nationwide spike in suicide rates.
Suicidal thoughts and behaviors, along with many risk factors for suicide like depression and substance abuse, are considered pre-existing conditions by many insurance companies.
The Affordable Care Act (ACA) compelled insurers to accept people with pre-existing conditions and prohibited them from charging higher premiums for these individuals.
But on Thursday, Trump's Justice Department filed a briefing stating it will no longer defend the ACA against state lawsuits, and telling courts to strike down the law's core provisions — including protections for people with pre-existing conditions.
Without these consumer protections, insurers could dramatically raise the cost of coverage for people who have a history of mental illness, substance abuse, or physical health conditions.
This isn't just hypothetical: Before the ACA was enacted in 2010, an estimated one in seven health insurance applicants on the individual market were denied coverage because of a pre-existing condition.
According to a 2001 study, about 23 percent of health insurance companies rejected applicants outright if they had a history of situational (not chronic) depression. About half of insurers offered coverage, but at a cost that was 20 to 50 percent more than it would have been for someone without depression.
Many health plans also refused to cover costs associated with suicide attempts.
Pre-existing conditions don't just affect people on the individual market, either. Before the ACA, employment-based insurance plans could refuse to cover people for a year if they had a pre-existing condition.
All of this creates a strong incentive to avoid seeking help for mental illness, substance abuse, suicidal thoughts, and related problems.
Because insurance companies are allowed to use any public information as proof of a pre-existing condition, they can — and do — go as far as looking at social media posts for evidence in some cases.
This means that even if a person doesn't seek formal treatment for depression or suicidal thoughts, they could still be discriminated against by insurers just for talking about these issues on social media.
"It doesn't matter if you've sought out help for a pre-existing condition or not, so long as there is evidence that you do indeed have the condition," Allison Hoffman, a professor at the UCLA School of Law, told Mashable in 2017.
This could end up discouraging people from even talking about their problems and ultimately prevent them from getting life-saving help during a crisis.
Suicide rates are already at a 30-year high. In 2010, suicide was the 10th leading cause of death in the U.S., accounting for the deaths of nearly 45,000 Americans over the age of 10. For people between the ages of 15 and 34, suicide is the second leading cause of death nationwide.
And those figures are on the rise. According to a new report from the Centers for Disease Control and Prevention, the suicide rate in the U.S. has increased nearly 30 percent since 1999. The rate has gone up across all racial and ethnic groups, in both men and women, in cities and rural areas, and across all age groups below 75.
According to the report, about half of people who died by suicide had a diagnosed mental health condition. Substance abuse and physical health problems were also common contributing factors, identified in 28 percent and 22 percent of suicide deaths, respectively.
And amid this crisis, the Trump administration is making a move that could discourage people from seeking treatment or even speaking out on social media if they are having thoughts about suicide.
The American Psychiatric Association addressed these concerns in a scathing statement calling on the Trump administration to reverse its decision.
"We strongly condemn the Administration's decision not to defend the patient protections provided in the Affordable Care Act, an established law of the land," said APA President Altha Stewart, M.D..
"In particular, this decision could lead to insurers denying coverage to the 130 million Americans with pre-existing conditions. This is harmful to the health of these Americans and is very short-sighted considering the nation is in the midst of an opioid epidemic and 30% rise in suicide rates. We call upon the Administration to reverse this decision and defend the rights of our patients," Stewart said.
For someone who touts his supposedly "pro-life" record, Trump sure doesn't seem to care about the lives his administration is about to put at risk.
Published with permission of The American Independent.