GOP Congress Surrenders War Powers To Trump
@jacobsullum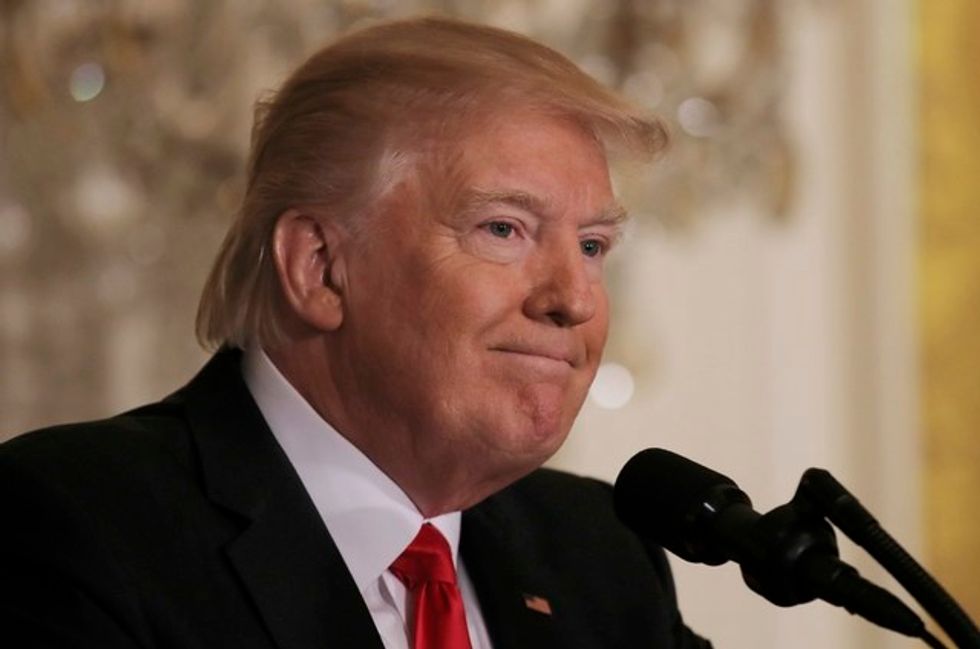 Reprinted with permission from Creators.
The day before Donald Trump ordered a missile attack on three sites tied to chemical weapons production in Syria, House Speaker Paul Ryan made clear that the president needn't worry about getting permission from Congress. "He has the authority under the existing AUMF," Ryan said, referring to the authorization for the use of military force against the perpetrators of the terrorist attacks that occurred on 9/11.
That eyebrow-raising assertion — which seemed to suggest that Syrian President Bashar Assad helped al-Qaida, his archenemy, crash jetliners into the World Trade Center and the Pentagon — was striking evidence of Ryan's cognitive dissonance. He and most of his colleagues are happy to let the president do whatever he wants with the country's armed forces, as long as they can pretend that Congress is still ultimately in charge.
As much as Ryan might like us to believe otherwise, last week's attack on Syria, which was a response to the Assad regime's use of chlorine (and possibly sarin) against rebels in Douma on April 7, had nothing to do with 9/11. By Trump's account, the 105 missiles fired from American, British and French aircraft and ships were aimed at creating "a strong deterrent against the production, spread and use of chemical weapons," which he declared "a vital national security interest of the United States."
Members of Congress may or may not agree with that assessment. But under the Constitution, which gives Congress the power to declare war, it was their call to make.
That, at least, was the position taken by Trump in 2013, when Barack Obama was weighing a missile attack on Syria in very similar circumstances. "Obama needs Congressional approval," Trump tweeted back then.
It turns out Trump meant Obama specifically, not the president in general, certainly not when the president happens to be Trump. But that double standard seems only fair, because Obama played a similar trick.
As a presidential candidate in 2007, Obama declared that "the president does not have power under the Constitution to unilaterally authorize a military attack in a situation that does not involve stopping an actual or imminent threat to the nation." As president, Obama did that very thing, repeatedly.
Mike Pompeo, at the time a Republican congressman from Kansas, tried to curtail Obama's unilateralism, opposing his unauthorized intervention in Libya's civil war and urging legislators to play their "constitutional role" by voting on a resolution approving the use of military force against Assad. Pompeo, currently Trump's CIA director and his choice to replace Rex Tillerson as secretary of state, seems to take a different view of the president's military powers nowadays.
"For a long time, multiple administrations have found that the president has authority to … take certain actions without first coming to Congress to seek approval," Pompeo said during his confirmation hearing last week. "I don't think that has been disputed by Republicans or Democrats."
Sen. Rand Paul, R-Ky. — one of the few legislators who has consistently demanded that the president, regardless of party, respect the constitutional limits on his powers — could not let that slide. "It was disputed mostly by our Founding Fathers, who believed they gave that authority to Congress," Paul told Pompeo. "The fact that we have, in the past, done this doesn't make it constitutional, and I would say that I take objection to the idea that the president can go to war when he wants, where he wants."
Make no mistake; that is the power Trump is asserting. "As our commander in chief," Secretary of Defense James Mattis declared the day of the missile assault, "the president has the authority under Article 2 of the Constitution to use military force overseas to defend important United States national interests."
Seeing as the president alone defines those interests, this understanding of his authority as commander in chief effectively expurgates the war powers clause from the Constitution. Pusillanimous lawmakers such as Paul Ryan are supplying the correction fluid.
Jacob Sullum is a senior editor at Reason magazine. Follow him on Twitter: @jacobsullum. To find out more about Jacob Sullum and read features by other Creators Syndicate writers and cartoonists, visit the Creators Syndicate webpage at www.creators.com.