GOP Retains Power Only By Gaming The System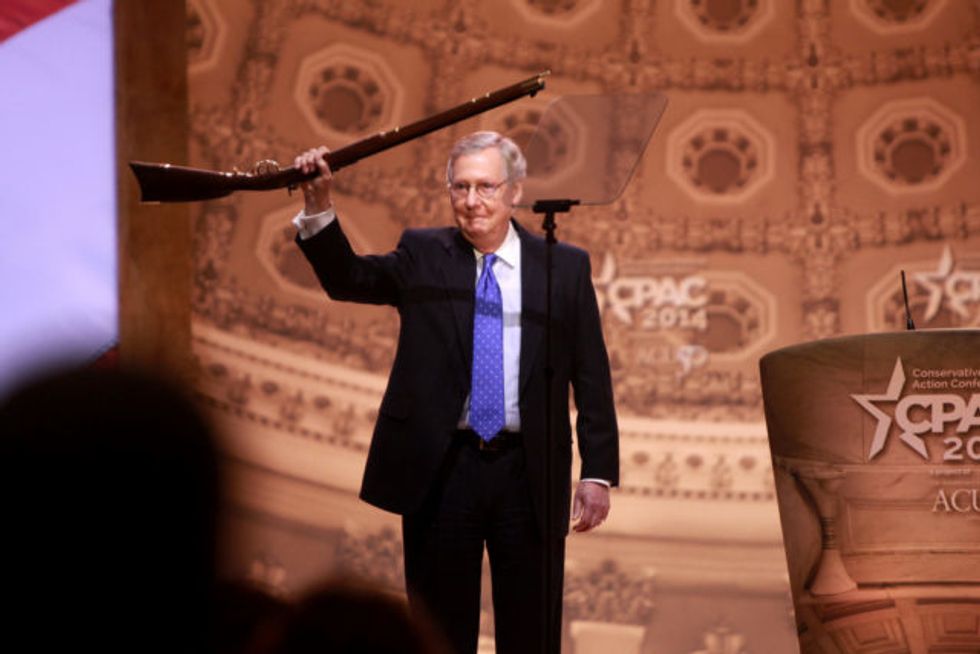 Reprinted with permission from Uexpress.
Even before the newest right-wing justice, Brett Kavanaugh, took his seat, the U.S. Supreme Court was following the decades-old plan of influential conservatives, ensuring that their power and control will continue unabated. This is a civics lesson in minority rule, a seminar in authoritarian assertiveness.
Earlier this week, without Kavanaugh, the nation's highest court allowed a plainly unfair, clearly partisan North Dakota voter ID law to stand. The law states that residents there must present identification with a "current residential street address" in order to vote. In a sparsely populated and heavily rural state, where many roads don't even have names, that's a huge impediment to voting.
That's especially true for thousands of Native American voters who live on reservations and receive their mail in post office boxes. And that's exactly who the law is intended for. Since those Native Americans usually vote for Democrats, the Republican-dominated legislature means to disenfranchise them. And the U.S. Supreme Court has just allowed it to do so.
This is the way the conservatives who currently run the country intend to stay in power. They represent a minority of voters. Their views about justice and women's rights, about health insurance and immigration, about gay rights and racial disparities — about most of the big cultural questions — don't represent those of the majority of Americans. Most of us are happy with the progress the nation has made toward living up to its promise.
But those conservatives have found a way to cement their control, to retain their power. In North Dakota, Democratic Sen. Heidi Heitkamp is fighting an uphill battle to retain her post. Without the votes of hundreds of Native Americans, she is quite likely to lose. And so it goes throughout the country, where Republicans have rammed through voter ID laws specifically designed to disenfranchise poor and minority voters, who usually support Democrats.
Late in the last century, as Republicans began to realize that demographic change would shrink their constituency, they settled on voter ID laws as one way to retain their electoral hegemony. They could have gone another way, of course: They might have adopted policies that appeal to black and brown voters. But they went in the other direction, doubling down on racist, homophobic and xenophobic rhetoric that draws aging whites who are fearful and angry about cultural change. Even with a smaller base of voters, the GOP can continue to win elections as long as they suppress Democratic ballots with voter ID laws.
One of the Republicans' earliest voter suppression victories came in South Dakota in 2006, when a voter ID law passed there disenfranchised thousands of Native American voters. As a result, Democratic Sen. Tom Daschle narrowly lost re-election. But it was after President Barack Obama's victory with the support of a broad rainbow coalition that Republicans' efforts to suppress the ballot went into overdrive. Since 2011, 11 states with Republican legislatures have passed restrictive voter ID laws, according to the Brennan Center for Justice.
And states that had already passed restrictive laws continue to try to suppress the ballot in new and creative ways. In Georgia, for example, which has had a strict photo ID requirement since 2007, Republican Secretary of State Brian Kemp is running for governor against Democrat Stacy Abrams, who, if elected, would become the first black and the first woman to win the post. However, as head of the office that controls voter rolls, Kemp has purged more than a million voters, many of them black and brown, from the rolls since 2012.
Some of them won't know until they go try to vote.
Let's be clear: The GOP claim that those laws are necessary to protect against voter fraud is completely bogus. When President Donald Trump claimed that he would have won the popular vote but for massive voter fraud — a preposterous lie fabricated from his fantasies — he installed a voter fraud task force to ferret out those fake ballots. But the task force fell apart because it couldn't find any fraud.
Still, an ultraconservative Supreme Court will continue to uphold Republican tactics of voter suppression far into the foreseeable future. That's one of the reasons that controlling the judiciary is so important to conservatives. They can use the courts to stay in power when all else fails.