Greek Neo-Nazi Leader Appears In Court In Golden Dawn Crackdown
@AFP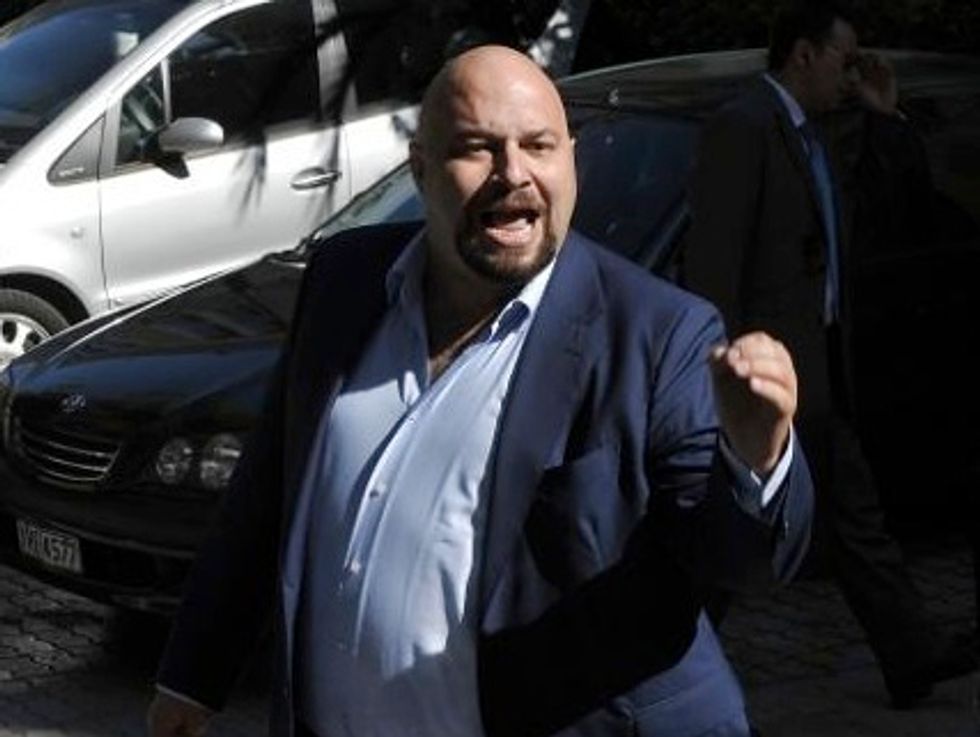 Athens (AFP) – The leader of Greece's Golden Dawn neo-Nazi party appeared in court Wednesday, hours after four of his lawmakers were charged with belonging to a criminal organization in a crackdown following an anti-fascist musician's murder.
Nikos Michaloliakos arrived in court shortly before 19:30 local time (1630 GMT) to offer his testimony, as Greek authorities move to dismantle the group after the shock murder of hip-hop artist Pavlos Fyssas on September 18.
Carrying Greek flags and shouting the organisation's chant "Blood, honor, Golden Dawn," some 100 Golden Dawn supporters gathered outside the court, according to an AFP journalist on the scene.
As Michaloliakos — a 56-year-old mathematician and former disciple of Greek dictator George Papadopoulos — entered the building, his supporters applauded.
Earlier in the day four party deputies were charged, in the first ever indictment against neo-Nazi MPs in Greece.
Three were conditionally released, a move seen as surprising given the gravity of the charges, but justice officials later stressed that release did not mean acquittal.
The three freed lawmakers — party spokesman Ilias Kassidiaris, Nikos Michos and Ilias Panagiotaros — came out in a combative mood, insulting and threatening reporters outside the Athens court complex.
"Only with bullets can you stop us," hissed Michos.
Kassidiaris, who is also to stand trial for hitting a female lawmaker on television, slapped aside a camera and shoved another reporter to the ground.
Panagiotaros called journalists "losers" and "little slaves."
Government officials stressed the political implications of the judicial action against the MPs.
"What is politically important is that Golden Dawn is characterised as a criminal organization," the ruling party's parliament spokesman Makis Voridis told the station.
But Deputy Prime Minister Evangelos Venizelos warned: "My recommendation to everyone is not to rush. We do not have any conclusive judicial ruling (yet)."
"Criminal charges have been filed… this is just the first phase," Interior Minister Yiannis Michelakis told Skai T.V.
Golden Dawn was the country's third most popular party until Fyssas' murder sparked nationwide protests and a government crackdown on the group long accused of attacking immigrants, charges that it denies.
Kassidiaris, Michos, Panagiotaros and a fourth MP, Yiannis Lagos, were all charged but only Lagos was placed in pre-trial detention, as police reportedly found he had spoken to members of a gang that ambushed Fyssas on the night of his murder.
Kassidiaris was ordered to pay 50,000 euros ($68,000) bail, and all three freed lawmakers were banned from leaving the country, the source said.
'Criminal acts'
If convicted, the lawmakers face sentences of at least 10 years in prison.
Overall some two dozen people including six Golden Dawn lawmakers, lower-ranking party members and three police officers, face charges ranging from attempted homicide and murder to illegal arms possession and belonging to a criminal organization.
Golden Dawn denies all the accusations and says it is the victim of political persecution designed to stem its rise ahead of local elections next year.
Once a fringe party, Golden Dawn rode a wave of public discontent during last year's elections over unchecked immigration and austerity policies in the recession-hit country to enter parliament for the first time.
Magistrates have compiled a large dossier on the group, whose leading lights the conservative-led government of Prime Minister Antonis Samaras wants to put behind bars.
"We are now crushing (Golden Dawn) in a way fully within our constitutional framework and the rule of law," Samaras said Tuesday on a visit to the United States.
An investigation has revealed a series of "criminal acts" by the group, culminating in the killing of Fyssas allegedly by a self-confessed neo-Nazi, according to a government report.
Greece's intelligence service EYP in 2012 compiled a dossier on Lagos with alleged activities including extortion and the trafficking of women for prostitution, Ta Nea daily reported Tuesday.
The investigation launched after Fyssas's murder uncovered close ties between Golden Dawn and Greek police, something rights and migrant groups had warned about for years.
On Wednesday, police arrested a former police station chief in an Athens immigrant district where Golden Dawn began systematic attacks on migrants some four years ago.
Emergency legislation has been submitted to parliament to stop the institutional flow of state funds to the party that has 18 deputies in the 300-member chamber.
Greece's main opposition party Syriza has accused Samaras of dragging his feet in prosecuting Golden Dawn in order to avoid alienating right-wing hardliners within his own conservative party.
Samaras's New Democracy on Tuesday kicked out one of its members, lawyer Pavlos Sarakis, after he agreed to defend Kassidiaris.
Photo Credit: AFP/Louisa Gouliamaki