Heavy Fighting Erupts In Eastern Ukraine After Poroshenko Ends Cease-Fire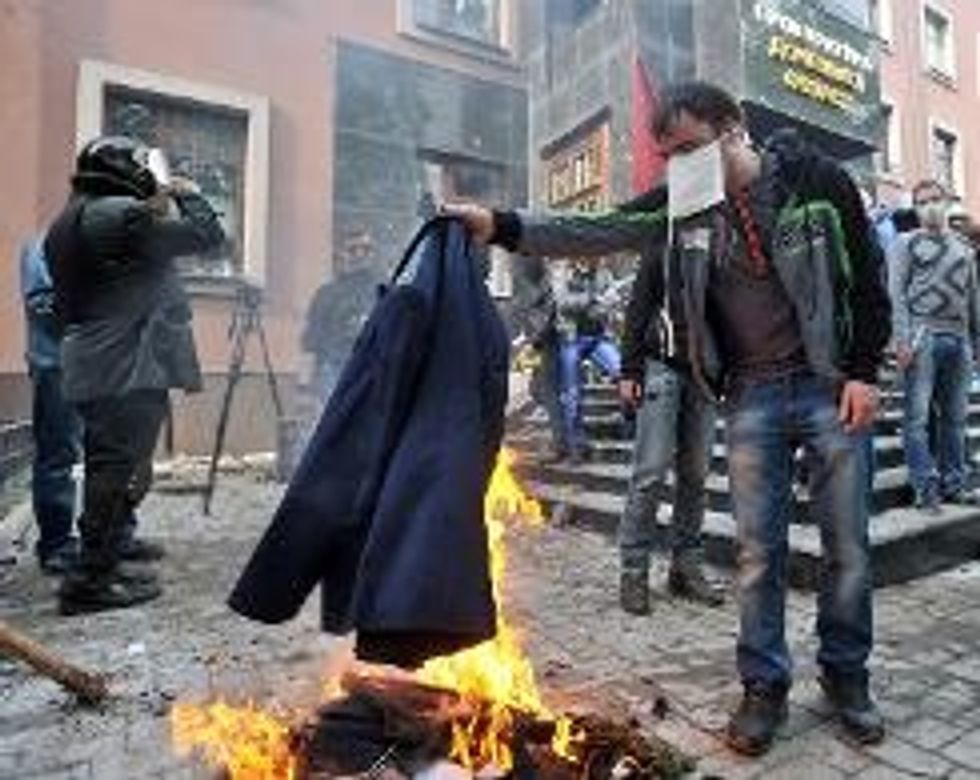 By Carol J. Williams, Los Angeles Times
Ukrainian government forces targeted pro-Russia militants with artillery and airstrikes Tuesday after President Petro Poroshenko said he wouldn't renew a cease-fire that was repeatedly violated during its 10 days in force.
"Termination of the cease-fire is our response to terrorists, militants and marauders, all those who torment civilians, who paralyze the economy of the region, who disturb payment of salaries, pensionsn and stipends," Poroshenko said as he ordered a resumption of military efforts to recover seized territory.
He later wrote on his Facebook page that Ukrainians needed to unite for the fight "to free our land from dirt and parasites."
Ukraine's Defense Ministry said 27 soldiers were killed during the cease-fire and 69 wounded, evidence that the unilateral pause in fighting had failed to further the president's peace plan.
Some factions of the pro-Russia rebels had said they would honor the cease-fire, but all rejected Poroshenko's demand that they surrender their weapons and negotiate their grievances with a "contact group" of foreign and Ukrainian mediators.
A military spokesman in Kiev, Oleksiy Dmytrashkovsky, told reporters that government forces attacked the separatists in their strongholds in the cities of Donetsk and Luhansk.
"We opened artillery fire, carried out airstrikes at the strategic points of the terrorists and places where they are concentrated," Dmytrashkovsky said.
Heavy artillery exchanges were also reported in the front-line towns of Slovyansk and Kramatorsk.
Ukraine's worst unrest since the 1991 collapse of the Soviet Union was sparked by former President Viktor Yanukovich's decision to scrap a deal with the European Union in favor of closer ties with Russia.
Results of the renewed offensive against militants occupying a dozen eastern Ukrainian towns and cities were unclear. News agencies reported a rebel attack on the police headquarters in Donetsk, capital of one of the two regions in separatist hands. But a Kyiv Post reporter in the city wrote that he was given three conflicting accounts of the attack, including one fighter's report that a rival separatist group was behind the incursion.
Russian President Vladimir Putin, whom Poroshenko and his Western allies accuse of fomenting the separatist battles in Ukraine's Russian-speaking eastern regions, vowed to continue defending the interests of Russians in Ukraine.
Putin cast himself as part of the unsuccessful effort by German Chancellor Angela Merkel and French President Francois Hollande to persuade Poroshenko to extend the cease-fire. The Kremlin leader blamed the West for the crisis in Ukraine, contending it is directed at undermining Russian security.
"Attempts have been made through Ukraine to rock the situation in the region and to create a tense center on our borders," Putin told a gathering of Russian diplomats in Moscow on Tuesday.
Putin also defended his seizure and annexation of Ukraine's Crimean peninsula as a moral obligation to protect Russians living abroad following the 1991 breakup of the Soviet Union.
Russians in Ukraine "saw their language, culture and civil rights threatened," he said of the rebellion that drove out Kremlin-allied Yanukovich in February. "What kind of reaction did our partners expect from us after how events unfolded in Ukraine? We certainly had no right to leave the Crimean people and Sevastopol citizens at the hands of militant nationalists and radicals."
The Russian Foreign Ministry issued a statement warning Poroshenko that he now bears responsibility for the resumed fighting.
AFP Photo / Genya Savilov
Interested in world news? Sign up for our daily email newsletter!