Here's The Real Story: The GOP Has Surrendered On Repealing Obamacare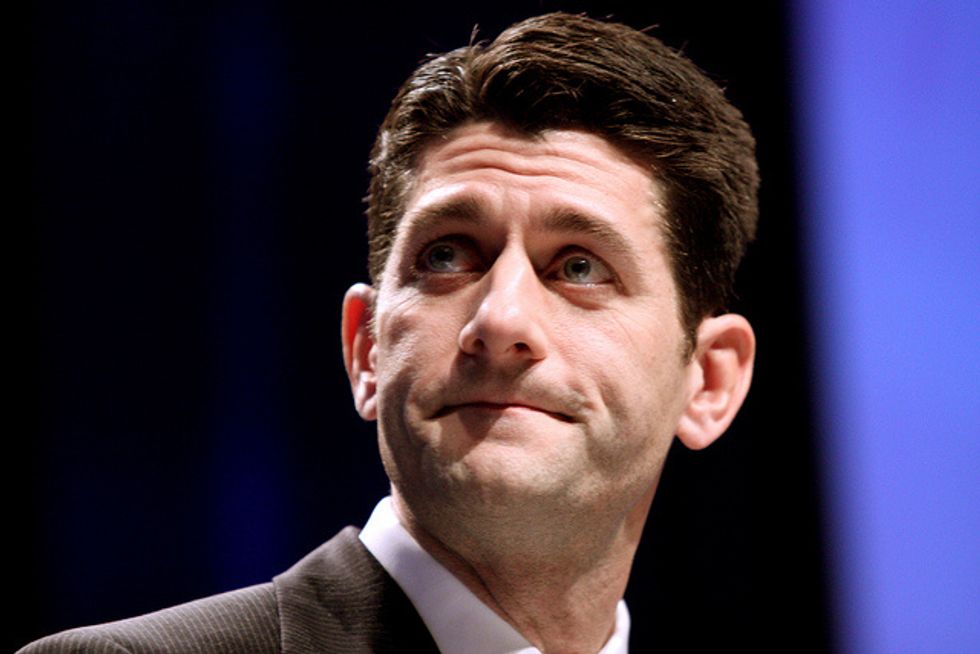 Rep. Paul Ryan (R-WI) and Senator Patty Murray (D-WA) both referred to the budget deal they announced on Tuesday evening as "historic." They were correct — but not because of any of the cuts or fees in the modest deficit-reduction plan.
What's historic about Ryan and Murray's bipartisan deal, which eases the automatic sequester cuts, is that it quietly funds Obamacare for the next two years, rejecting the Tea Party argument to defund/repeal the president's signature legislative accomplishment until at least 2017.
Yes, Republicans are giving in and accepting the Affordable Care Act, right as the law and the president are near all-time popularity lows.
Two months of severe problems with the website compounded confusion and frustration with an already complex law. Most of the problems have been fixed, but the public perception of the law will take months to heal, if it ever does. But Republicans have figured out, after their failed attempt to dive-bomb the law with a shutdown in October, that they have no hope of getting rid of it — at least until President Obama is out of office.
The Ryan-Murray agreement isn't the only sign that many Republicans are nearing the "acceptance" phase of mourning the existence of Obamacare.
Senator Ron Johnson (R-WI), who repeatedly said that the president's health reform was an abomination that compelled him to run for office, now says he can accept the law's state insurance exchange system.
Five of the 25 Republican-led states that have rejected Medicaid expansion are edging toward accepting federal money to help insure millions who earn just a bit too much to qualify for Medicaid. Republican governors in the key swing states of Ohio, Michigan and Pennsylvania are already working toward implementing expansion.
Another sign that most Republicans understand that they're going to have to live with Obamacare is that the Tea Party is pissed.
Red State's Erick Erickson — one of the leading voices for primarying just about every incumbent Republican senator — put it this way:
Last month Republicans bailed on the Obamacare fight and declared sequestration their line in the sand. Now they are saying they'll bail on sequestration, but they'll hold the line on unemployment benefits.

Why should we believe them anymore? Is it any wonder that poll after poll shows Republican voters hate their Republican congressmen and senators?

Bend over America, here it comes again.
Republicans had two months of unity as they celebrated the miserable rollout of HealthCare.gov. Now the GOP is back to where it was in October, stuck with a base that's pretty much furious at its leadership for surrendering — again.
Photo: Gage Skidmore via Flickr