Hillary Clinton Tells Benghazi Panel U.S. Diplomats Must Take Risks
@reuters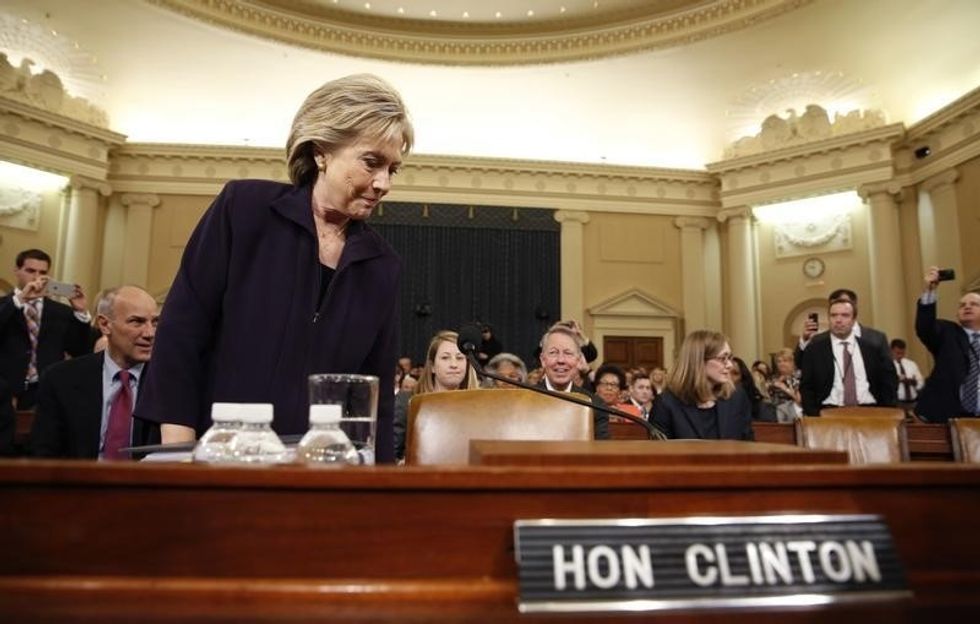 By Jonathan Allen and John Whitesides
WASHINGTON (Reuters) – Democratic presidential candidate Hillary Clinton kicked off high-stakes testimony to a Republican-led panel on Benghazi on Thursday with an admonition that U.S. diplomats must inherently work in unstable and dangerous parts of the world.
In her opening statement in what was expected to be a contentious and highly partisan hearing, Clinton said the deadly 2012 attacks in Benghazi, Libya, when she was secretary of state, must not discourage U.S. action globally.
"America must lead in a dangerous world and our diplomats must continue representing us in dangerous places," Clinton told the panel. "When America is absent especially from unstable places there are consequences."
Clinton's long-awaited appearance follows months of controversy about her use of a private home email server for her State Department work, a set-up that surfaced in part because of the Benghazi committee's demand last year to see her official records.
It also follows days of political brawling over whether the House select committee's real goal was to puncture her front-running presidential prospects. The committee is made up of seven Republicans and five of Clinton's fellow Democrats.
Trey Gowdy, the committee chairman and a former federal prosecutor, has been on the defensive over a series of comments from his fellow Republicans implying the committee's real aim was to deflate Clinton's poll numbers.
"Madame Secretary, I understand some people – frankly in both parties – have suggested this investigation is about you. Let me assure you it is not," Gowdy told Clinton in his opening statement.
"Not a single member of this committee signed up for an investigation into you or your email system."
The panel has spent 17 months inquiring into the killing of J. Christopher Stevens, the U.S. ambassador to Libya, and three other Americans by suspected Islamist militants who invaded the U.S. mission compound in the war-torn city of Benghazi with guns, grenades and mortars.
The committee's Democrats, who may discuss abandoning the inquiry after Clinton's appearance, say they think there is little left to unearth on Benghazi that more than a half-dozen previous inquiries did not find.
Clinton delivered congressional testimony on the Benghazi attacks in late 2013.
The senior Democrat on the committee, Elijah Cummings of Maryland, rejected Gowdy's argument and said congressional Republicans set up the panel for a partisan witch hunt.
"They set them loose, Madame Secretary, because you're running for president," he told Clinton, calling for an end to the "taxpayer-funded fishing expedition."
"What is impossible is for any reasonable person to continue denying that Republicans are squandering millions of taxpayer dollars on this abusive effort," he said.
A 2012 report by a government accountability review board sharply faulted State Department officials for providing "grossly" insufficient security in Benghazi, despite upgrade requests from Stevens and others in Libya.
Clinton entered the hearing riding a wave of political momentum after a strong performance in last week's first Democratic candidates' debate for the 2016 election and the news on Wednesday that her strongest potential challenger, Vice President Joe Biden, will not challenge her for the Democratic nomination.
(Additional reporting by Ginger Gibson; Editing by Leslie Adler and Howard Goller)
Democratic presidential candidate Hillary Clinton takes her seat to testify in front of the House Select Committee on Benghazi about the attack on a U.S. diplomatic mission in Benghazi, Libya, on Capitol Hill in Washington October 22, 2015. REUTERS/Jonathan Ernst