Hillary Making Medea Rounds
@JamieStiehm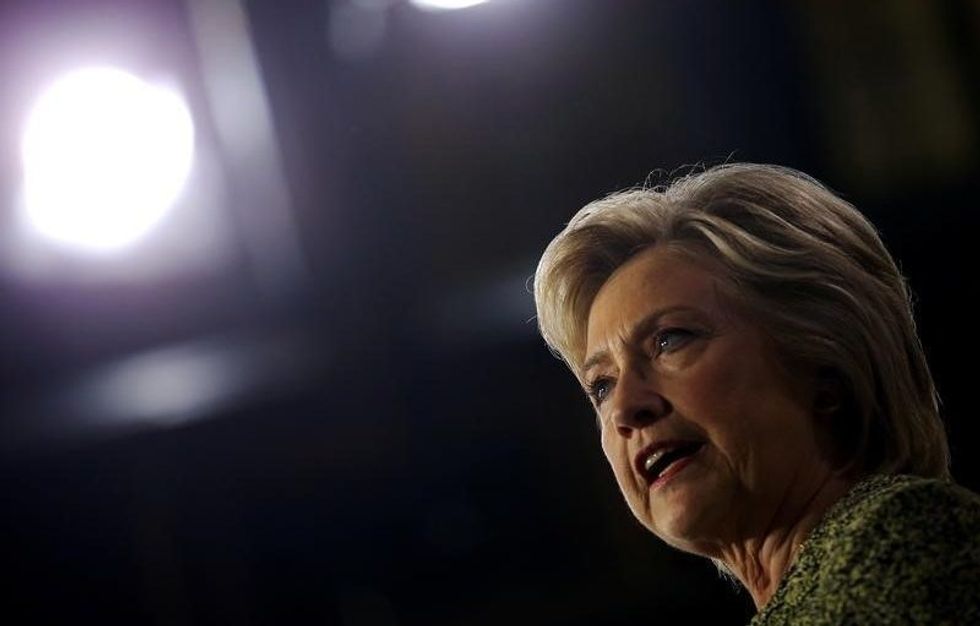 Reprinted with permission from Creators.
So Hillary Clinton is on her Medea tour — ahem! — media tour.
But this is a different version of Herself — ahem! — herself. Ironically, this is the winning version, much more true and real. It's a shame she didn't show up at the carnival — ahem! — the campaign. She's here to tell us "What Happened," the title of her new tome. It may make you weep, but a good cry never hurt anybody.
Besides, the sisterhood is still in deep grief and disbelief. One question arises from the tour: Why didn't this Clinton run for office? She's surprisingly wry, open, yet as well-spoken as ever. Even her hair looks more honest.
I don't know about you, but I wish she had turned and confronted Donald Trump at the debate when he stalked her. That would have been an unscripted small step for womankind. If she had acted like she had nothing to lose, maybe she would have won.
Oh, but she was always such a good girl, wasn't she? The Democratic nominee was perfectly pristine and prepared with her 10-point plans and restrained manners in debating the beast — ahem! — bad boy Donald Trump. Clinton never lost her cool with her lurking opponent, and that may be part of the whole Greek tragedy.
Speaking of that, the myth of enchanting Medea is that her fury at her ex, Jason, was so great that she famously took revenge when he left her for the princess of Corinth. She killed their children.
Clinton will have to settle for drawing blood (with her pen) from James Comey, Bernie Sanders and possibly, Vladimir Putin.
The priggish Comey, then the FBI director, did Clinton wrong not once but twice, in the summer and fall leading up to the November election. He carelessly commented on her being extremely "careless" with her government emails.
When an FBI investigations closes, that's the end of it. Comey had no right to editorialize and color the electorate, especially in a close race. At the same time, he curiously kept the Russian meddling investigation secret. He deserved to be fired — but by Madame President, not Trump.
The Independent Vermont senator, Sanders, hurt Clinton in the primary by drawing the public eye persistently to her six-figure speeches on Wall Street. That colored her character and may have been "bad optics," as she defensively put it. But it was "a way to earn a very good living."
Meanwhile in 2016, Trump and Sanders were playing the populist fiddle to the right and left of her.
Clinton rightly observes she was a good sport about losing a close primary race to Barack Obama in 2008. Further, she supported and campaigned for him. She's mad Sanders didn't galvanize his sore Democratic faction to turn out for her.
That said, Sanders, a Senate eccentric, has never been a team player.
Clinton's private email server and the Wall Street speeches go to two major traits she never overcame. First, she is seriously fond of money. Second, she's fearful of her privacy being invaded after the 1998 Bill Clinton sex scandal laid their lives bare.
But it's a beautiful thing to see her sleekly styled new book in hand, telling Anderson Cooper — and by extension, all of us, what happened in the 2016 presidential contest. Don't we know it: losing the Electoral College while winning the popular vote by nearly three million votes.
Three million. That's a mantra many of us live by to stay sane in Trump's dark, mean and ugly version — ahem! — vision of America. Trump makes a Hobbesian jungle, where life is brutish, nasty and short, look like a Cambridge cricket match.
We the people know that American democracy failed us again. We mostly voted for her, flaws and all. Women (overall) voted for her. The vast majority of white men, not so much.
Now Hillary Clinton is willing to share her flaws with us. Ahem again! Make that shortcomings. And by the way, we'll never have Wisconsin.
To find out more about Jamie Stiehm, and read features by other Creators Syndicate writers and cartoonists, visit the Creators Syndicate website at www.creators.com.