Hindenburg Memorial Restored For Anniversary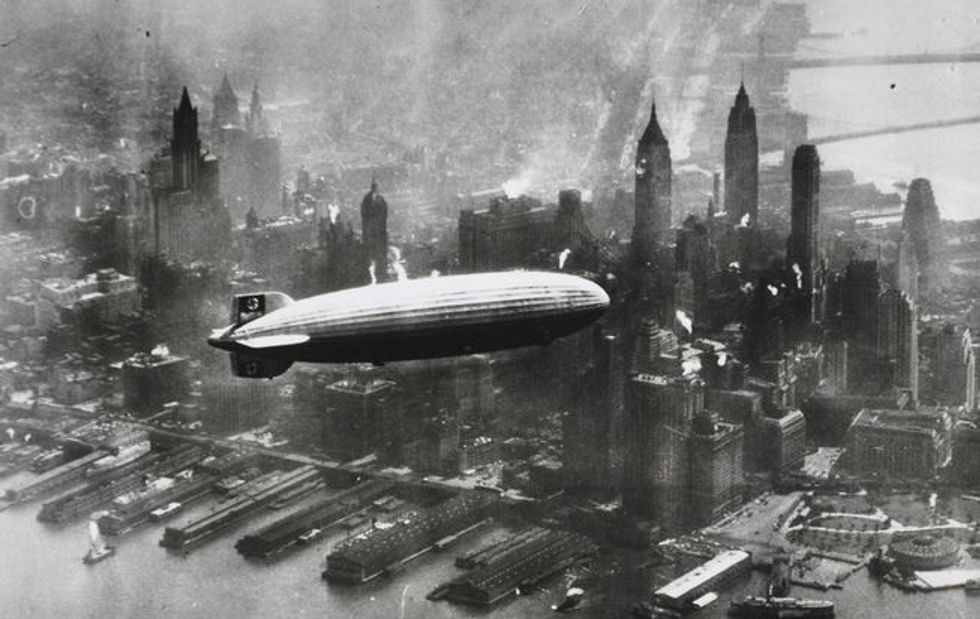 By Matthew McGrath, The Record (Hackensack, NJ)
JOINT BASE MCGUIRE-DIX-LAKEHURST, NJ — On a field cut from dense pine forest, 36 people lost their lives 77 years ago in a fiery explosion as the Hindenburg airship crashed on its 63rd voyage, heralding the end of lighter-than-air commercial passenger travel.
On Tuesday, a refurbished plaque commemorating the 50th anniversary of the tragedy was unveiled during a ceremony honoring the lives lost in Hindenburg crash and other Army and Navy airship crashes, including one off of Barnegat Light.
The plaque lies flat, surrounded by the shape of a dirigible viewed from the top, laid out in stone in a gravel field near the massive Hangar 1, where the airship would have been stored.
Since it was initially placed on the field in 1987, the elements had worn the plate, and someone had scrawled initials onto it, said Rick Zitarosa, the Navy Lakehurst Historical Society vice president.
When the plaque was first placed on the field, there were many survivors of the flight, Zitorosa said. Now, a cabin boy and a passenger are the only living survivors.
There also is a small handful of people left who flew on the Hindenburg at other times, he said.
Dr. Horst Schirmer is one of them.
His father designed the aeronautics for the airship. He flew on the Hindenburg for a test flight when he was about 5 years old.
"I am just full of admiration and gratitude of your interest showing what happened here," Schirmer said. "This is heartwarming to me that so much interest still exists."
He said he grew up with the ship. And he loved the idea that lighter-than-air travel existed as a bridge between Europe and the Americas. He remembers that his flight on the massive airship was smooth and steady with no air currents that cause turbulence on airplanes.
The Hindenburg, at more than 800 feet in length the largest airship ever made, was named after German field marshal and statesman Paul Von Hindenburg. As such, it was a symbol of grandeur for a rising Nazi Germany. It had traveled across the ocean from Frankfurt am Main, Germany, when, filled with hydrogen, it erupted into flames as it approached landing in Lakehurst.
The cause of the explosion has never been firmly established. But the fiery eruption and crash was captured by photographs, newsreel film and the words of Herbert Morrison, a radio reporter of WLS in Chicago who narrated the crash.
His eyewitness account was broadcast the next day and included the now-immortal, but then anguished, cry: "Oh, the humanity!"
The intense media attention covering the crash ushered the end of airship travel as confidence in the ships fell away and airplane design improved.
Photo: Triborough via Flickr