Homeland Security Chief Warns Mall Shoppers On Threat, Pleads For Funding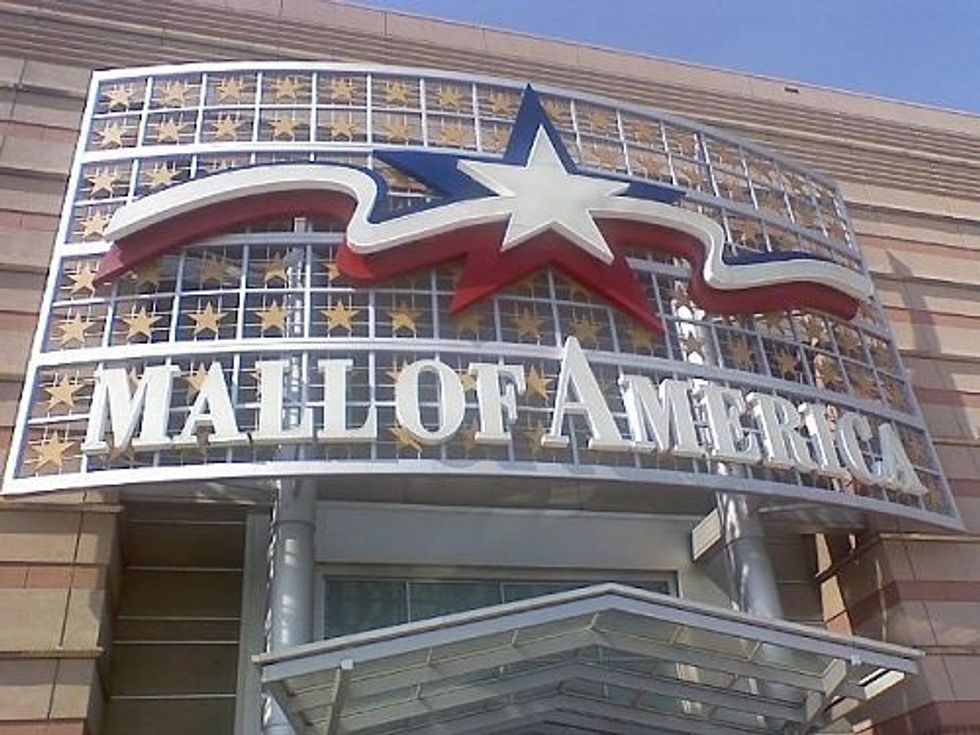 By Christi Parsons and Brian Bennett, Tribune Washington Bureau (TNS)
WASHINGTON — President Barack Obama's top Homeland Security official on Sunday warned Americans to be "particularly careful" after terrorist threats against the Mall of America and other shopping centers, and seized the opportunity to call on Congress not to let his department's funding expire this week.
The warnings from Homeland Security Secretary Jeh Johnson followed the release of a video from the al-Shabab terrorist group over the weekend that urged militants to attack American, Canadian and British shopping centers, including the mega-mall near Minneapolis. Al-Shabab is responsible for the 2013 attack on a Kenyan mall that left 67 people dead.
"If anyone is planning to go to the Mall of America today, they've got to be particularly careful," Johnson told CNN's Gloria Borgia.
"Any time a terrorist organization calls for an attack on a specific place, we've got to take that seriously," he said. "So, through our intelligence bulletins, through working with state and local law enforcement, through working with the FBI, we take this kind of thing very seriously."
But several U.S. officials said they had no other reason to believe there was an actual plot unfolding against any shopping centers in the U.S. One intelligence official said there was no evidence that the video represented anything more than a call to action, and that similar videos in the past had not been linked to subsequent attacks. But they said the prospect of violence from lone actors — unattached to a terrorist group but open to inspiration via the Internet — was a continuing concern.
Even before the latest threat, the administration was on high alert over the possibility that Homeland Security's funding would dry up Saturday. Johnson played up both issues during appearances on several Sunday talk shows.
Al-Shabab's video specifically mentioned the Mall of America and gave its GPS coordinates, not far from Minneapolis' large Somali community. It appeared to be an explicit exhortation from the Somali-based terrorists to disaffected expatriates in Minnesota.
The Mall of America issued a statement in conjunction with law enforcement agencies, including the Justice Department and the Bloomington, Minn., Police Department.
"At this time there is no credible threat associated with Mall of America," the statement said. "We take all security concerns seriously and have responded appropriately. Enhanced security measures … have been implemented and all information is being monitored."
Asked whether foot traffic seemed any lighter Sunday, Mall of America spokeswoman Julie Hansen said in an email, "I did not notice a difference."
Congress is at an impasse on funding Homeland Security, with most Republicans demanding that any funding bill nullify Obama's pending executive actions to temporarily shield as many as 5 million immigrants in the country illegally from deportation, as well as those protected by a 2012 program, Deferred Action for Childhood Arrivals.
Most Democrats stand by the president's immigration actions, and they have enough votes in the Senate to block the measure. When Congress returns from its holiday break Monday, the Senate will hold a fourth procedural vote on the bill, which has passed the House. Republican aides would not discuss how either chamber would proceed if, as expected, Democrats block it again.
Republicans are divided over the best way to challenge Obama's actions. Senator Lindsey Graham (R-SC) argued Sunday that it would be better to challenge the immigration measures in court, warning colleagues of the pitfalls of using national security to make a political point.
A federal judge in Texas imposed a temporary injunction against the immigration actions last week. The Justice Department is preparing to request an emergency stay of that injunction so the administration can implement its plans. White House officials say they expect the request to be filed by Monday.
Graham said he agreed with U.S. District Judge Andrew S. Hanen, who ruled in a lawsuit brought by 26 states, and hoped his party would focus on that case as a way to wage the immigration fight.
"If we don't fund the Department of Homeland Security, we'll get blamed as a party. And to anyone who is watching the world as it is, I've never seen more terrorist organizations with more safe havens, with more money, with more capability to strike the homeland today," Graham told George Stephanopoulos on ABC's This Week. "And that's a direct result of a failed foreign policy by President Obama. And the worst thing to do is add gasoline to the fire by having the Republican Party defund the Department of Homeland Security."
Johnson used the al-Shabab threats to illustrate a growing dynamic among competing terrorist groups such as al-Qaida and Islamic State, which are vying for recruits and targeting citizens in the West, he said.
"These groups are relying more and more on independent actors to become inspired, drawn to the cause … on their own, through their effective use of the Internet," Johnson told CNN. "That's why it's critical that we work in the communities where these folks might be able to recruit to develop a counternarrative."
The threats also show "why I need a budget," he said. If funding isn't approved by Friday, Johnson said, he'll have to furlough about 80 percent of the Federal Emergency Management Agency's workers. Law enforcement and other crucial Homeland Security officials will simply have to work without pay, he said.
"It's absurd that we're even having this conversation about Congress' inability to fund Homeland Security in these challenging times," Johnson said.
He complained of a "frustrating" round of finger-pointing during his conversations on Capitol Hill.
"When I go to the Senate, they say, 'It's not us, it's the House, go over to the House side and talk to them,' " Johnson said. "I go to the House and they say, 'We passed our bill, it's the Senate.' "
Johnson said that marketing by terrorists was entering a new phase in which groups such as Islamic State, al-Shabab and al-Qaida in the Arabian Peninsula are issuing public directions for individual actors to carry out attacks in their homelands.
"In my judgment, that represents a totally new environment," Johnson said on CBS. "And we have to deal with it in a new and different way that involves a whole-of-government approach and involves working with state and local law enforcement, working with the community, working with community leaders to hopefully persuade people who might be inclined in this direction to turn away from violence."
Threat or no threat, shoppers flocked to malls Sunday, including the sprawling Glendale Galleria, near Los Angeles. Families pushed strollers, couples held hands, drivers fought for precious parking spaces. Most patrons said they were unaware of, or unfazed by, al-Shabab's message.
"Personally, I don't live in fear. I'm tired of that," said Tatiana Arrue, 22, a corporate recruiter from Downey, Calif. "The thought of going to a mall and possibly dying, well, if that's how I'm going to go, that's how I'm going to go. I'm tired of living in fear."
Another customer read a copy of William Faulkner's As I Lay Dying while he waited for his steaming pizza to cool. He was unaware of the threat but said he would have come to the mall anyway.
"It doesn't bother me," said the man, who declined to give his name for an article about terrorism. "I don't think people are sitting around planning to shoot up a mall and waiting for somebody to tell them to do it."
___
Los Angeles Times staff writers Stuart Pfeifer and Matt Pearce in Los Angeles contributed to this report.
Photo via Wikimedia Commons