Hong Kong Democracy Protesters Digging In For Long Haul
@AFP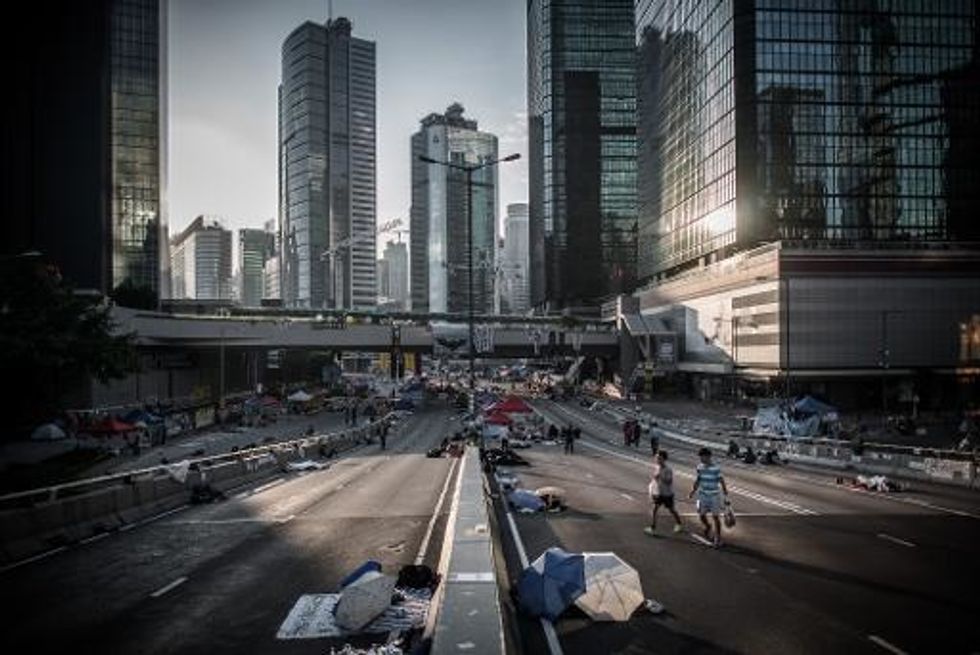 Hong Kong (AFP) – Thousands of pro-democracy supporters took to Hong Kong's streets Friday night after protest leaders implored them to dig in for the long haul following the collapse of talks with the government.
The mass rally attracting an estimated 15,000 drew the biggest crowd of the week, with numbers swelling as the night progressed and some demonstrators arriving with food, tents and bedding as the protests moved into their third week.
Crunch negotiations between protesters and Beijing-backed city officials were scheduled for Friday but fell apart Thursday after the government pulled out, blaming protesters for threatening to expand their campaign.
Demonstrators are calling for Beijing to grant the former British colony full democracy and for the city's Chief Executive Leung Chun-ying to resign.
Under plans unveiled by China in August, Hong Kong's citizens will be able to vote for Leung's successor in 2017, but only two-to-three vetted candidates will be allowed to stand — something detractors have dismissed as a "fake democracy".
As Friday evening progressed the crowd of demonstrators grew from around 7,000 to 10,000 and then to more than an estimated 15,000 at the main protest site, a stretch of highway opposite the city government's headquarters, an AFP reporter on the scene said.
During the rally pro-democracy leaders gave speeches, protesters chanted "Keep occupying" and sang the Cantonese version of a revolution anthem from hit musical Les Miserables, "Do You Hear The People Sing?".
Activists are banking on mustering significant numbers over the weekend and also potentially expanding their sit-ins to keep pressure on the government.
"I miss my bed at home but to struggle for democracy I call for everyone here to continue staying here," Occupy Central co-founder Benny Tai said.
The crowds were smaller than the tens of thousands attending last week but the protest has begun to take on an air of permanence, with tents, portable showers and even the occasional bed.
"I will continue to stay here until the government talks to us," Yuki Law, a 21-year-old nursing student told AFP.
"The government has never responded to the citizens so we want to support the movement until the government has a real response for us," 27-year-old human resources officer Vincy Chan told AFP.
She said the government's refusal to engage had backfired and brought more people out to protest.
Student leaders Friday insisted they were still open to finding a middle ground with the government but vowed no let up in their occupation of parts of Hong Kong despite growing public anger over the disruption they have caused.
Hong Kong Federation of Students general secretary Alex Chow told the crowd: "A lot of people tell us to give up and to go but when we look back at history 10 to 20 years from now we will see that Hong Kong people are making a new history."
"Come to occupy the road outside the public headquarters, come bring your tents to show our persistence on long term occupy action," student leader Joshua Wong told supporters.
But if Hong Kong's leadership were rattled by the prospect of renewed large-scale protests they showed little sign of it.
City officials said Friday Chief Secretary Carrie Lam — who had been due to lead the talks with students — will leave for Guangzhou on Saturday on official business while Leung will head there Sunday.
Analysts warned that the collapse of the talks pushes the confrontation between democracy protesters and the government into a dangerous phase, with neither side willing to back down.
But Michael DeGolyer, a professor at Hong Kong Baptist University, said a violent reaction from police was unlikely given it could reinvigorate the protest movement.
"They're not going to do the martyrdom thing. That would be a completely unnecessary act of dominance," he said.
Officers, however, hinted they might try and dismantle some of the barricades put up by protesters.
With patience among many Hong Kong residents running out following days of disruption, pressure is mounting on both Leung and the protest leaders to solve the stalemate.
Leung's opponents were given a major boost this week when details emerged that he had kept secret large payments from an Australian company while he was in office.
The Beijing-backed chief executive has denied any wrongdoing, saying he was under no obligation to declare the earnings and that he did not work for any company while in office.
But opposition lawmakers have threatened to bring impeachment proceedings against him while the city's top prosecutor will probe the allegations after a complaint was lodged with Hong Kong's anti-corruption watchdog.
Observers say Leung's bosses in China show no signs of dropping their support for the embattled leader.
AFP Photo/Philippe Lopez