Hopes For Syria Peace Meet Fade As Rebels Dig In Heels
@AFP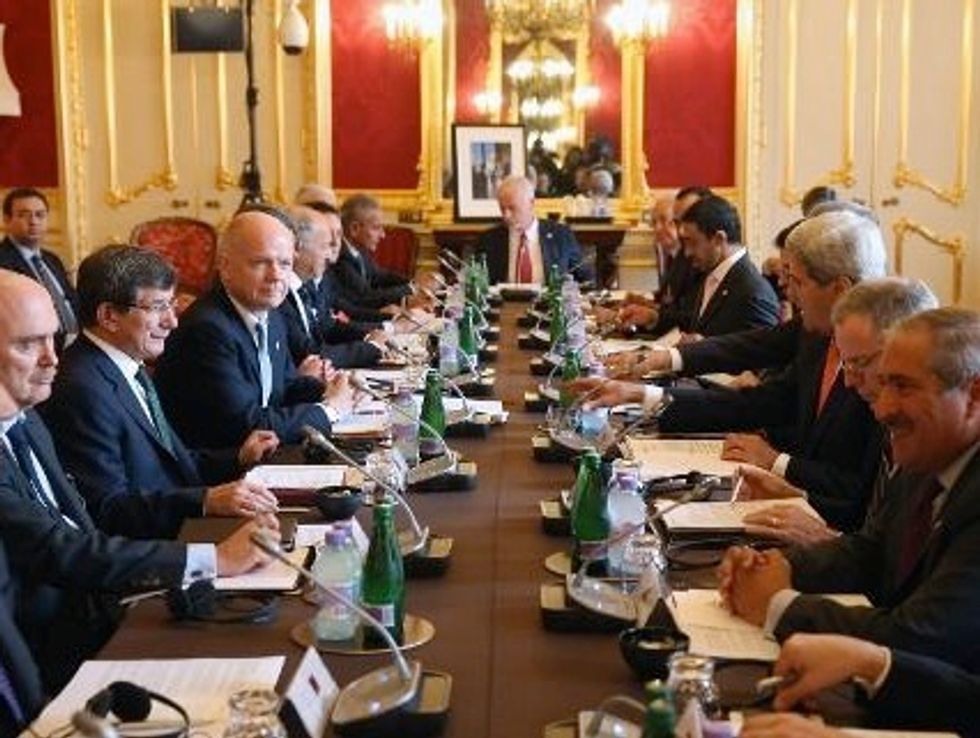 Damascus (AFP) – Prospects of a Syria peace conference in Geneva next month looked dim Wednesday after key opposition leaders spurned efforts by Western and Arab powers to persuade them to attend.
A meeting in London between the opposition leaders and 11 key countries of the so-called Friends of Syria on Tuesday produced little more than an accord that Syrian President Bashar al-Assad should play no future role in government.
But leaders of the National Coalition — the main opposition umbrella group — insisted they would not take part in a conference in late November if any regime members were there, sticking to their demand that Assad's departure was essential.
But a defiant Assad has shown no sign of backing down after a two-and-a-half-year civil war that has left more than 115,000 people dead, saying he was ready to run for re-election in 2014.
Assad has systematically refused to recognise the Coalition as a legitimated negotiating partner and has rejected its demand that he step down.
British Foreign Secretary William Hague said the London meeting had urged the Coalition to "commit itself fully" to the so-called Geneva 2 talks.
He said the Friends of Syria agreed that they would put their "united and collective weight" behind efforts to form a transitional government and that "Assad would play no role in that future government of Syria."
U.S. Secretary of State John Kerry took a similar position, saying Assad had "lost all legitimacy."
But he too urged the opposition to go to Geneva, saying Syria was at risk of "implosion" if the civil war continued and said the only alternative to a negotiated settlement was "continued if not increased killing."
The opposition is due to meet at the start of November to finalise its position on the Geneva talks, which would be a follow-up to a peace conference held in the Swiss city in June 2012.
Coalition head Ahmad Jarba appeared to be in no mood to compromise on his demands.
"There will not be negotiations at all without making sure that this meeting, Geneva 2, is basically to make sure there's a transitional period and for Assad to go," said Jarba.
'I don't see why I shouldn't run in the next election'
The London talks grouped Britain, Egypt, France, Germany, Italy, Jordan, Qatar, Saudi Arabia, Turkey and the United Arab Emirates and the United States, together with Syrian opposition leaders.
Russia absent from meeting
Notably absent from the meeting was key Syria ally Russia, which has dismissed such gatherings in the past, saying they do not represent all Syrian people.
Washington and Moscow have been trying to organise the Geneva conference on the heels of the deal they reached for the destruction of Syria's chemical weapons in the wake of a deadly poison gas attack in August widely blamed on Damascus.
But Assad dealt an early blow to peace hopes, saying in an interview Monday that the factors are not in place for the conference to succeed.
"No time has been set, and the factors are not yet in place if we want (Geneva 2) to succeed," Assad told Lebanon-based satellite channel Al-Mayadeen, adding that there was no guarantee about "which forces are taking part."
U.N.-Arab League mediator Lakhdar Brahimi will meet again on November 5 with U.S. and Russian officials to prepare for the Geneva talks, the U.N. announced Tuesday.
That meeting will be followed by one with the other three permanent members of the U.N. Security Council — Britain, China and France, according to U.N. spokesman Martin Nesirky.
In other developments, prominent human rights activist Sema Nassar told AFP Wednesday that Syrian authorities have released 14 women detainees as part of a weekend hostage exchange but that dozens of others are still being held.
Nine Lebanese Shiite hostages held for 17 months by a rebel group in northern Syria were exchanged on Saturday for two Turkish pilots held in Lebanon since August.
"Fourteen of the women whose names were on the list" were freed late Tuesday, Nassar said.
AFP Photo/Oli Scarff