House GOP Willing To Fund The Government With Obamacare — In Exchange For Some Sabotage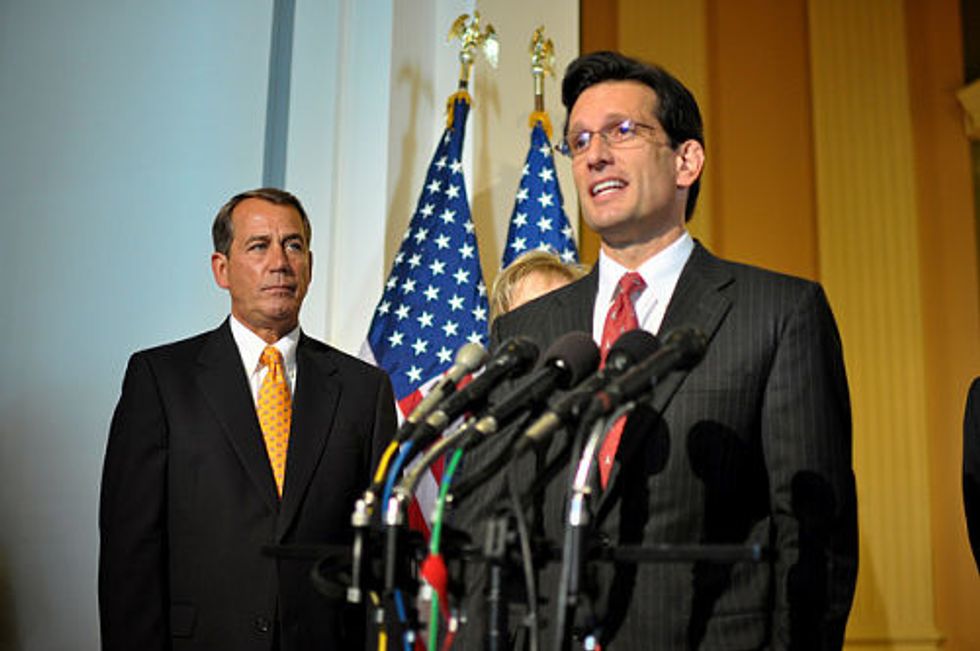 House Republicans have signaled that they are willing to pass both a short-term resolution to fund the government past September 30 and an increase that will allow the U.S. to pay its debts when the Treasury hits the debt limit in mid-October, without defunding Obamacare.
But they will demand painful cuts to make the deal acceptable to their base.
GOP leaders have confirmed they want a continuation of the so-called sequestration, which includes cuts to Medicare and regulators charged with overseeing Wall Street and implementing the Affordable Care Act.
"Over the past three decades during times of divided government, increases in the debt limit have been accompanied by major spending, fiscal, and regulatory reforms and I expect that model to play out once again," House Minority Leader Eric Cantor (R-VA) wrote in a memo released Friday.
Politico's David Rogers and David Bresnahan write that Republicans are specifically targeting the Centers for Medicare and Medicaid Services (CMS), which will play a key role in the oversight of the health care exchanges that launch on October 1:
The president had requested $4.82 billion last year for the CMS "program management" account but then settled for $3.8 billion last spring. Through the summer, the Department of Health and Human Services was able to bridge the gap by tapping other resources, including $453 million from a preventive care fund. But the CR now would put Obama back at square one and at least $1.4 billion below his request for 2014.
In addition, Republicans want to keep sequestration cuts to the Securities and Exchange Commission, which oversees the stock market, even though it is self-funded from fines it receives from companies — along with cuts to the Commodity Futures Trading Commission.
"The Commodity Futures Trading Commission, charged with a major role in regulating the derivatives market, would go into its fourth year of being effectively frozen at more than a third below the president's request," Rogers and Bresnahan report.
"I would say our enforcement resources are tiny compared to the size of the markets,"  CFTC chair Gary Gensler told the Senate Banking Committee earlier this year. "You know the American public put $180 billion into AIG [the insurance company taxpayers bailed out], that's 600 times what the president asked for [to fund] our agency. Our enforcement folks are only about 150 of our people. And unfortunately we're trying to make the best decisions but often we have to delay justice because we don't have the right resources."
The cost of inadequate regulation of Wall Street can be counted in trillions of dollars to the economy and eight million jobs lost in the financial crisis. The sequestration cuts have been largely ignored as their effects are hard to quantify and generally only directly impact the poor. But their effects on kids in Head Start, those in public housing and federally funded research punish the vulnerable and may drive scientists overseas.
The fact that House Republicans have been willing to use a debt default disaster as a threat in the past has given them an advantage. This time they're beginning the negotiations by admitting that it is a threat they don't intend to carry out.
Cantor's memo suggests that President Obama's hand in these negotiations is stronger than it has been in the past.
Photo: Medill DC via Flickr.com