House Republicans Search For Leader
@reuters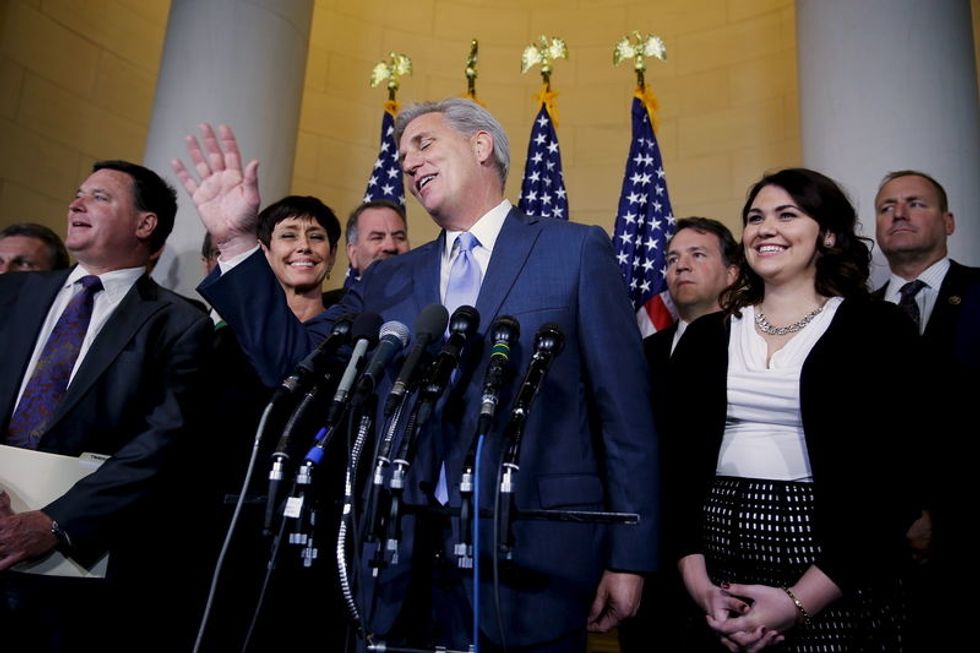 WASHINGTON (Reuters) – U.S. House Republicans met behind closed doors to discuss next steps in their internal leadership battle on Friday morning, the day after the front-runner to lead their chamber abruptly quit the speaker's race.
"Starting this morning, we're looking for a consensus candidate," Representative Darrell Issa told CNBC ahead of the meeting.
Finding a replacement for House Speaker John Boehner has consumed Republicans as Congress faces a series of pressing decisions, from raising the government borrowing authority to funding federal agencies through September.
Further complicating matters is that the House of Representatives is set to take recess next week.
Issa, a California Republican, said he was considering running for speaker of the House after Representative Kevin McCarthy said on Thursday that he would no longer seek the post. McCarthy was considered the leading candidate to replace Boehner, who is retiring.
Issa said he backed House Ways and Means Committee Chairman Paul Ryan, who has said he would not run, and has no second choice.
"I could potentially be a candidate," Issa said in a separate interview on MSNBC. If no clear candidate emerges, he said, House Republicans should look at replacing all of their leadership positions.
The race for speaker of the Republican-dominated House was upended when McCarthy dropped out, saying he could not get the support he needed to win. Boehner had planned to leave Congress on Oct. 30 but said he would stay until a replacement is elected, and the future of the planned Oct. 29 vote for speaker in the full House remained in question.
Other candidates include Representatives Daniel Webster of Florida and Jason Chaffetz of Utah.
Webster has the backing the House Freedom Caucus, a group of about 40 members aligned with the Tea Party movement that calls for lower taxes, less federal spending and reduction of the national debt and budget deficit.
Walter Jones, a Republican congressman from North Carolina, on Friday said he supported Webster for the job even as he acknowledged the long odds he faces to win.
"Obviously there's chaos up here right now, and we're going to have to see how it works out," he told CNN.
The day before McCarthy withdrew, Jones sent a letter to party leaders asking that all candidates confess any personal "misdeeds" that could embarrass the party. He has refused to elaborate on any specific concerns.
Republican Representative David Schweikert of Arizona said the Freedom Caucus' support for Webster was about allowing more members to have a voice in legislative business.
"It's so much easier to focus on people or personality over process, but much of this is all about process," he told National Public Radio. "Much of this is really reform versus establishment."
(Reporting by Susan Heavey; Additional reporting by Doina Chiacu; Editing by Lisa Von Ahn)
U.S. House Majority Leader Kevin McCarthy laughs off a question as he explains his decision to pull out of a Republican caucus secret ballot vote to determine the nominee to replace retiring House Speaker John Boehner, on Capitol Hill in Washington, October 8, 2015. REUTERS/Jonathan Ernst