House Will Probe Giuliani, Trump In Ukraine Scandal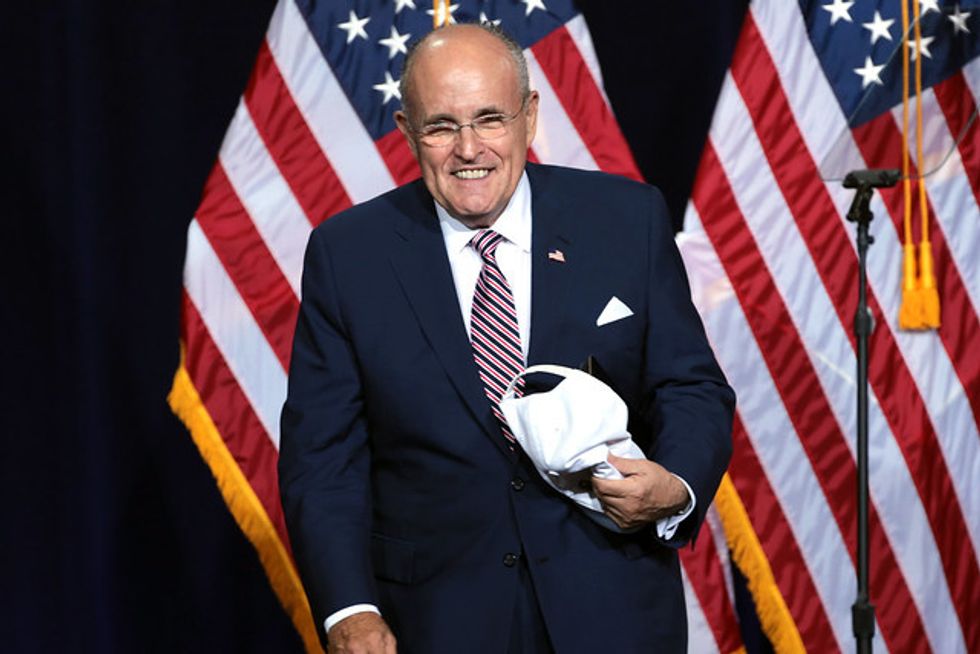 Reprinted with permission from Alternet
President Donald Trump has spent much of his first term complaining about being under investigation for actions related to the 2016 election, and yet he has already guaranteed that there would be a new investigation into his suspicious activity regarding the 2020 election.
Even as the Congress's two chambers continue their investigations into Trump and his team's ties to the Russian interference in the 2016 election, the House of Representatives announced Monday that it has launched a "wide-ranging investigation into reported efforts by Trump, his personal lawyer Rudy Giuliani, and possibly others to pressure Ukraine to help the President's reelection campaign."
The announcement shouldn't come as too much of a surprise. Giuliani face immediate pushback when he went public with his overtures to Ukrainian officials. He wants officials in the country to investigate alleged corruption by Joe Biden, despite the fact that prosecutors have by all appearances dropped consideration of such a probe, as well as the circumstances under which damaging information about Trump's criminal former campaign manager — who was charged with illegally acting as an unregistered foreign agent of Ukraine — emerged in 2016. This scheme was bad enough on its own, given that Giuliani's relationship to Trump gives the demands the weight of the presidency behind them for blatantly partisan purposes in international relations, and it only worsened when the former New York mayor revealed he had worked with the State Department in his efforts.
Then, in an admittedly sketchy bombshell report, the Washington Post editorial board reported last week that Trump is actually delaying military aid to Ukraine in an effort to pressure officials to conduct the desired investigation to harm Biden's standing in the 2020 election.
While defenders of the president will surely just see this investigation as another chance to "take a bite out of the apple" after the Russia investigations failed to bring down Trump, the probe is clearly well-predicated — and Trump has no one to blame but himself. And despite the fact that his investigation failed to induce broad support for impeachment in Congress, Special Counsel Robert Mueller found substantial evidence that Trump obstructed his Russia investigation, which only militates in favor of greater scrutiny of his actions, not less.
And Trump has never backed away from his myriad unethical, if not, in Mueller's conclusions, demonstrably illegal efforts to solicit and welcome Russian help in the 2016 election. In fact, asked about whether he'd accept foreign election assistance again in 2020, he said in June: "I think I'd take it." (FEC Chair Ellen Weintraub quickly responded by saying: "It is illegal for any person to solicit, accept, or receive anything of value from a foreign national in connection with a U.S. election.")
"A growing public record indicates that, for nearly two years, the President and his personal attorney, Rudy Giuliani, appear to have acted outside legitimate law enforcement and diplomatic channels to coerce the Ukrainian government into pursuing two politically-motivated investigations under the guise of anti-corruption activity," said the chairmen of the House Committees on Intelligence, Foreign Affairs, and Government Oversight in a joint statement announcing the new investigation. "As the 2020 election draws closer, President Trump and his personal attorney appear to have increased pressure on the Ukrainian government and its justice system in service of President Trump's reelection campaign, and the White House and the State Department may be abetting this scheme."
"We've provided [$1 billion] in security assistance to Ukraine since 2014 (under Obama and Trump). But now that assistance may be being used as a bribe for what Trump decides is good behavior – helping his 2020 reelection campaign," said CNN National Security Analyst Sam Vinogard in response to the announced probe on Twitter. "Trump's conflicts of interest are what's inhibiting our relationship with Ukraine."