How Bill Barr Could Force Democrats To Begin Impeachment Hearings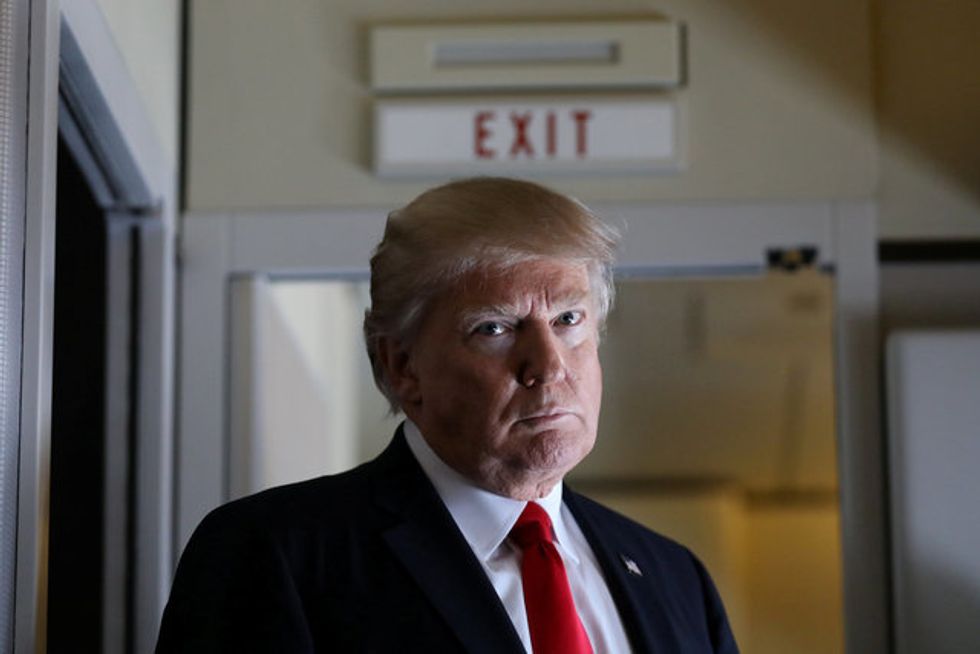 Attorney General Bill Barr has not hesitated to assume full control of the Justice Department, and he appears unafraid of the brewing fight with Democrats in Congress over the release and redactions of Special Counsel Robert Mueller's report on the Russia investigation.
Testifying before the House Appropriations Subcommittee, ostensibly to discuss other matters, Barr told representatives that he is preparing to release the report within a week. However, it will be redacted, with some — possibly much — information concealed from public view. The four main categories of redactions include:
Classified material
Grand jury testimony
Derogatory information about uncharged people
Sensitive information about ongoing cases and investigations
Another potential category that doesn't apply, Barr has said, is information covered by executive privilege; the president has in effect waived privilege. That classified material should be kept secret is uncontroversial, though Congress has means to obtain that information confidentially. It also should be able to, either confidentially or not, obtain information about uncharged people. And information related to ongoing information will presumably eventually be revealed in some form or another, and most people would agree it's best for law enforcement to maintain its ability to do its job in those case.
But grand jury information is the trickiest category. By tradition and law, it is strictly kept secret unless an indictment is issued. Barr could begin working with a judge to lobby for the release of some or all of the relevant information, but he hasn't done that.
And in his testimony on Tuesday, Barr expressed skepticism that giving Congress — let alone the public — grand jury information, as covered in the law referred to as "6(e)," could ever be appropriate.
"I can envision a situation where, under appropriate safeguards, that information would be shared," Barr said, referring to the redactions generally. "I also think there may be, under appropriate safeguard, a way of people verifying that these categories were not abused, and at the end of the day, that the information is bona fide, privacy-related information and so forth, I'm willing to work with the Judiciary Committees on that. But, I'll have to say, until someone shows me a provision in 6(e) that permits its release, Congress doesn't get 6(e)."
"There's plenty of discretion in 6(e) for you to make that," said Rep. Ed Case (D-HI):
Case was referring to an exception for grand jury secrecy that allows the material to be revealed in judicial proceedings — or events that are akin to judicial proceedings.
But as legal analyst Luppe Luppen recently explained, for Congress to be considered as conducting something akin to a judicial proceeding, it will almost certainly have to begin the process of impeachment. In this case, the Judiciary Committee would likely have to begin impeaching President Donald Trump.
Luppen noted that, as in the Watergate case, there are other methods to get around the grand jury secrecy rules:
With or without the threat of impeachment, there is a possibility that Democrats could obtain disclosure if a court, recognizing that the fight over the Mueller materials is an extraordinary circumstance, exercises its authority over grand jury matters to make a disclosure. This is exactly what happened in 1974, when the grand jury materials from the Watergate special prosecutor's investigation were handed over to Congress.
And as lawyer Ted Boutrous point out on Twitter:
Under Rule 6(e)(3)(D), the national security/foreign intelligence exception to grand jury secrecy, the Attorney General can provide grand jury information to the Chairs of the House Intelligence and Judiciary Committes without asking for court permission. https://t.co/YYNnDJsAtR

— Ted Boutrous (@BoutrousTed) April 9, 2019
But Barr appears deeply resistant to these approaches, and he could force Democrats' hand.
Democratic leadership has been loathe to even discuss impeachment, and with Mueller's conclusions in his final report now public, as characterized by Barr, the chances of successfully removing Trump from office seem even more remote than they were before.
But Democrats also want as much of the special counsel's report and the evidence he gathered as they can possibly obtain. And given Barr's statements on Tuesday, it seems that beginning impeachment proceedings may be best, or at least the most efficient, way to get it.
Democrats may end up deciding against this approach, for many reasons. Once the report is released, it could be so explosive that the additional details are not worth the effort; on the other hand, the report as released by Barr could portray Trump much more favorably than it is expected to, which could take the wind out of the sails for more aggressive tactics from Democrats. More likely, the report will include a series of troubling facts, many of which we already know, but none of which are enough to could convince Republicans to turn on Trump.
This could make the concealed grand jury testimony more alluring to Democrats. But there might still be reason to avoid going after it with the full force of Congress's might. If, for example, the grand jury material largely appears related to periphery cases not central to the president's behavior — such as, for example, testimony about Roger Stone related to additional charges similar to those that are already public — then it might not be worth the fight.
But if the concealed grand jury material seems like it is central to understanding some of Trump's most troubling behavior, or that of important figures in his orbit or in positions of power, then the impetus for Democrats to get access to the testimony will be strong. That might give them the push they need to begin impeachment — if only to find out the truth.