How Doctors Shamed Arrogant NRA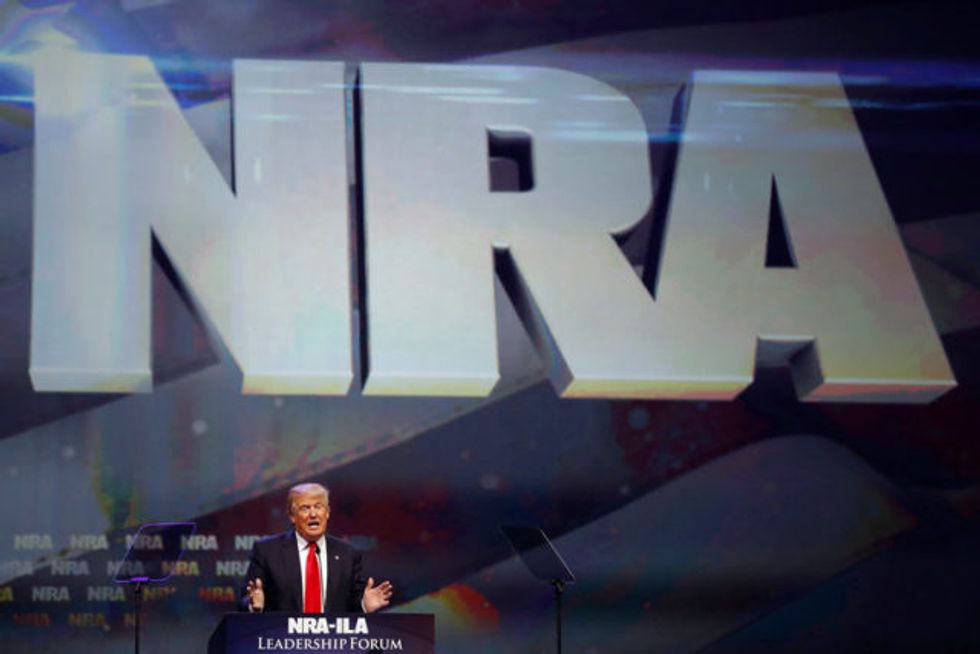 Reprinted with permission from Shareblue.
The NRA launched an attack on doctors, urging medical professionals to "stay in their lane" and not comment on gun violence. The ill-advised smear prompted outrage and for a week, doctors have been shaming and confronting the gun extremists by detailing why they deserve to be heard.
The public relations debacle is yet another black eye for the NRA, who has found itself on the losing end of the recent midterm elections and on the wrong side of history when it comes to supporting gun safety.
Responding to a position paper from the American College of Physicians recommending several gun safety remedies, the NRA tweeted, "Someone should tell self-important anti-gun doctors to stay in their lane."
Someone should tell self-important anti-gun doctors to stay in their lane. Half of the articles in Annals of Internal Medicine are pushing for gun control. Most upsetting, however, the medical community seems to have consulted NO ONE but themselves. https://t.co/oCR3uiLtS7

— NRA (@NRA) November 7, 2018
Soon after, doctors and other medical professionals made it clear to the NRA that speaking out on a topic that affects the lives of every American is, actually, right in their "lane."
Doctors have been shaming the NRA for a week, and there are no signs that they intend to stop anytime soon.
Dr. Kristin Gee posted a photo of her blood-soaked pants and shoes, noting, "To the @NRA, this is what it looks like to stay in #mylane. We will not be silent about the toll of #gunviolence."
Dr. Adam Shiroff said, "I'll stay in my lane when you pry the life SAVING instruments from my cold, dead, hands."
Dr. Stephanie Bonne, a trauma surgeon, posted a photo of an operating room covered in blood, writing, "Just a reminder @NRA: #ThisISMyLane #ThisISOurLane. She didn't make it."
Appearing on CNN to discuss the groundswell of opposition, Dr. Joseph Sakran, a trauma surgeon at Johns Hopkins Hospital and a gun violence survivor, said, "This rhetoric by the NRA has really united the health care community."
Elected officials joined in the #ThisISMyLane hashtag to call out the extreme pro-gun group.
New Jersey governor Phil Murphy (D) wrote, "#ThisISMyLane is a call to action to stand up to the @NRA and all those blocking solutions to this crisis."
Senator Chris Murphy (D-CT) said, "Make no mistake – for the doctors, nurses and first responders treating gunshot wounds every single day, this is their lane. If we're going to keep our communities safe from gun violence, doctors will be part of the solution."
The spectacular failure resulting in shaming from one of the most respected professions in America caps off a year of mistakes and misfires from the NRA.
After the mass shooting at a high school in Parkland, Florida, the NRA attacked the teenage survivors while insisting that gun extremists were the true victims of the massacre.
Later, it was revealed that the NRA is under investigation for accepting Russian-linked cash during the 2016 election cycle.
That was followed up by a losing effort at the ballot box, where pro-NRA candidates bankrolled by the gun extremists lost to Democrats openly advocating for gun safety.
The era of the NRA acting with total impunity and with the myth of electoral dominance surrounding their political efforts is coming to an end.
As it has so often in the past, the NRA chose to smear and deride. But this time, the doctors fought back — and they show no signs of stopping anytime soon.
Published with permission of The American Independent.