How Global Warming Deniers Rule The World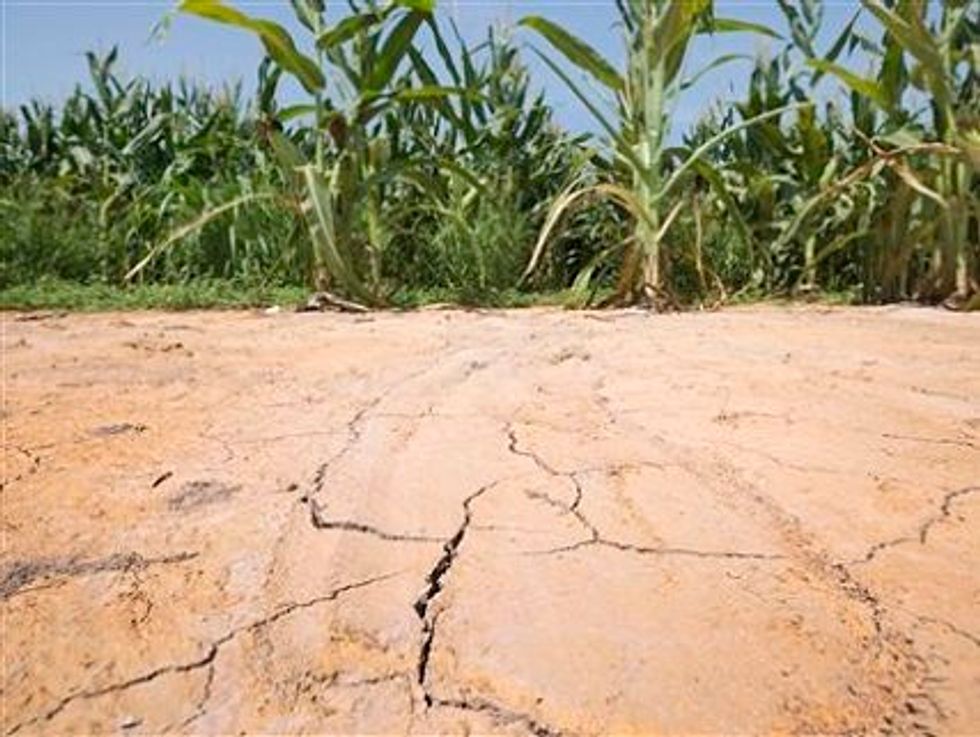 For multiple days already this summer, the interior of the country has cooked underneath a bowl of hot air. As that heat wave wore on, a freakish storm erupted from Chicago to Washington, D.C., bringing winds that resembled the edge of a hurricane. And in what has become a summer ritual, wildfires are raging not only in the western United States but in parts of the eastern U.S., too.
If global warming is a hoax, it is a strangely powerful one, hoisting global temperatures to record highs, melting the Arctic ice cap, and threatening agriculture and ecosystems across the planet. So how did scientists make that up?
They didn't, of course, despite the insistence of powerful Republican leaders that your frying lawn is a figment of your imagination. It's hard not to notice that it's hotter than it used to be.
This year, indeed, has brought the United States the broad spectrum of weird weather that climate scientists have warned about for years. That includes drought conditions across two-thirds of the country.
"This is what global warming looks like at the regional or personal level. The extra heat increases the odds of worse heat waves, droughts, storms and wildfire. This is certainly what I and many other climate scientists have been warning about," Jonathan Overpeck, professor of geosciences and atmospheric sciences at the University of Arizona, told The Associated Press.
Still, of all the debates that rage like wildfires across the political landscape — taxes, health care, immigration — climate change gets precious little attention. Now that Republicans such as Mitt Romney have shifted their stances to line up with hard-core climate change skeptics, Democrats have given up. President Obama hasn't made it a priority for a long time.
Yet climate change is the issue that worries me most when I think about my child's future. No one can predict with any certainty how a warming planet will affect the global economy, stores of food and water, or even the spread of disease. Certainly, the world can expect even more conflict over scarce resources since scientists predict that the poorest countries will be hardest hit. It sounds as though we are bequeathing to our kids a very troubled planet.
This would be a difficult issue to tackle — both technologically and politically — even if the modern industrialized nations were all in agreement about what needs to be done. Emerging powers such as China are loathe to be lectured to by countries they believe were free to pollute their way to wealth for a century or so. Moreover, many scientists warn that the Earth is heating so rapidly that huge difficulties may be unavoidable.
But even in this country, we are nowhere near agreement that human-caused climate change is real. The Republican Party has become, among other things, an assemblage of flat-earthers, rejecting science, spreading climate illiteracy and bashing environmentalists.
As recently as the administration of George H.W. Bush, the GOP used to take human-caused global warming seriously. The rejection of climate science probably began when an influential constituency, moguls from fossil-fuels-related industries, began to complain about the focus on their plants and products. As several books, including Joseph Romm's "Hell and High Water," have pointed out, industry executives started a public relations crusade to persuade voters that the science on climate change is uncertain.
Decades into that campaign, skepticism toward anthropogenic global warming is part and parcel of Republicans' DNA, expected of its politicians and grafted onto its voters by the right-wing media machine, including Fox News. Recently I watched in disbelief as a young, well-respected GOPer whom I know insisted on a cable news show that climate change is a hoax intended to "make Al Gore rich."
Somebody please tell my power company, which is sending me huge bills for my air-conditioning use, that this is all a hoax. If Gore will just admit it, perhaps I can have a summer without fear of heat stroke.
(Cynthia Tucker, winner of the 2007 Pulitzer Prize for commentary, is a visiting professor at the University of Georgia. She can be reached at cynthia@cynthiatucker.com.)