How Kavanaugh's Nomination May Fall Apart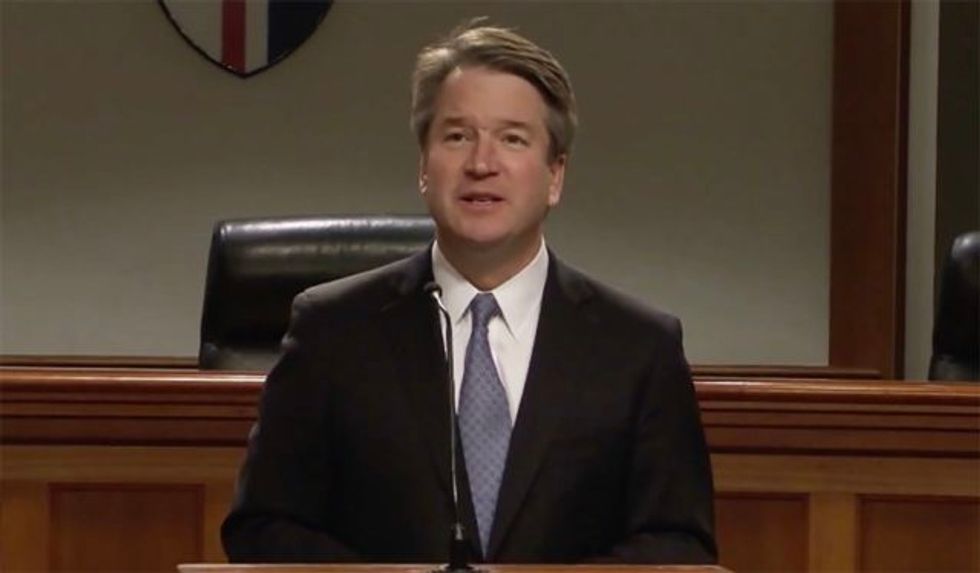 Reprinted with permission from AlterNet.
With a 51-49 GOP majority in the Senate and Vice President Mike Pence acting as the tie-breaking vote, it would only take two Republican senators voting "no" to completely scuttle Judge Brett Kavanaugh's nomination to the Supreme Court.
Looming over the process is the upcoming testimony of Christine Blasey Ford, who is prepared to testify Thursday before the Senate Judiciary Committee about her allegations that Kavanaugh forced himself on her, pinned her down on a bed, groped her, and tried to take off her clothes at a party while they were both in high school. Other allegations, including those of Deborah Ramirez, also threaten to curtail the nomination.
There are signs that these allegations are weighing on key senators — and if two of them express explicit opposition to Kavanaugh's appointment, that would likely kill his nomination for good.
On Tuesday, Sen. Lisa Murkowski (R-AK) spoke to the New York Times and made it clear that she is taking Ford's allegations seriously.
"We are now in a place where it's not about whether or not Judge Kavanaugh is qualified," she said. "It is about whether or not a woman who has been a victim at some point in her life is to be believed."
She added: "We have to listen to what she will say on the record, under oath, and what Judge Kavanaugh will say on the record, under oath."
Sen. Susan Collins (R-ME) has also said she is still making up her mind and that the Thursday hearing will be "important." Both Murkowski and Collins are seen as swing votes given that they care about protecting abortion rights, which Kavanaugh is believed to oppose. Collins has consistently sounded as though she is looking for a reason to support Kavanaugh despite her support for women's reproductive freedoms. It's not clear if Ford's testimony will weigh more heavily given these additional concerns or if she will convince herself that she can vote for Kavanaugh despite the allegations.
If Collins and Murkowski abandon Kavanaugh, he's likely finished as a Supreme Court nominee. The only way he could still be confirmed is if Democratic senators in red states were to feel pressure to vote for him, despite Collins and Murkowski pulling back. However, while it may be possible that Sens. Joe Manchin (D-WV) and Joe Donelly (D-IN) would break with other Democrats to support Kavanaugh if his confirmation is already guaranteed, it seems less likely that they would cast the deciding votes in the nominee's favor.
A few other Republican senators seem to have doubts about Kavanaugh as well. Sens. Jeff Flake (R-AZ) and Bob Corker (R-TN) were key in calling for the vote on Kavanaugh to be delayed when the allegations first emerged. Flake sits on the Judiciary Committee, meaning he may decide to quash the nomination before it even gets a full Senate vote.
"If they push forward without any attempt with hearing what she's had to say, I'm not comfortable voting yes," Flake said before the hearing with Ford was scheduled. "We need to hear from her. And I don't think I'm alone in this."
On Tuesday, Corker said there was actually "a large number" of Republicans who were waiting to hear on Ford's testimony and Kavanaugh's rebuttal before making their decisions about the nomination.
And the Times suggests that Sen. Dean Heller (R-NV), from a state Hillary Clinton won in 2016, may also be on the fence about Kavanaugh.
If two GOP lawmakers officially come out against Kavanaugh, others could begin issuing similar statements, not wanting to be the last person on a sinking ship. The precarious situation means the nominee's prospects, which once seemed all but guaranteed, could suddenly fall apart much more quickly than anybody expected.
Cody Fenwick is a reporter and editor. Follow him on Twitter @codytfenwick.