How Many Bostonians Wish The NRA Didn't Impede The Bombing Investigation?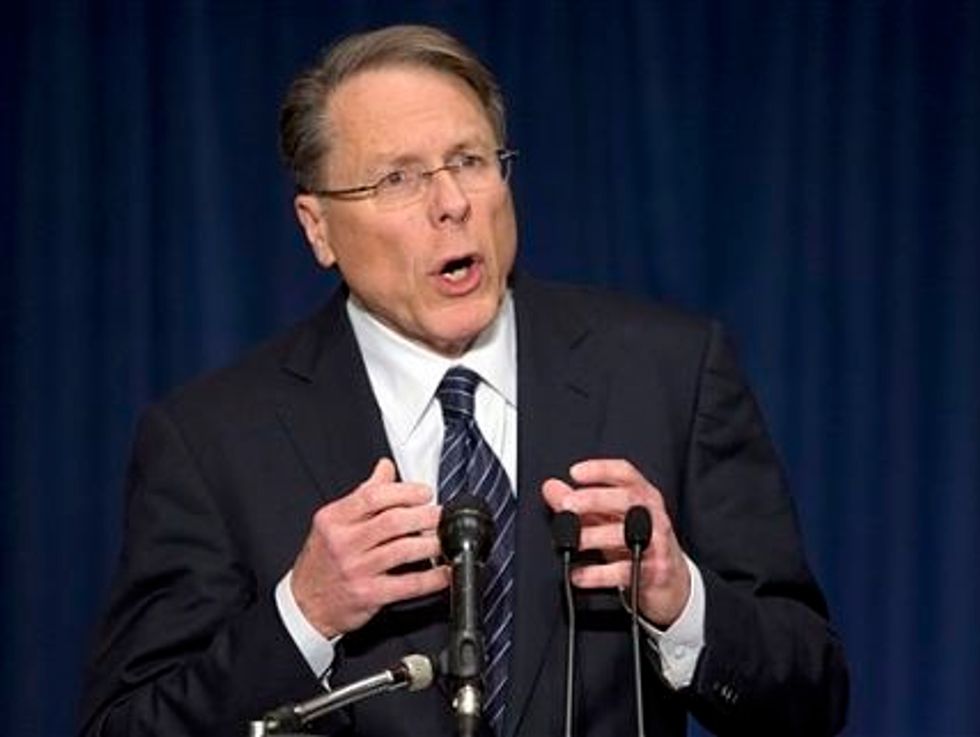 If you pay any attention to the apocalyptic rantings of NRA Executive Vice President Wayne LaPierre, you know his job is to say crazy things that make people fear the government and buy more guns.
Thus he'll rant against violent video games even as his organization puts out violent video games. He'll suggest that expanded background checks are basically tyranny though he used to support expanded background checks.
And at the 2013 NRA convention in Houston, he'll politicize the Boston bombings by asking, "How many Bostonians wished they had a gun two weeks ago?" Then moments later he'll blast his opponents for politicizing the massacre in Newtown. "They use tragedy to try to blame us, to shame us into compromising our freedom for their political agenda," he said.
It would be crazy… if his point wasn't to be crazy.
But since we're asking questions about the Boston bombings: How many Bostonians wish the NRA didn't impede the bombing investigation?
In the days after the bombings, as officials scrambled for any clue to track down the culprits who murdered three and injured hundreds, law enforcement was deprived of an essential tool, thanks to the NRA.
The National Memo's David Cay Johnston explains:
The inability to quickly track the gunpowders in the Boston bombs is due to government policy designed and promoted by the NRA, which has found a way to transform every massacre associated with weapons into an opportunity for the munitions companies that sustain it to sell more guns, gunpowder and bullets.
And while we're asking questions, how many Bostonians wish the suspects didn't have a gun that they likely obtained without a background check? And how much good did having a gun do MIT police officer Sean Collier?
Every tragedy has political consequences. When LaPierre and Sarah Palin blast the president and gun reform allies for using examples of gun violence to prevent further tragedies, they expose their own roles in making more tragedies inevitable.
AP Photo/ Evan Vucci