ICE Raid Leaves Kids In Streets, Without Parents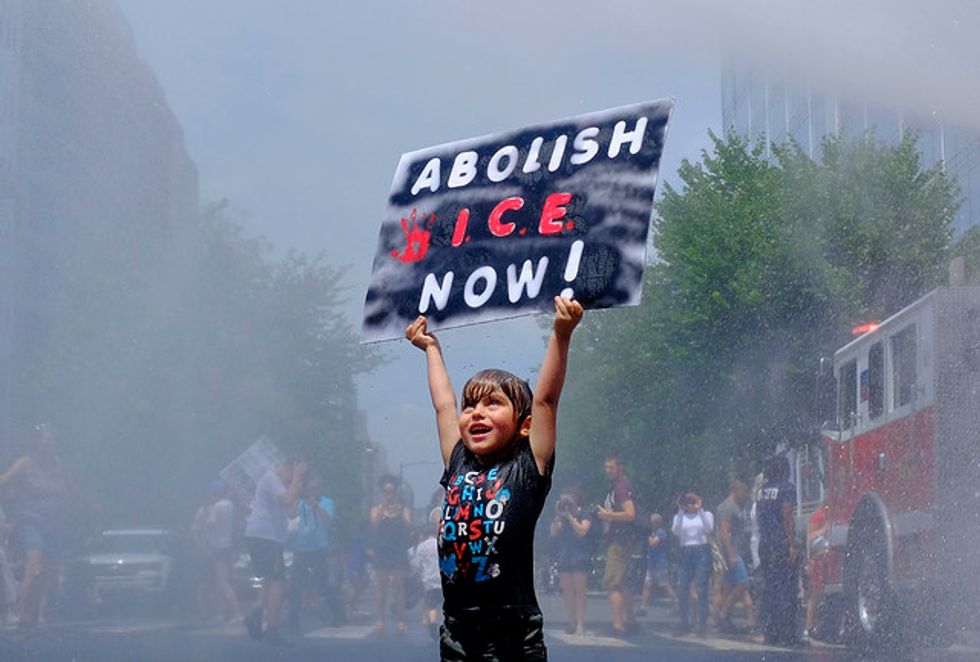 Children were left to wander the streets alone after a Wednesday ICE raid arrested 680 suspected undocumented immigrants in Mississippi.
Many children in Forest, Mississippi, were "left temporarily homeless" after the raid, according to WJTV .
"Children of those who were arrested are left alone in the streets crying for help," Alex Love, a WJTV reporter, wrote on Twitter. Strangers, relatives, and friends took children to a local gym that was set up as a temporary shelter.
"Government please show some heart," Magdalena Gomez Gregorio, an 11-year-old, cried. "I need my dad and mommy," she told the news station.
In June, Trump boasted about forthcoming immigration raids , vowing to remove "millions" of undocumented immigrants. While his wish is on the way to being fulfilled, communities are left to take care of the children impacted by Trump's zealous anti-immigrant vitriol.
While volunteers took care of the children Trump officials left homeless, many were "still devastated and crying for their parents and can't eat," Love reported .
The raid happened the same day Trump visited Dayton, Ohio, and El Paso, Texas, claiming to be there to comfort victims of mass shootings that happened over the weekend. The mass shooting in El Paso , which left 22 people dead and more injured, was carried out by a white supremacist who mirrored Trump's racist language toward immigrants.
Trump transformed his anti-immigrant rhetoric into policy over his term in office. Trump instituted a family separation policy in 2017 and 2018 that ripped thousands of children away from their parents. The conditions at detention facilities along the border are so horrendous one doctor compared them to "torture facilities."
Such a massive raid operation "burns an incredible amount of resources to apprehend people, few of whom pose any threat to the U.S.," John Sandweg, former acting director of ICE, told Buzzfeed News . "It's for show more than for anything else."
The latest ICE raid is the largest in a decade and left children to fend for themselves as volunteers scrambled to help.
"We're going to have bedding available for them and we're going to have food available for them, just to get them through the night," Jordan Barnes, owner of Clear Creek Boot Camp, told WJTV. "And if they need transportation to school tomorrow, we'll also take care of that."
Those watching over the children are left to offer what comfort they can.
"This is heart-wrenching. They are scared," Dianne, who is looking after the three of her fiance's children after he and the children's mother were arrested, told Buzzfeed.
"He said his mom is gone, that he's upset with Trump, he said he just wants his mom back," Christina Peralta, godmother of two children left without their mother after the raid, told WJTV.
"And they've been crying all day long since they got home from school," Peralta added.
Published with permission of The American Independent.