In New Book, Lifelong Republican Comey Excoriates GOP And Trump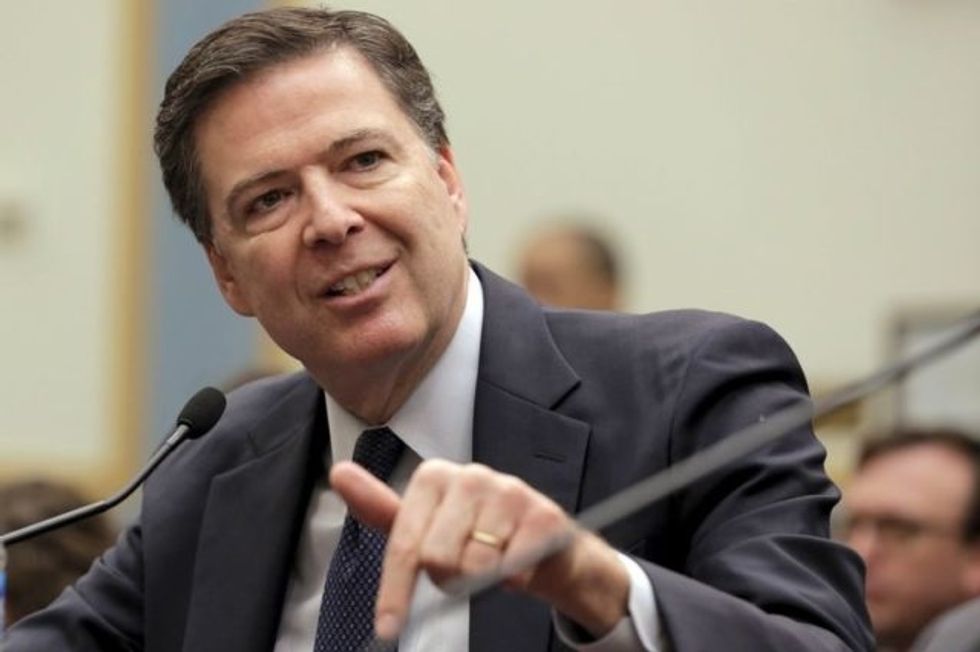 Reprinted with permission from Shareblue.com
Former FBI Director James Comey took a swipe at Republican leaders in Congress who have "stood idly by" or remained "silent" while Trump attacks our institutions and undermines our democracy.
Comey, a lifelong Republican until recently, delivered the stinging rebuke in a passage from his upcoming book, A Higher Loyalty: Truth, Lies, and Leadership, part of which was published by the Washington Post on Thursday.
While the former FBI chief saved his harshest criticism for Trump, who he compares to a mafia boss, he didn't let GOP leaders off the hook for their complicity in Trump's war against American institutions and law enforcement agencies.
"It is also wrong to stand idly by, or worse, to stay silent when you know better, while a president brazenly seeks to undermine public confidence in law enforcement institutions that were established to keep our leaders in check," Comey wrote.
When Trump fired Comey last May — a move that is reportedly 
at the center
 of special counsel Robert Mueller's investigation into potential obstruction of justice by Trump — a handful of Republicans publicly 
voiced their concerns
 and then promptly did nothing to address them.
Since then, Republicans have continued that same pattern, refusing to take action even as Trump has taken aim at America's institutions and referred to lawful FBI actions as a "witch hunt," an "attack on our country," and "a treasonous act."
Despite Trump's repeated attempts to fire Mueller, congressional leaders like Senate Majority Leader Mitch McConnell and House Speaker Paul Ryan have refused to support legislation to protect the integrity of the ongoing investigation.
When Trump threatened to fire Mueller in March, only three out of 51 Senate Republicans spoke out in opposition. Meanwhile, Speaker Ryan simply laughed off Trump's public attacks on Mueller.
Then, of course, there are Republicans like Rep. Devin Nunes, who has used his role as the head of the House Intelligence Committee to run interference and shield Trump from scrutiny.
Despite being forced to recuse himself from the investigation, Nunes has continued to do everything in his power to obstruct the work of congressional investigators and undermine the integrity of the FBI, DOJ, and anyone associated with the Russia probe.
And even though he has the power to do so, Speaker Ryan has not once tried to stop Nunes from engaging in these reckless and destructive acts.
Meanwhile, other GOP members of Congress have taken to spreading conspiracy theories about a so-called "deep state" plot to keep Trump out of the White House, even going as far as launching secret investigations aimed at discrediting the FBI and DOJ.
One Republican even insisted that the FBI and DOJ should be tried for treason for their role in the ongoing Russia probe.
Trump's attempt to discredit the Russia investigation by undermining the institutions and individuals in charge is nothing short of an attack on democracy itself. Republicans had a chance to stand up to Trump by standing up for the country, but they chose not to.
They put themselves on the wrong side of history — and that's how they'll be remembered.