In Ohio, Ukrainian Voters Are Rejecting Vance -- And Republican Isolationism
@next2godwin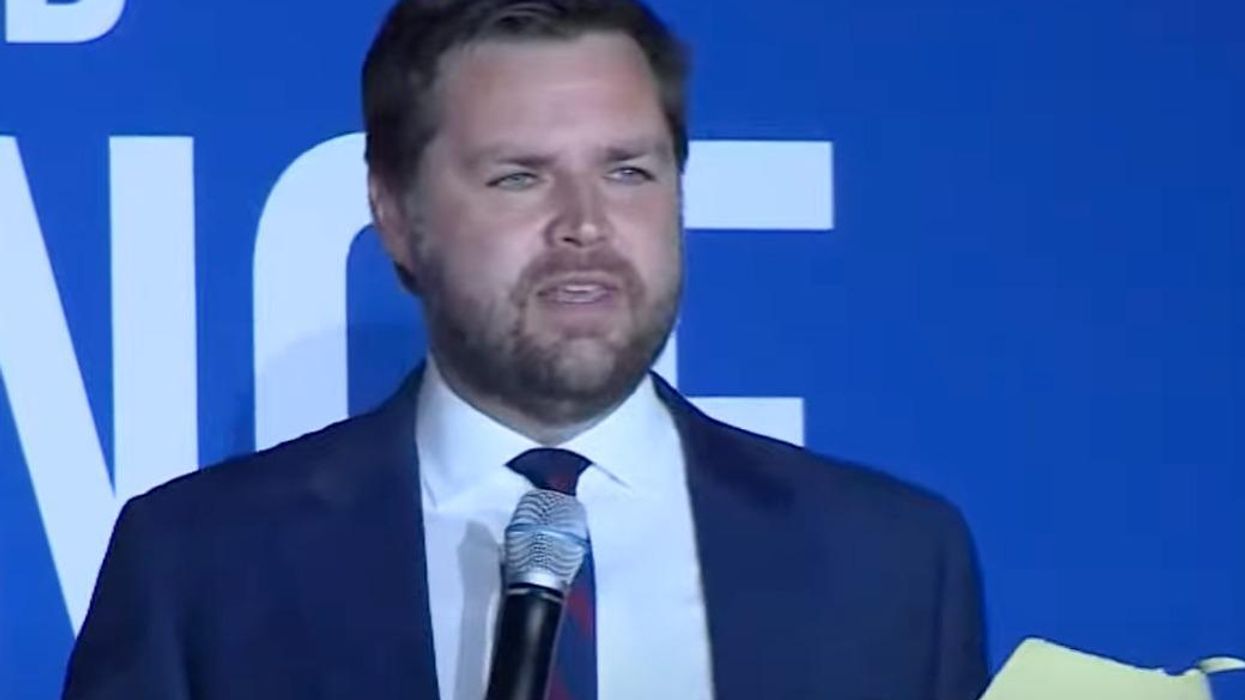 When running to replace Sen. Rob Portman (R-OH), one of the Senate's biggest champions for aid to Ukraine, in a state home to roughly 45,000 Ukrainian Americans, calling for an end to U.S. support for that war-torn country is sure to incur backlash — a lesson GOP Senate candidate J.D. Vance is learning the hard way.
"I gotta be honest with you: I don't really care what happens to Ukraine one way or another," Vance declared last February on convicted Trump ally Steve Bannon's War Room, echoing the GOP's rising aversion to aiding the Ukrainian government against Russian aggression.
Although Vance has since tried to walk back his stance — calling Russia's President Vladimir Putin "the bad guy" and saying, "we want Ukraine to be successful" — his original remark has caused Ukrainian Americans in Ohio, many of whom are lifelong Republicans, to support his Democratic challenger, Rep. Tim Ryan (D-OH), who has called for increased economic and military aid to Ukraine, according to the Washington Post.
"Definitely not this year, with J.D. Vance saying that Ukraine doesn't matter," Irena Stolar, a lifelong Republican and hostess at a Ukrainian restaurant in Ohio, told the Post. "If he said one thing, then backs down on it, you can't trust someone like that… I'd like our senators to continue supporting Ukraine, sending arms as much as they can."
Several other Republicans interviewed by the Post, voters and elected officials alike, echoed Stolar's reservation, saying they wouldn't vote for Vance — a development that could have far-reaching implications for the Republican in the too-close-to-call Senate race.
Recent polls have put Vance and Ryan in a dead heat, with the midterm elections just two weeks away, yet the Republican candidate has continued to insist, albeit less controversially, for an end to the U.S. aid to Ukraine, despite increased Russian bombardment.
"We've got to stop the money spigot to Ukraine, eventually. We cannot fund a long-term military conflict that, I think, ultimately has diminishing returns for our own country," Vance told WVTG last month. "I think we're at the point where we've given enough money in Ukraine. I really do."
Like many of his Republican counterparts, Vance is hoping to tie investments abroad to domestic inflation to smear the Biden administration and shift the discourse away from Vance's efforts to cast doubt on the 2020 elections to keep former President Trump, who has endorsed him, in power.
Ryan, who has continued to vote for U.S. aid to Ukraine, has ramped up his appeal for continued funding across the board and assailed Vance, whom he has trounced in fundraising, for his persistent anti-Ukraine rhetoric.
"I'm proud to support our Ukrainian community at home and abroad," Ryan said in a tweet on Monday.
\u201cYou don't have to go further than Parma, Ohio to see up close the courage and resilience of the Ukrainian people. I'm proud to support our Ukrainian community at home and abroad.\n\nJD Vance can't say the same. He has no business representing Ohio in the US Senate.\u201d

— Tim Ryan (@Tim Ryan) 1666629330
"Ukraine can and will win this war with the support of the United States and our allies, and we need to make sure they have the necessary weapons and equipment to drive Russia out completely and defend freedom," Ryan said in a statement late September, after voting for legislation that included additional aid to Ukraine.
The Democrat has continued to his Republican opponent as weak and subservient to the former president, "He was calling Trump America's Hitler," Ryan taunted. "Then he kissed his ass."
"Ohio needs an ass-kicker, not an ass-kisser," Ryan went on during their televised debate, a rebuke that has since gone viral and earned the Democrat support even in Republican circles.