Indicted Rep. Hunter Flips Out In Racist Rant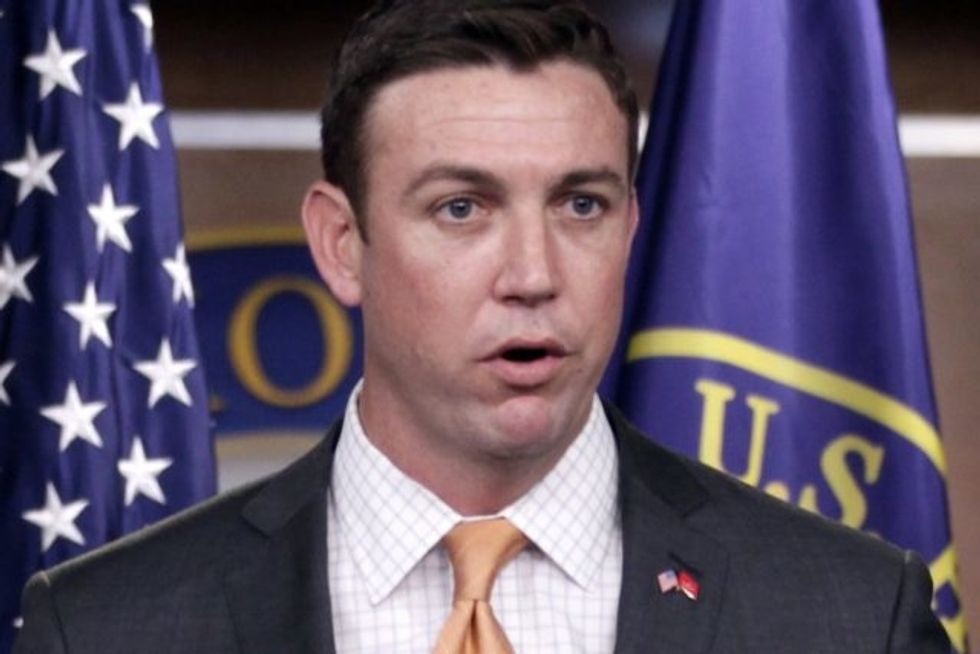 Reprinted with permission from Shareblue.
Rep. Duncan Hunter (R-CA) spent his Monday morning in a federal courthouse for a status update on his indictment and his Monday evening spewing racist anti-Islamic nonsense to a room full of supporters.
Hunter spoke to a group of about 70 people at the Intermountain Republican Women Federated, first reported by the Times of San Diego.
"Radical Islamists are trying to infiltrate the U.S. government," Hunter claimed without any evidence. "You have more Islamists run for office this year at the federal level than ever before in U.S. history."
Hunter is correct that a record number of Muslims are running for office, but his claims of radicalized Muslims seeking to infiltrate the government is based on racism, not reality.
Hunter did not try to hide his animosity toward Muslims, at one point declaring, "They are disgusting."
He went on to claim that Islam is "not just a religion. That's why we're fighting them. In Iraq In Afghanistan. In Syria. In the Philippines."
Hunter then lamented immigration, arguing a white nationalist talking point that an influx of Muslims has ruined Europe.
"It took 10 years to do what the Arabs couldn't do in 2,000 years," he said. "Amsterdam, Paris, London, Germany … they are done. Thank God we're such a large nation with large bodies of water on our sides. That's the only reason it has not happened to us."
Before he was done attacking Muslims, Hunter tried to tie his Democratic opponent, Ammar Campa-Najjar, to Islamic terrorists.
Campa-Najjar is a devout Christian, but Hunter didn't let facts get in the way of a racist broadside, reports the Times of San Diego.
Hunter said Campa was named after Yasser Arafat — "I kid you not" — and noted that his rival's grandfather was a mastermind of the 1972 Munich Olympic attack on Israeli athletes.

 

Although Campa never knew his paternal grandfather, Hunter stoked a fire by suggesting Campa-Najjar was part of an effort by radical Muslims to infiltrate the U.S. government.
Campa-Najjar's campaign responded, saying, "These are the desperate ravings of a congressman who believes he is above the law and has lost his grip on reality." Campaign Director Nick Singer continued, "Ammar is a Christian, worked at a church as a janitor and in youth ministry. He also was thoroughly vetted and given security clearance for his positions at the White House and administration."
Hunter gave no reason for his rants against Muslims, who make up nearly a quarter of the world's population.
But he did address racism, which he pretends no longer exists.
"We've done a lot of bad things in this country. So what?" he said Monday. "We didn't do it. My generation sure as heck didn't do it. I was born in San Diego. Sorry southerners. You guys had some issues back in the day. Didn't happen out here on the west coast."
California saw tens of thousands of Japanese-Americans deprived of their land and liberty when they were sent to internment camps during World War II, and racism still exists today in the form of elected representatives calling Muslims "disgusting."
In addition to his racist screed, Hunter took time to attack the American government.
"The Justice Department is corrupt," Hunter said. "And that should scare you out of your minds."
Hunter, along with his wife, is under federal indictment for misusing more than a quarter of a million dollars of campaign funds on personal luxuries and expenses, including family vacations to Italy and Hawaii, theater tickets, and their children's tuition, which they categorized as "charitable contributions."
Hunter has blamed the Justice Department for his troubles, making wild accusations about a "political agenda" there, even though it is run by Trump's appointees.
Even with his indictment and blatant bigotry, Hunter remains a favorite to win in November, with Cook Political Report rating the race as "Lean Republican."
Published with permission of The American Independent.