Inside Trump's D-List Convention Extravaganza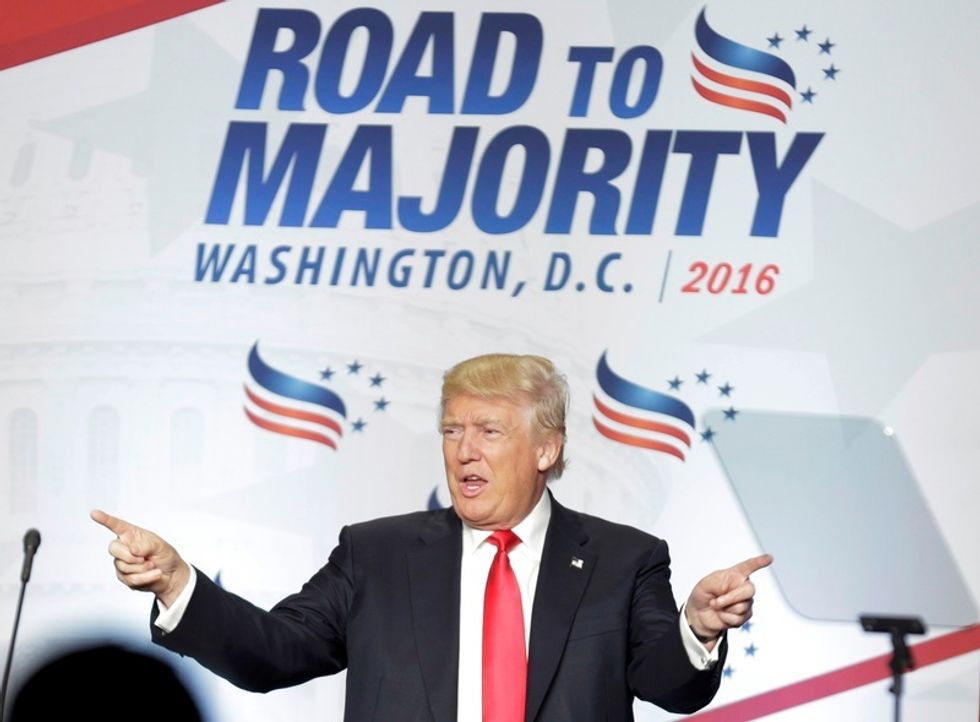 This article has been updated to reflect that Tim Tebow will not be speaking at the GOP convention in Cleveland.
Donald Trump's campaign has stalled indefinitely on the release of an official list of speakers for next week's Republican National Convention in Cleveland. But on Thursday, the New York Times published a roster of confirmed speakers, and the names on it bear Trump's showbiz stamp.
The list is also missing many names that would have been there under different circumstances — if anyone but Trump had been nominated — including former nominees Mitt Romney and John McCain, the Presidents Bush, and up and coming Republican stars like South Carolina governor Nikki Haley and Mia Love.
But Donald isn't letting those killjoys put a damper on the fun. His convention will feature all of his failed vice presidential hopefuls speaking back-to-back and D-list celebrities around every corner, Celebrity Apprentice-style.
Trump may be missing some the most important figures of the Republican party, but who cares? It's his party now, and he has underwear models, star athletes, and most importantly… Ivanka.
Here's a breakdown of some of the speakers:
The convention will begin next Monday with a grand opening focused on some of Trump's favorite topics: Benghazi, the need for more "security," and yucky immigrants. There's no better way to begin Trump's coronation than with the same anti-minority rhetoric that started his candidacy and secured his base of white nationalists.
And Jamiel Shaw Sr., whose son was killed by an undocumented immigrant, is the perfect figure to do it. Shaw, one of few Black speakers at the convention, has been a vocal advocate for stronger border patrol, and has become a near-constant figure in the Trump campaign, often opening his rallies and lobbying for him on television and social media. Shaw's Twitter feed, in which he repeatedly condemns "illegals," could be a preview of what's to come in his address to the convention.
Former New York City mayor and current cable news talking head Rudy Giuliani will also speak on Monday. He will probably repeat what he has said on television after a week of racial unrest: Black Lives Matter is "inherently racist," is "quickly becoming a terrorist group,"  he reduced crime in NYC (in line with national trends)… blah blah blah. Giuliani was once "America's Mayor," or so he called himself. Now, he's stumping for the most divisive presidential candidate in modern history.
With so many men, Trump knew Monday's schedule needed some eye candy, and who better than his Slovenian wife? Melania's appearance may be a bit awkward after Mr. Shaw explains why immigrants are evil.
Tuesday's program is supposed to be about the economy. But that's boring, so Trump selected a random wild card: Ultimate Fighting Championship president Dana White. The businessman will most likely relate his career as a successful entrepreneur to Trump's. Last week, the UFC reported being sold for $4 billion. Like Trump, White will probably argue that making money off of reality television has anything to do with leading the most powerful country in human history.
Senate Majority Leader Mitch McConnell will also be speaking on Tuesday, making him the highest-positioned GOP member with a set date to speak on Trump's behalf. He's at the helm of the Senate's agenda of obstruction, ensuring it doesn't confirm a supreme court justice or work on immigration reform or gun control. The Kentucky senator has said that "it's pretty clear" that Trump "doesn't know a lot about the issues."
Speaker of the House Paul Ryan is also set to address the crowd at the convention — possibly with a gun to his head, watch for any blinking in morse code — but the date of his appearance is still unknown.
Tiffany and Donald Trump Jr. will make their appearances on the second day of the convention. It seems that Trump scheduled his family to speak in order of least- to most-liked.
Wednesday night will be a good one: Former Trump rival and Texas senator Ted Cruz made it seem like he had a conscience for a while and has not yet publicly endorsed Trump, but is now one of five former GOP presidential hopefuls listed as a speaker at the convention. Don't worry southern evangelicals! Cruz will stand with you while you all stand for a president fundamentally opposed to your most basic beliefs.
Former House Speaker and once-likely VP pick Newt Gingrich, who said in February that Trump is not really a conservative, is scheduled for Wednesday. Gingrich is not an ideal match for Trump, who claims to be an unconventional candidate not bound by special interests. The Washington Post outlines why:
After two decades in Congress, Gingrich did not follow the revolving-door tradition of lobbying after he left office in 1999. But his business empire relied on selling access to his celebrity, political insights and policy expertise, generating close to $100 million in revenue in the decade after he left office, his attorney has said.

Among the ventures: a for-profit think tank that lured members with promises of "access to Newt Gingrich" and "direct Newt interaction."

Like the Clintons, Gingrich has been active on the paid lecture circuit, earning as much as $60,000 per appearance, according to his speaker's bureau posting. At one point, he was delivering 50 to 80 paid speeches a year, he recalled in 2012.
Oh, and Gingrich was also Speaker of the House when NAFTA passed — Trump's opposition to the trade deal is part of the central anti-trade ideology of his campaign.
But it's okay, Trump has a celebrity to distract the crowd from Gingrich's murky political life: pro golfer Natalie Gulbies.
Back in June, Gulbies wrote about how great she thinks Trump is in an piece titled "The Donald Trump I Know". What she says in it suggests she will describe Trump as a champion for women during her convention speech. "He encouraged me to look at myself as a brand and as a professional golfer with a huge platform to grow the game of golf, regardless of my gender. Because of that, I have always found political rhetoric about Trump's misogynistic "war on women" to be inconsistent with the Trump I know," she wrote.
Another woman for Trump, Florida Attorney General Pam Bondi, who has been accused of taking a bribe from the GOP nominee, is also on the list for Thursday. Bondi solicited and accepted a donation from Trump in 2013, days before deciding she would not pursue allegations of fraud against Trump University.
Eric Trump will address the Convention on Wednesday as well, making him Trump's second favorite child, and the nominee for vice president, likely Mike Pence, will most likely he will be the last speaker of the night.
Thursday night is the big finale. These speakers will line up to present the official Republican candidate, and demise of the Republican Party, Donald Trump.
Who better to open the big night than football player Tim Tebow? A Heisman Trophy winner and devout Christian who is waiting until marriage to have sex, Tebow's only connection with Trump may be that a former Miss Universe broke up with him over his abstinence pledge.
Tebow is not currently on any NFL team, but Trump had to take what he could get: Tom Brady refused to appear at the Convention.
(After news spread of Tebow's speaking slot, he released a video on Facebook where he stated that the news were just a rumor, and that he will not be speaking at the convention.)
Of course, no one is better able to present Trump than his most valuable possession: Daughter Ivanka. Trump has long professed his love for the business woman, who is in a good position to speak on her father's behalf. As a Jewish working mother, she represents two demographics that Trump's nationalist campaign has a hard time reaching.
ABC News obtained additional names that are not attached to any dates, including Antonio Sabato Jr., who may just be the most ridiculous name on the list – no easy feat.
Sabato Jr. is known for his role in the soap opera General Hospital and his modeling for Calvin Klein. The former underwear model's convention appearance will be his latest reality show. He has also appeared on "Celebrity Circus," "Dancing with the Stars," and "But Can They Sing?" In VH1's "My Antonio," women competed for Sabato Jr.'s love in Hawaii.
Milwaukee Sheriff David Clarke, another name on the list, is a fierce critic of the Black Lives Matter and recently stated that the movement will join forces with ISIS. So, enjoy that.
Photo: Republican U.S. presidential candidate Donald Trump gestures after addressing The Faith and Freedom Coalition's "Road To Majority" conference in Washington, U.S., June 10, 2016. REUTERS/Joshua Roberts