Iran Nuclear Talks Kick Off Amid Guarded Hopes
@AFP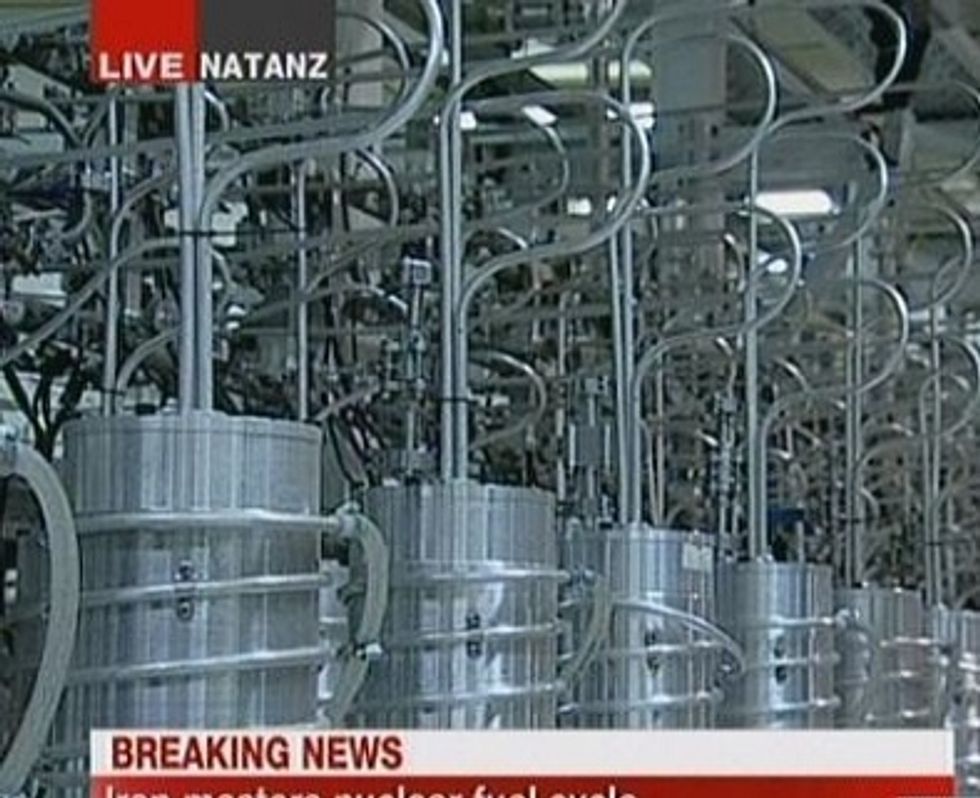 Geneva (AFP) – A fresh round of talks between Iran and world powers kicked off Thursday with a push for Tehran to freeze its disputed nuclear program in exchange for some relief from sanctions.
Officials have said that a long-awaited deal on curbing Iran's nuclear ambitions may be finally within reach, after years of fruitless talks were given fresh momentum by the election of Iran's new President Hassan Rouhani, seen as a moderate.
In their second meeting in Geneva in less than a month, negotiators from the United States and five other global powers sat down with Iranian officials for two days of talks aimed at hammering out an agreement.
The talks began shortly after 1000 GMT and were chaired by Catherine Ashton, the EU diplomatic chief who heads the so-called P5+1 group of Britain, China, France, Russia, the United States and Germany.
Ashton started the day with a private meeting with Iranian Foreign Minister Mohammad Javad Zarif to work out how talks would proceed.
Both sides have said recent talks have been the most productive in years but admit that reaching a deal will not be easy, with Zarif saying this week's negotiations were expected to be "very difficult".
"We have entered a detailed phase that is still difficult and precise," Zarif said on his Facebook page.
Zarif had sounded an optimistic note earlier this week however, saying he believed it would be "possible" to reach an agreement.
The meeting is the second since Rouhani took office in August pledging to resolve the nuclear dispute and lift sanctions by engaging with world powers.
Iran is anxious for relief from crippling economic sanctions that have cut oil revenues in half, caused the value of the rial to plunge and pushed inflation above 40 percent.
The West is also keen to seize a rare opportunity to build bridges with Iran after decades of hostility, opening the door to engaging with Tehran on other issues like the conflict in Syria, where Iran has backed President Bashar al-Assad against the anti-regime insurgents.
'Limited, targeted and reversible sanctions relief'
Last month's talks in Geneva — held in English for the first time — saw Iran reportedly outline a two-stage process that would resolve the dispute within a year.
Speaking to journalists in Geneva on the eve of this week's talks, a senior U.S. official said Washington is willing to offer Iran limited sanctions relief if it agrees to take a "first step" to stop advancing its nuclear program.
"What we're looking for now is a first phase, a first step, an initial understanding that stops Iran's nuclear programme from moving forward… and that potentially rolls some of it back," said the official.
"We are prepared to offer limited, targeted and reversible sanctions relief," the official said.
The official refused to give specific details of the offers on the table, but said the first stage would "put time on the clock" to negotiate a final agreement.
The P5+1 group has held years of talks with Tehran on its uranium enrichment, which Western powers suspect may be aimed at developing nuclear weapons.
Iran has repeatedly denied this, insisting its nuclear program is only for generating electricity and for medical purposes.
The six powers have been pushing Iran to freeze its enrichment efforts, reduce stockpiles and lower its capacity to produce nuclear material.
Even if negotiators can reach a deal, both sides will have to overcome deep skepticism among hardliners opposed to any compromise.
Israel, widely believed to be the Middle East's sole if undeclared nuclear power, has staunchly opposed easing sanctions and its supporters in the U.S. Congress could come out against even marginal concessions to Iran.
Ahead of Thursday's talks, Israel urged world powers to reject what it said was an Iranian offer to partly cut back its nuclear program in return for a reduction of sanctions.
"Israel in the last few hours has learned that a proposal will be brought before the P5+1 in Geneva in which Iran will cease all enrichment at 20 percent and slow down work on the heavy water reactor in Arak, and will receive in return the easing of sanctions," an official told AFP on condition of anonymity.
"Israel thinks this is a bad deal and will oppose it strongly," the official said.
Iran's enrichment of uranium to 20 percent has been a particular source of concern as it is seen as a key step on the way to the 90 percent level required for a nuclear weapon.
The heavy water reactor under construction at Arak is also a source of worry as it would provide a source of plutonium, an alternative route to a nuclear warhead.
AFP Photo