Iran Wants To Allay World Concern On Nuclear Issue
@AFP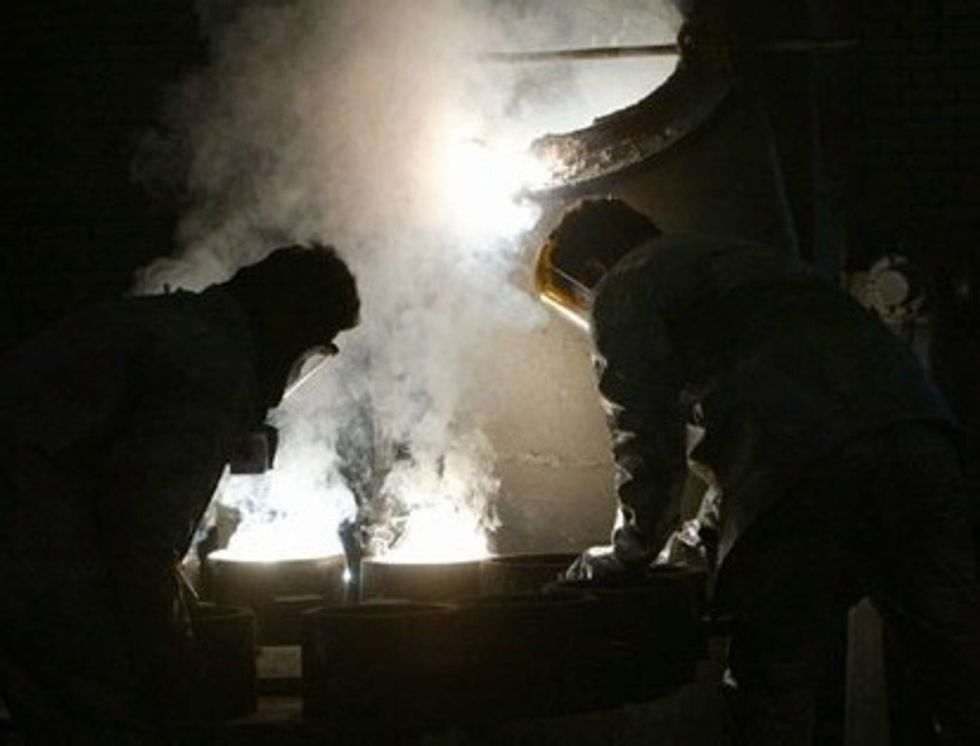 TEHRAN (AFP) – Foreign Minister Mohammad Javad Zarif said Friday Iran wants to allay concerns over its nuclear program, suspected of hiding efforts to build an atomic bomb, and resolve the impasse with world powers.
Perhaps most significantly, the head of Iran's Atomic Energy Organisation, Ali Akbar Salehi, said separately Tehran could conceivably agree to allowing the U.N.'s International Atomic Energy Agency (IAEA) to conduct snap inspections of its facilities.
Their remarks come as Iran's new president, Hassan Rowhani, has expressed keenness to move forward quickly with serious, transparent negotiations, while not abandoning the country's rights.
Zarif, a moderate whose ministry Rowhani tasked Thursday to spearhead talks, said "there are two principles in the nuclear domain — first and foremost, respect for our rights in matters of nuclear technology, especially the enrichment of uranium.
"Following that is to allay international concerns" on the programme.
Zarif spoke after receiving a telephone call from EU foreign policy chief Catherine Ashton, chief negotiator for the P5+1 — the five permanent U.N. Security Council members and Germany — who have been pressing Iran to stop enriching uranium.
That process, which Iran insists is purely for peaceful purposes, can lead in a more refined form to produce the fissile core of a nuclear weapon.
"Allaying international concerns is in our interest because atomic weapons do not form part of the Islamic republic's policies," Zarif said.
"Consequently, our interest is to remove any ambiguity regarding our country's nuclear program."
"I told Mrs Ashton that if there is a political will to resolve this matter, particularly regarding Iran's nuclear rights, we are equally ready to move forward," he said.
Earlier, speaking in Vilnius, Ashton said she had told Zarif "I stand ready with my colleagues to get the talks moving," adding that she hoped to meet him in New York during the U.N. General Assembly later this month.
Asked whether she expected Zarif to lead the nuclear talks, she said: "I don't know who my interlocutor will be."
"I hope we will set dates" for a new round of negotiations during the New York meeting, she added.
Talks between Tehran and the P5+1 have been stalled since April.
Western countries and Israel suspect that Tehran's nuclear program is cover for a weapons drive, a charge Iran strongly denies.
While he expressed a desire to sort out the nuclear impasse, Rowhani has said Iran will not abandon its "undeniable rights", including enrichment.
Salehi said he understood international concerns, and that Iran was ready to allay them "using every treaty, regulation and mechanism at the international level".
Concretely, he told state news agency IRNA Iran could even accept the so-called "additional protocol" of the nuclear Non-Proliferation Treaty, to which Tehran is a signatory, which allows unannounced inspections.
Addressing world powers, he said that if that was what they desired, they should "recognise all of our rights in the nuclear field" laid out by the treaty and IAEA rules.
Tehran applied the protocol from 2003, when Rowhani himself was chief negotiator, but stopped doing so after Mahmoud Ahmadinejad became president in 2005.
Talks between Tehran and major world powers have so far failed to yield an agreement, and the latest developments come with Iran and the IAEA set to resume talks in Vienna on September 27.
The IAEA has been probing the programme for a decade, and Tehran has been slapped with a number of international sanctions for refusing to stop enriching uranium.
The IAEA wants Iran to grant access to sites, documents and scientists involved in Tehran's alleged efforts to develop atomic weapons, which the agency suspects mostly took place before 2003 but are possibly still ongoing.
Iran says the IAEA's findings are based on faulty intelligence from foreign spy agencies such as the CIA and Israel's Mossad — intelligence it complains it has not even been allowed to see.
In its quarterly report, seen by AFP last week, the IAEA said Iran had installed hundreds more centrifuges since May that could enable it to enrich uranium faster.
That would allow it to obtain the amount of fissile material needed for a nuclear bomb more quickly, if it wished to go down that path.
Photo Credit: AFP/Henghameh Fahimi